Day 5: Trekking to the Mt. Pinatubo crater lake in Philippines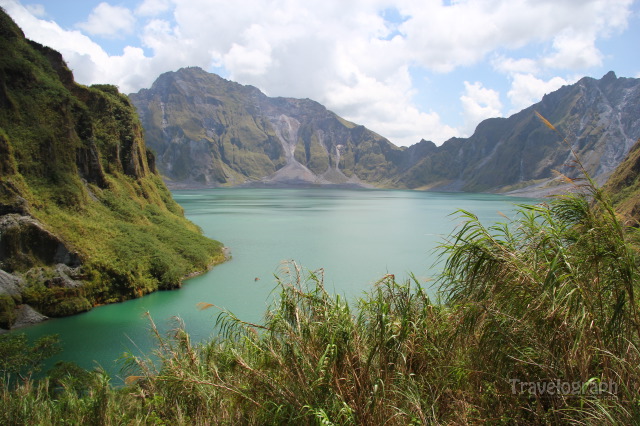 I woke up at 4am. Today, we were to go for trekking up to the Mt. Pinatubo crater lake here in North Philippines. It was a photograph of this lake, I saw on the internet back in December 2011 that made me pack up for a trip to the Philippines!
Mt. Pinatubo is classified as an active volcanic mountain which last erupted in 1991. This eruption has the distinction of being the second largest eruption of the 20th century and the most violent and destructive one in the period! The ash cloud of this eruption is said to be 18km wide and reached an altitude of 40km and caused widespread damage in the area including the clark airport, where we landed! The eruption blew off the summit of the mountain and the crater was filled up with rain water that collected over it which formed this lake.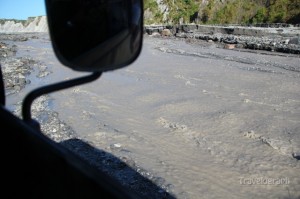 In order to visit this crater lake, we got a trip arranged at the travel desk of our hotel yesterday itself and as we were told, we got ready by 5am but our driver turned up only by around 6am which delayed our departure a bit. We were quite surprised to see an all terrain vehicle(ATV) parked outside our hotel and it turned out that we were supposed to take that in order to get near Mt. Pinatubo! Out on the road, we stopped by a fast food restaurant to buy some burgers for our breakfast and lunch and couple of water bottles, gatorade and bananas from the nearby 7-eleven store. Thus, we were now ready for the trek ahead of us.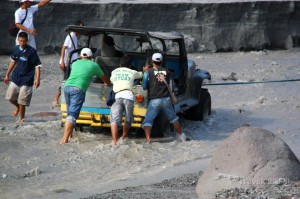 We moved on. By around 7:15am, we reached the tourism department registration office where we had to fill up some forms for entry to Mt. Pinatubo and here, we were also joined by our guide for the trek. After submitting the forms, we set out again. This time, the roads disappeared and we were now driving on a river bed that was mostly dry. And so, now, we were truly making our own road! The water in the river often meanders over and so we had to cross it over a couple of places. But thanks to the ATV, we did not have a problem doing that. But I heard from the guide that this trek is possible only for 6months of the year as it would not be possible to drive along the river during the rains from May to November. I could observe that there were many other ATVs taking the same route and they were all sticking together often helping out one another when they get stuck in the mud or river.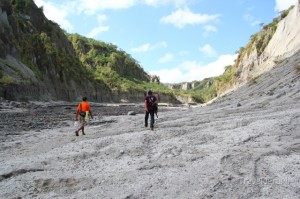 After an hour's ride in the river bed, we reached a place where more ATVs were parked. It seems from here, we have to trek up to the mountain. So we got down from the ATV and started our trek. Though the trek went largely along the river bed, it was quite scenic with greenery along the mountains on either side and there was sound of the flowing water, occasional sound of crickets and other insects, birds, making the otherwise monotonous boulder hopping that we were doing to trek over the river bed. It looked as if we were trekking in a canyon as the river had high walls with clear signs of soil erosion and landslides. An occasional breeze and large cloud cover gave a lot of comfort to this part of the trek.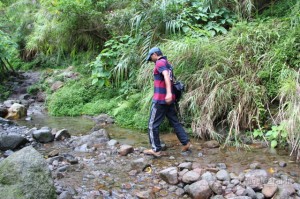 After walking for around 2hrs along the river bed, the trail now moved through some vegetation. In this part of the trek, the view was very scenic with a small stream flowing along and we trekked through the vegetation often bending over to avoid the over hanging leaves and branches. After walking for 30min in the vegetation, we reached the top of the crater. What a view! It was totally worth the trek to see this beautiful place on earth. From the top of the crater, we could see a green colored lake spread along a large area with the sides of the crater in the background. This was surely one of the most beautiful lakes I have seen much in the lines of Tso Moriri lake back in India.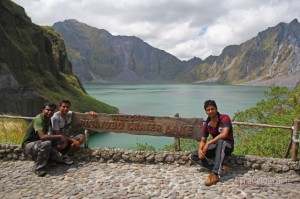 We clicked some photographs and walked down to the lake. There were some tourists already in there, taking a dip in the cold waters of the lake and some others simply sitting by its side and enjoying the view. And probably, like the Tso Moriri lake, the difficulty in getting to this place ensured that it wasn't crowded. So we too had a peaceful time enjoying the beauty of the lake. But I could find a couple of tents around and it was only then that I came to know that they allow camping in the area too! "This is probably one of the best scene to wake up to in the morning in this world", I thought.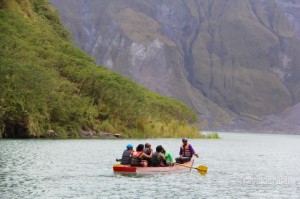 Along the crater lake, we could see some boats taking tourists to the other side of the lake. Our guide informed us that for 350P pax, they would do so and there is a hot water spring on the other side of the lake. So we decided to go to the other side of the lake and took a boat to get there. As we were moving along, I could see water bubbling in some places which meant that the water was extremely hot in the area. As we reached the other side, we got down and we could see steam coming from this side of the lake. Our guide informed us that this is the actual centre of the crater and if we dig a bit on the sand by the side of the lake and put some eggs there, it would be half cooked in 30min!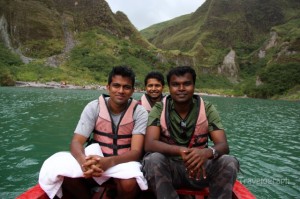 Anyways, we weren't interested in the eggs but were very much interested to take a dip in this hot water lake. We asked the guide for a place to take a dip and he showed us the area. But as we touched the water, we found that it was extremely hot and there is no way we can step on it even for a few seconds, leave alone getting into the water! He told us that a few feet away from the shore, the water would be just warm for a dip. Now we were confused as to what to do as, if we jump some 3 or 4ft into the water ahead, and find that also to be hot, not only would it be difficult to jump back ashore from there, but also we would get a considerable burn injury to ourselves! But finally, Sujith, being the lone swimmer in the group, decided to volunteer for the inspection. He took a step far from the shore into the deeper water and all we could do was to watch out for his expression! Since he said that it was indeed just warm in there, we decided to follow him. Next to go was Agarwala and now it was my turn.
I could see a steep slope down inside the water after some 3ft from the shore and I knew that if I were to jump, in all probability, I would lose balance when I land and would fall. If I fall backwards, I burn my body, and if forward, I would be under water! Finding both the alternatives undesirable, just like what Sujith and Agarwala did, I decided to use our guide's slippers to quickly get past the hot shore into the water and then throw them back to him. Making sure that Sujith stands between me and the deeper lake, I made a quick stride across the hot water into the lake.
I was now in water, standing on the brink of slope down under the lake. Now you have to understand the constraints I am facing. The bed of this lake is full of gravel and hence is not stable. Normal way of anchoring yourself in loose sand is by digging your legs deep into the sand or gravel. But here, we have another problem. You dig your leg a little deep into the gravel, it will be very hot and have to take it out. You take it out, you slide down to the deeper areas of the lake, you try to get ashore, the area near the shore is too hot to walk across. In short, this was surely a "devil and the deep sea" kind of a situation. The only thing you can do is not to panic. Because if you panic, there is more chances of you sliding down or getting burnt if you climb back too much!
It took some time for me to figure out what to do. Near the place I was sitting, there was a small rock about the size of a football. Though that couldn't anchor my entire weight, it was a good enough hold for me in maintaining my otherwise precarious position! So I used it to my advantage and sat there looking out into the crater lake. It was truly one of the most relaxing place to be on earth. Warm water, cool atmosphere, amazing view and with friends by your side. It was truly a moment which I wouldn't forget for a very long time.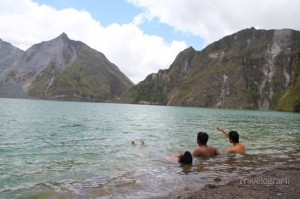 Occasionally, our warm pool would be hit a wave of cold water and as it reaches the shore and goes back, it becomes hot and hence we were experiencing all different temperatures of water in different time and different places in our body. But sitting there for some time, we could manage to figure out when we were going to feel cold or hot as it was quite cyclic. Meanwhile, we could also figure out that the sand beneath us was constantly shifting probably because of the convectional currents in water formed due to the temperature differences. But thanks to that small rock I had, I could still manage to hold my position.
It was now quite some time that we had been sitting here and hence our guide asked us if we can leave. But the question was, how could we leave? Running my hands over the lake bed around me, I could find a couple of small rocks and so I decided to come up with a plan to get out of the water. I placed the rock right at the place where I have to step and so in this way, I avoided my legs sinking into the hot sand below and managed to come out of the lake without any difficulty. But altogether, I felt that it was surely a very good experience that one must try.
We took our boat ride back to the other side of the lake, had our burger lunch and started our trek back to the ATV. With beautiful memories, we returned back to our hotel by evening. Back here, I wanted to find out the width of the lake as we were debating upon it earlier in the day. So while I was searching for this information on the internet, I noticed something else. The average depth of this lake was 600m! God! So that means, I was actually sitting precariously over the top of a more than 600m slide down to the crater?! Also I found that there were some seismic activity in the form of earthquakes in the area last year. Just before the 1991 eruptions, there were some earthquakes too! So is it going to erupt again in any time soon? If that is the case, I would consider myself lucky to have seen this beautiful lake before it disappeared!
berT
07.04.2012
Location: Angeles City, Philippines
Are you from India?
I have created an algorithm that can predict the airfare movements in India. It also predicts and alerts you of any approaching airfare offer. Do check it out! http://unfare.in
---
« « Prev: Day 4: Witnessing the crucifixion in San Pedro Cutud, Philippines
Next: Travel money tips: Best way to carry money for your travel abroad » »
---
If you have enjoyed reading this post, consider liking our Facebook page!!
---