Day 8: Taking the train ride from Vientiane to Bangkok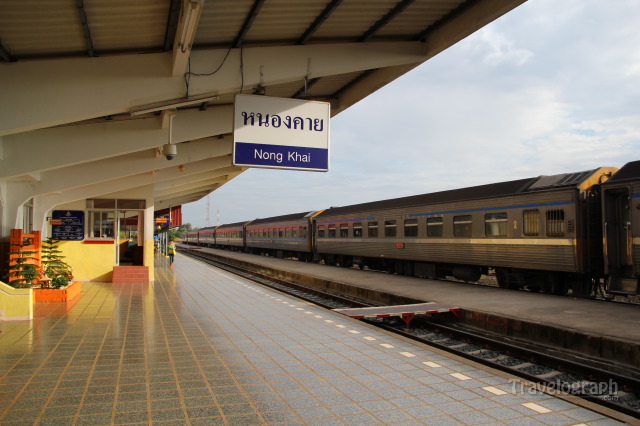 We woke up early in the morning at 5am when one of the bus guy called out, "Vientiane!!". We got out of the bus in the northern bus terminal, Vientiane. It was pretty early in the morning and as we got out of the bus terminal, we found out that it was in fact pretty much in the middle of nowhere! The tuk-tuk guys were asking for high rates to get us to the city center and so we decided to walk a bit outside of the terminal to catch a tuk-tuk for a lower rate. We got one for 20,000 Kip per person and got to the city center in Vientiane.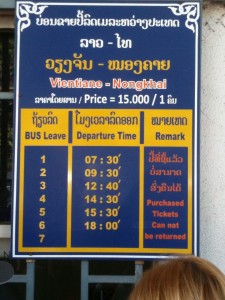 We walked down the presidential palace road to get near Talat Sao bus terminal where we finally got a twin bed room for 10$. After having breakfast and some rest, we moved out to the city area to shop. We went to the Talat Sao shopping mall where we got a few souvenirs and then went to the Talat Sao bus terminal to enquire about the bus to Nong Khai railway station.
There are two ways to do this journey. If you hold a passport which do not require you to have a Thai Visa or you already have a valid Thai visa stamped on your passport, you can get into the bus to Nong Khai. The ticket cost will be 15,000 Kip. In case you are trying to get a visa on arrival at the border, you need to catch a bus to the friendship bridge (border) and then get your visa stamped before you proceed to Thailand. Since we had to get a Thai visa on arrival, we took the second option.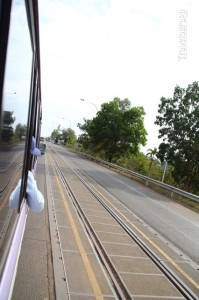 We got back to our hotel room and got back at the Talat Sao bus terminal with our luggage and got a ticket (8,000 Kip, in the bus) on a local bus to the friendship bridge. The bus stopped just before the friendship bridge and we got down. We completed the exit formalities at the Lao border and got a 5,000 Kip ticket to cross the friendship bridge. Note that you cannot walk across the bridge!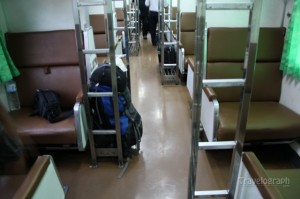 We got into the mini bus and thus we were now officially in Thailand. We got down the mini bus, got the Thai visa on arrival stamped in our passport, and moved on. From here, we had to get to the Nong Khai railway station. For 20 Baht, we took a tuk-tuk ride to the station which was quite nearby. We had already got our train tickets booked in advance through the thai railways website: http://www.thairailticket.com/ And for <800 Baht, we got a 2nd class air-con sleeper coach ticket.
Finally, we got into our train and settled in our berth. The coach was really good and you can also buy food from the train's pantry. After having our dinner, we settled to the bed to get a good night's sleep in the comforts of the coach.
berT
16.11.2012
Location: Nong Khai, Thailand
Are you from India?
I have created an algorithm that can predict the airfare movements in India. It also predicts and alerts you of any approaching airfare offer. Do check it out! http://unfare.in
---
« « Prev: Day 7: Enjoying the beautiful Tad Sae falls in Luang Prabang, Laos
Next: Why I prefer to stay in a hostel while on a vacation » »
---
If you have enjoyed reading this post, consider liking our Facebook page!!
---