Day 4: Enjoying the dolphin cruise and Sand bank trip in Maldives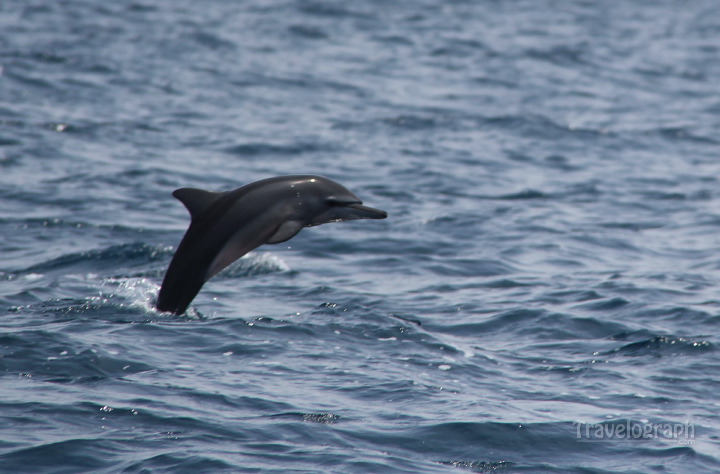 We woke up to a bright and sunny day here in Maafushi, Maldives. Even at around 8am in the morning, the sun was so bright that I was a bit worried whether we had actually overslept. But a quick double check on the cellphone and watch confirmed that we hadn't. So we got ready for our first trip for the day – the Dolphin cruise.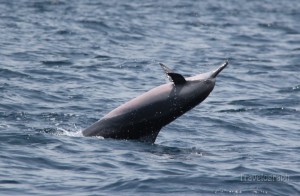 After breakfast, we got into the speedboat which took us quite far away from our island. I guess the boat guys know certain areas were the chances of spotting the Dolphins are the highest. After searching in one area for them for the around 30min, we didn't get to see any. So they revved up the boat to take us even further. After traveling another 15min, yes, we found a group of dolphins swimming together. The boat slowed down and I immediately got to the front of the boat to click photographs. I could see so many dolphins swimming in front of us, there were some which were swimming alongside the boat, some flipping in the air! It was truly an amazing sight.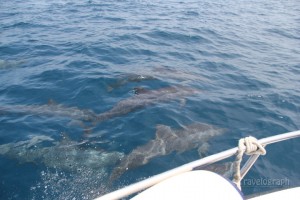 Seeing them was one thing-capturing them on camera was another! Soon, we figured out a dolphin that had done a flip out of the water would repeat it a couple of times. When we realized that, I started looking around for any dolphin jumping above the water and once I found one, I kept my camera focussed and ready for the shot. And yes, it did come up and since my camera is always on the burst mode, one press down the shutter did the trick. I got multiple shots of the dolphin jumping above the water, flipping and splashing down in the water! I could repeat that a couple of more times and was content that I now had got the shots for memory. For some more time, we enjoyed looking at the dolphins and then we returned.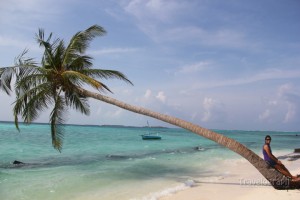 Our next trip for the day was to a "Sand bank". We were supposed to go for the sand bank trip immediately after our dolphin cruise but since it was very sunny, we asked them to postpone our trip to late afternoon. They agreed and hence we decided to explore the island of Maafushi, where we were staying. Maafushi is a small island and can easily be explored on foot. I guess it would be just a 15-20min walk to any place on this island. There are beaches on the north side of the island, but don't expect it to be like you see in the photographs of Maldivian beaches.  They are decent. We roamed around and as it was lunch time, we got to a sea-side restaurant. After enjoying our lunch, we took a photo at an iconic leaning palm tree on the beach in front of the restaurant. It was now time for us to go for our sand bank trip.
When I was researching this trip to Maldives, I had seen the photographs of the sand bank and was fascinated by it. A sand bank is a very small island of sand in the middle of the sea. There are usually no trees or shrubs growing there as they get submerged during the high tide. Tourists visit these sand banks to get a feeling of standing on your "private island". But since there is no prior booking for this island, there is no guarantee that we would be alone. But just to maximize our chances of getting a private spot, we asked the hotel guy to book a trip separately for us and he informed that there can still be people from other hotels on the sand bank. We were ready to take that chance.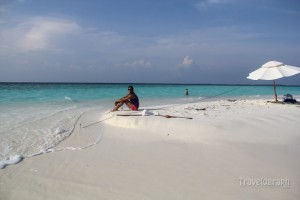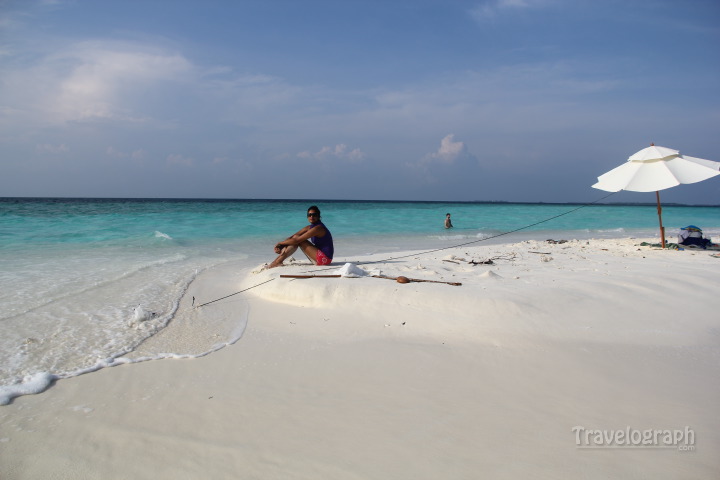 We got into the speedboat which took us a little far from the island. We could see the sand bank now and it was indeed beautiful! But, there was another family too on the sand bank. That was a bit disappointing for us. The hotel guys put up a beach umbrella for us and returned back to the main island letting us  enjoy the sand bank by ourselves. Since they also gave us snorkeling equipment, we thought to try it a bit on the waters around us. But as we got into the water (which was surely shallow), and went a bit further into the sea, we realized that the current was a bit strong and we, being non-swimmers, should definitely not try snorkeling in these waters! So we decided to keep our equipment back under the beach umbrella and went to just play around in the clear, blue waters around the sand bank.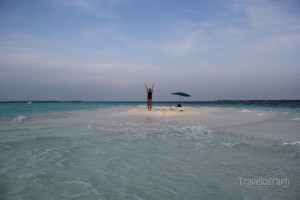 Around 4:30pm, a speedboat approached the sand bank and we realized that it had come to pick up the other family from the sand bank! Yay! Soon the sand bank was going to be ours, we realized! Once they left, we started clicking our photographs posing as being stranded on a tiny land surrounded by waters on all the sides! It was definitely a wonderful feeling to be that way! We settled down, had our snacks and enjoyed the setting sun together. The tide was definitely high and hence there was only a tiny part of the sand bank which was still dry where we kept our stuff. We just hoped that it stayed like that!
The sun was setting on the horizon and we sat on the beach, quietly enjoying the perfect ambiance around us. After the sunset, our hotel guys came back to pick us up from the sand bank and take us back to the main island. We got back to the hotel with wonderful memories of being on a small island -all by ourselves- in the middle of the sea.
berT & Sarah
03.05.2014
Location: Maafushi, Maldives
Are you from India?
I have created an algorithm that can predict the airfare movements in India. It also predicts and alerts you of any approaching airfare offer. Do check it out! http://unfare.in
---
« « Prev: Day 3: A picnic on "Picnic Island" (Maadhoo) in Maldives
Next: Day 5: From Maafushi to Male airport, Maldives » »
---
If you have enjoyed reading this post, consider liking our Facebook page!!
---