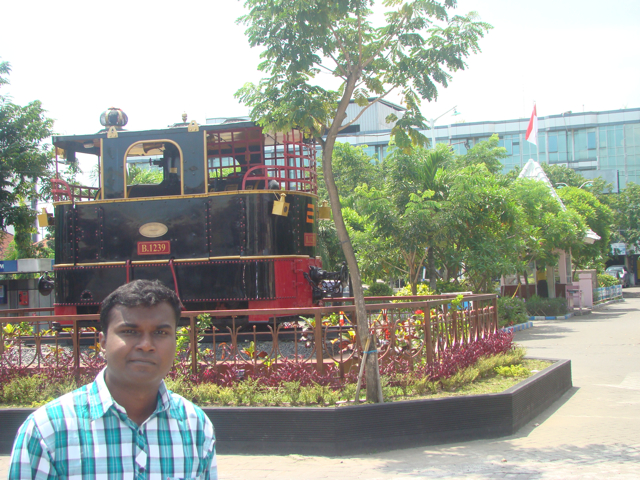 We got up late in the morning. We had to go back to Bangkok today. We got ready and took a bus ticket to Bangkok in the afternoon. Pattaya was surely a wonderful place to be. The live music played by the bands during the night was still ringing in our ears. Just sad that we missed the international music festival here by one day. But we moved on. We had lots of snacks for breakfast. We saw a fruit that looked like guava but different from the ones we get back in India. We tried it and it was the best guava fruit I have every had in my life! It was too good. We then got into our bus and moved on.
We arrived back in Bangkok and picked up our lugguage from our hostel. We had to now get to the airport to catch our flight to Indonesia. Through the skytrain and the airport rail link, we reached the Suvarnabhumi airport in 40min. In terms of commutation and the transportation infrastructure, Bangkok is way ahead of our metros back in India. The airport too was a big one. However the queue was so big that we had to wait for 2hrs to just check in. Even though we had come so early, we reached the boarding gates just in time. And finally, we leave Thailand with memories of visiting one of the most beautiful islands, beaches and bays. It was truly worth the visit to Thailand.
It is after some days that we were flying in this trip. There is a funny story on why Indonesia popped up in my travel map. I am always a person who likes visiting new countries even though it may be just for a day. With the offer from Air Asia on select routes, I found that flying through Indonesia was a little cheaper than flying directly. However when we take into account the visa expenses, etc, it becomes costlier, this one one small excuse I had to put Indonesia in this trip plan. So this leg of the trip was worked backwards when compared to the other destinations.
We landed at Surabaya at about 15min to midnight. This is the first time that am travelling down the Equator. This is a special trip add on that am looking forward to. And here I am, queuing up for my visa on arrival.
Day 10 expense: Rs. 6301
Total: Rs. 26,000
berT
18.03.2011
Location: Surabaya, Indonesia

Are you from India?
I have created an algorithm that can predict the airfare movements in India. It also predicts and alerts you of any approaching airfare offer. Do check it out! http://unfare.in