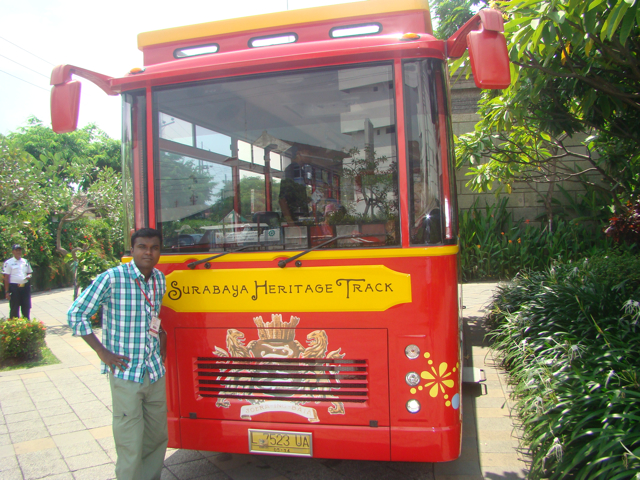 The day started at the airport waiting in a queue for our visa on arrival. Again, as in Thailand, we got the visa stamped in a few minutes. As we had informed before, our hostel lady was waiting outside the airport. It was just 40,000 Indonesian Rupiah for the pick up from airport. Yeah, that is the currency out here and 1 Indian rupee is about 200 rupiah. As for the time difference, there wasn't any as Indonesia followed the same time as in Thailand. We got to the hostel, Da Rifi. It was like a homestay and even though we were late, we were given tasty noodles to eat. We had the noodles and settled to our beds.
We got up early to go for a city tour organized by the government for free. So we took a taxi to get to that place and we had to spend 120,000 Rupiah for it. Guess the taxi fellow took us for a ride. When we got there finally, we found that the bus for city your had already left! But thankfully, there was another one at 1pm. We also had to book some tickets and so decided to do that in the mean time. We got to the nearest railway station and booked the ticket with the help of a staff who could understand english. As we came out, we were surrounded by rickshawalas asking us to come along. I was reminded of the usual sight back in India when foreigners get mobbed by local auto and rickshawalas. We stayed clear. I had the map which I got from the tourist building and wanted to go on foot back to the place where the bus starts. Siva on the other hand wanted to use the rickshaw and get some sleep. So we decided to split up and meet at the pick up point. With great sign language skills, both of us managed to communicate where we wanted to go and the price. We found that unlike in Thailand where they could understand a little bit of english, here, they had absolutely no clue. Even communicating the numbers was difficult. If you want to find out the price, either use your fingers or show the currency notes. That was the only way out. So here, there was absolutely no verbal communication going on but it a good experience and I was enjoying it.
I then saw a shopping mall. When I got in, I could understand that it was actually a discount or wholesale store. I was probably the only foreign national in the mall and was getting all the attention. It is the same way a foreigner walks into a tier-3 city in India. I found that the goods were quite cheap and picked up a few and moved on. There were quite a few food items I tried and some of them were quite good. Though its difficult to adjust your mind to the different exchange rates of different currencies, I had a way of my own. In India, generally, we use the 100Rs and 500Rs notes for our shopping. So instead of converting every commodity/service into rupee
equivalents, I find out what is the equivalent of our 100 & 500 rupee notes and then use them. For example, in India a normal meal outside would cost Rs 100. So I know that any meal in the range of 20,000 rupiah, which is the 100Rs equivalent, is the right price for me. And this method has worked out quite well for me in this trip as I had to continuously change the currency in my wallet.
I used the map and the sun for direction to walk back to the pick up point. Since the map was detailed, there wasn't, much of a problem. We got to the bus and moved on. The guide showed us important buildings in the area and some buddhist, hindu temples. It was a brief tour of 1.5hrs and we took a taxi back to our hostel.
We had some Indonesian food for dinner and took some rest as we had to go on a journey later in the night. We had met couple of our hostel mates, one Korean and one Malaysian who were also keen on going to the same place. So together, we booked a car to go there. And here we are, in the car to that amazing place that I was looking forward to in this trip.
Day 11 expense: Rs. 1492
Total: Rs. 27,492
berT
19.03.2011
Location: Surabaya, Indonesia

Are you from India?
I have created an algorithm that can predict the airfare movements in India. It also predicts and alerts you of any approaching airfare offer. Do check it out! http://unfare.in