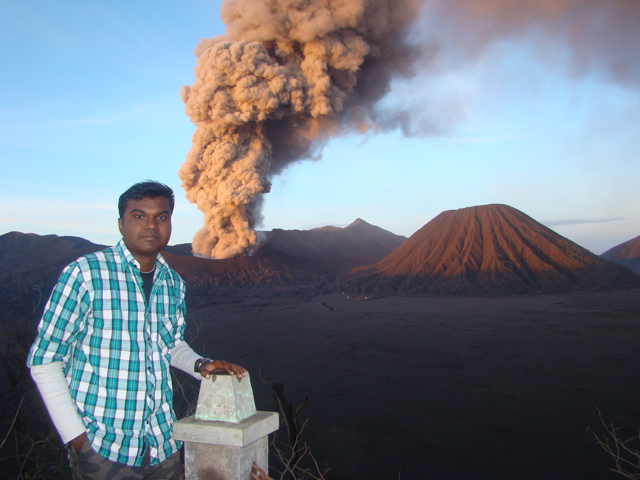 The day started in the taxi on our way to Mt.Bromo, an active volcano in Indonesia which is just a 3hr drive from Surabaya. The road was a little bumpy, much like the Indian roads but was not bad though. I had a good sleep in the taxi till the time we stopped. It was 2am. We knew we were near Mt.Bromo but did not get out of the car as it was quite cold outside and we had planned for the sunrise view of the Mt.Bromo at around 5am. Even with the windows of the car closed, I could hear a faint gushing sound occasionally. I pointed out this to the Malaysian guy who was awake. He said that maybe its just a gust of wind. But out through the window, I could not see any trees swaying. Suddenly the sound got louder. Now we realised that it was not the sound of the wind. I wanted to get out of the car and find if I can get to a viewpoint to check the source of the sound. The Malaysian guy came out with me. It was quite cold outside, but still was manageable. As I walked up further, I could see a huge cloud in the sky that was a lot thicker than the vapour clouds we see usually. Further up, I could see the mount Bromo spewing out ash, smoke and lava! It was an amazing sight. Can't express them in words. The sound that the volcano was making, the smoke coming out, the full moon night, the brilliant viewpoint, all were perfect. You just can't capture all this in your camera. Its an experience and you have to feel it by standing in here. The eruption was pulsating and was not continuous. We could observe that when the eruption stops for sometime, the longer the break, the spectacular it is when it resumes. When it resumes, the lava comes out which shows as red streaks in the night sky and then it is all covered in the ash. It was truly an awesome sight of nature at its best. In a few times, there was a bang also when the eruption resumes. The Malaysian guy was also interested in photography and we both were taking 30sec long shutter shots of the eruption to get a good shot in the night sky.
I knew about this volcanic mountain before and I had heard that one can actually trek upto its top and look down the crater. This made me very interested and hence Indonesia came up in my travel map. As I researched further, I came to know that this mountain erupted in last November and from then, it has been given a critical status and has been off limits for tourists to trek up the crater. this made me drop off Indonesia from this trip but later on when I decided to visit Indonesia, I decided to come here and witness the eruption from the 2-mile cordon. And it proved to be worth it.
As the sun rose up, the mountain showed brightly and the ash was more visible. But we couldn't see the lava streaks as it got brighter. We clicked a lot of photographs before we got back to the car. We then started back to our hostel with wonderful memories. The sound that the eruption was making which resembled that of huge waves crashing into rocks was still ringing in my ears. The ride was bumpy and hence tiring. As soon as we got back, we settled to our beds. When we got up, it was time for lunch and we had good Indonesian food.
It was time to move out of Surabaya. We got to the railway station to board the train to Jakarta. I just wanted to try out the railway networks too. So had booked my tickets to Jakarta by train yesterday itself. You can even book hotel accommodation on travel websites like Expedia. Unlike the trains in India where we have different classes in the same train, here, there are trains for different classes; economy, business and executive being the upper class. Since we came to know that the economy class trains can sometimes be delayed to give way for executive class trains, we decided to book executive class tickets to Jakarta. It costs us 340,000 rupiah per person.
Finally our train arrived and when we got into it, we were a bit disappointed as it was sitting rather than sleepers even though it was an overnight journey. But I was happy that atleast it was
airconditioned. Soon the train moved on. We were waiting for the lights to go out so as to sleep. But surprisingly, that never happened. And so here we are in the train on our way to Jakarta.
Day 12 expense: Rs. 2185
Total: Rs. 29,677
berT
20.03.2011
Location: Enroute Jakarta

Are you from India?
I have created an algorithm that can predict the airfare movements in India. It also predicts and alerts you of any approaching airfare offer. Do check it out! http://unfare.in