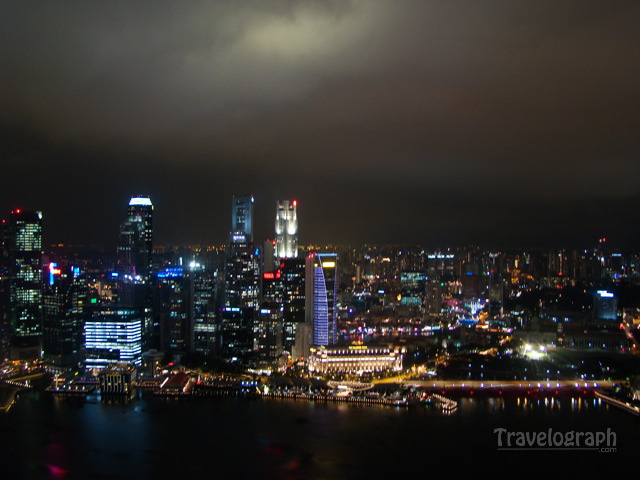 "All travel has its advantages. If the traveller visits better countries, he may learn to improve his own. And if fortune carries him to worse, he may learn to enjoy it." – Samuel Johnson
I woke up early in the morning as the train was nearing Jakarta. The journey was not that comfortable due to the seats and the lights that were on during the night. We got down at the Gambir station. Again, we managed to find a guy who could understand english and he showed us the way to get to the airport shutte bus for our flight to Singapore. For just 20,000 rupiah, the bus would take us to the airport from the Gambir station. The view outside looked like the suburbs of New Delhi and I could see a few tall buildings in the backdrop. Within an hour, we reached the airport. To our surprise, there was a 150,000 rupiah airport tax for international departures. The airport wasn't that crowded when compared to the other airports that we had been to. I particularly liked the boarding gates area. Overall, it was a good airport.
Our flight was delayed by almost an hour and we finally got into it at noon. And thus we got out of Indonesia. It was surely a memorable one as it is here that we could see a volcanic eruption directly and I loved the travel experience that I gained in here and the way we communicated without any spoken language. It was amazing.
I had to again clock up my watch by an hour as Singapore time was an hour ahead of the Indonesian time. At 2:30pm, we reached the Singapore airport. We quickly moved out through the immigration and in the arrival hall was waiting Siva's sister. We first went to her apartment to get fresh. Singapore looked an extremely well developed city. The drive was a breeze as it went through freeways and extremely well planned and maintained roads. I have been through all the major cities in India and not any of them, even in parts, can be compared to the city of Singapore. Surely, we are years behind in having a world class city in India. What amazed me was the use of smart cards in the card that get automatically charged when you park, use a particular freeway, etc. "A wonderful technology to avoid queueing up near toll booths like we see back home", I wondered.
In the evening, we went out to roam around the city. We went to Marina bay sands to get a good view of the Singapore skyline. It truly looked marvelous with those lights on. The interesting part was the way we climbed those 60 floors. In an instant the lift zoomed us up to the top. But surprisingly, I never felt that I was going up so fast except for those floor numbers zooming past as we go up. The only slight discomfort was felt in the inner ear which found the ride quite unusual. We then had a look at the casino. It was the first time that we were in a real casino. Both of us had no clue of playing and we were sure that it will be very addictive if we learn to. So we decided to keep out. After having a wonderful dinner, we settled to our beds.
Day 13 expense: Rs. 4061
Total: Rs. 33,738
Note: Expense at Singapore may not reflect a true backpacker's expense as many expenses are not included here.
berT
21.03.2011
Location: Singapore

Are you from India?
I have created an algorithm that can predict the airfare movements in India. It also predicts and alerts you of any approaching airfare offer. Do check it out! http://unfare.in