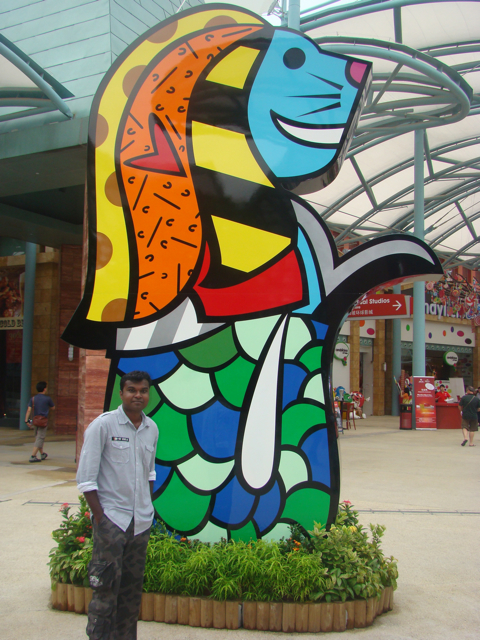 We woke up early in this amazing city of Singapore. Today, we had planned to go to the universal studios, a theme based park here. We, along with Siva's sister and family got to the place by 10am. Here the park was based on different movie themes from the different hollywood movies like Jurassic Park, Titannic, Mummy, Shrek, Madagascar, etc. They had different rides, again based on the movie themes. For example, I got into an indoor rollercoaster that was based on the Egyptian mummy theme. It had all 3-D graphics around the coaster and was a different experience. Overall, I felt that this is a place to come with your family and not as a part of a backpacking style of journey. This feeling is not limited to just the universal studios but also about Singapore as a whole. I don't feel that this is a backpacking destination. But still, I loved the different flavour that Singapore brought about in the trip.
At around 4pm in the afternoon, we moved out of the Universal Studios. We went to the underwater aquarium in Singapore. Here there was a Sea Lion & Dolphin show. The Sea Lion show was quite good and it was the first of this kind that I have seen directly. After the show, we went to the underwater aquarium. It was indeed quite impressive, especially the place where you move in a tunnel with the aquarium all around you. It was then time for the Dolphin show. However this was just for 10min and we were quite disappointed when compared to the Sea Lion show. We then moved on. This time, we went to the Big Merlion statue near Sentosa. We got to the top and clicked photographs. After a nice dinner, we settled to our beds.
Day 14 expenses: Rs. 3600
Total: Rs. 37,338
berT
22.03.2011
Location: Singapore

Are you from India?
I have created an algorithm that can predict the airfare movements in India. It also predicts and alerts you of any approaching airfare offer. Do check it out! http://unfare.in