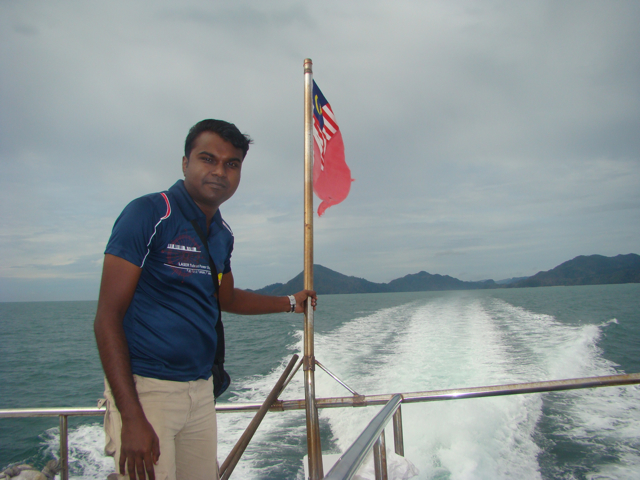 I travel not to go anywhere, but to go. I travel for travel's sake. The great affair is to move.
-Robert Louis Stevenson
We got up early in the morning. There was a long journey ahead. We were planning to go to Phuket from here. We packed our luggage and waited outside for our pick up from the guesthouse. A slight drizzle was on and the sky was cloudy. Soon the taxi arrived to pick us up and get us to the ferry point.
The ferry ticket was purchased at 40RM which includes the transfer to the ferry point from the guesthouse. This will take us to Satun, a border town in Thailand. It was a quick pass through the immigration centre and we reached our ferry. The drizzle we had in the morning stopped and I was looking forward to a beautiful day ahead.
We got into the ferry. It was a compact, 100 seater, air conditioned ferry with comfortable seats. Since we were not getting a clear view outside, we decided to move up the deck in the open. The ferry was doing a decent 25knots and it was a wonderful view from the top. We stayed here until we were about to reach Satun. It is the first time that I am crossing an international border over sea. We neared Satun, and as usual, I adjusted my watch by one hour as Thailand time is one hour behind that of Malaysia.
We got down at Satun and proceeded to the immigration centre. We were greeted by a courteous lady official who stamped our "visa on arrival" in a matter of minutes. Surprisingly, there was an offer for visa fee waiver for stay upto 15days till 31st March 2011. That saved us a good 1000 Baht. Yeah, Baht is the currency in Thailand and it is around 1.4 Rs per Baht.
We got out of the immigration centre and now had to get a bus ticket to get to Phuket. Sadly, there was no ATM centre in the vicinity and so had to use a currency exchange centre at 5% charge. We then booked our tickets to Phuket for 700 Baht, which I knew was higher than actual but was willing to pay as it was more convenient. We had a good thai meal of rice and chicken from a local eatery and waited for our bus.
Soon we got our pick up from the immigration centre to take us to the bus terminal which was 10min away. The surroundings looked very similar to what we see back in India. Even the bus terminal looked the same. We then boarded the bus which was a comfortable air conditioned Benz. We moved on through the Thai countryside. It was astonishingly similar to the Indian countryside. The vegetation, the topography, the architecture, except for the people, all looked familiar. We stopped for a late lunch at a city named Trang. I had seen a lot of nice eateries on the way. Being a person who is very keen on trying out new food items, I was surely looking forward to Thailand.
After a 8hr journey, we reached Phuket. Phuket is a very huge city in terms of area, people and buildings. The traffic movement was erratic as in India however the roads were extremely neat and clean. We had booked our dormitory close to the Patong beach, which is the tourist hub in Phuket. However it was a little far from the town and hence had to take a taxi at 450B. We checked into our dorm which was a comfortable air conditioned room at 250 Baht per person.
After getting fresh, we moved out to explore the area. It was crowded and very lively. We had dinner at a roadside eatery and walked upto the beach. Being very tired of the travel, we decided to call it a day and settle to our bed.
Day 4 expense: Rs. 2006
Total: Rs. 11,111
berT
12.03.2011
Location: Phuket, Thailand

Are you from India?
I have created an algorithm that can predict the airfare movements in India. It also predicts and alerts you of any approaching airfare offer. Do check it out! http://unfare.in