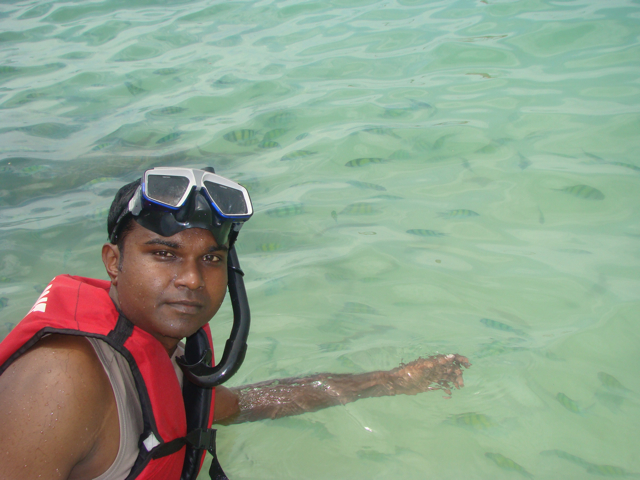 Another morning alarm goes and I wake up early. It was 6.45am. Today, we were planning to go to Phi Phi island situated to the south east of Phuket. We had booked for a one day package with the help of the hostel guy for 1000 Baht per person. We were picked up from our hostel and we were on the way to the jetty. Though it was a sunny day, we didn't hesitate to climb up and sit in the roof. Soon we moved on. The sea was quite choppy and we could feel its effect on the ferry since we were on the roof. I also could see numerous jellyfish alongside the ferry. Altogether, it was a wonderful sight.
We reached our first stop for the day which was Khai island. It was a small island and we had to get into long boats which are smaller to get to the shore. We put on our swimming gear and with the snorkelling gear they provided, started watching the coral and other marine life with beautiful fishes swimming around. After an hour, we came back to our main boat and moved on to our next destination. It was lunch time and we had a wonderful Thai food with tropical fruits. It was surely the best food i had so far in Thailand. And added to this was the fact that we were on the roof of the boat with only the sea around, it gave an amazing ambience to our wonderful lunch. I could see shoals if flying fish jumping out of the water and gliding as our boat passed by.
We next stopped at Maya bay. Again, one of those places which makes the trip priceless. No words to describe this place, but yeah, I guess I have managed to get it in my camera. The water so clear and the beach had pure white sand. All around were tall cliffs which added to the beauty of this place. In short, one would find it hard to believe that such a place can exist in the real world. This is for sure a 'must visit in your lifetime' kind of place.
We then moved on to the Phi Phi island. Its a much larger island with lot of shops and crowd. I got down into the beach for a swim for the third time and enjoyed the clear beach that is without any waves. By around 4pm, we returned to the boat for the long ride back to Phuket. After a hearty dinner of rice and noodles with barbequed fish, we settled to our bed.
Day 5 expense: Rs. 2212
Total: Rs. 13,323
berT
13.03.2011
Location: Phuket, Thailand

Are you from India?
I have created an algorithm that can predict the airfare movements in India. It also predicts and alerts you of any approaching airfare offer. Do check it out! http://unfare.in