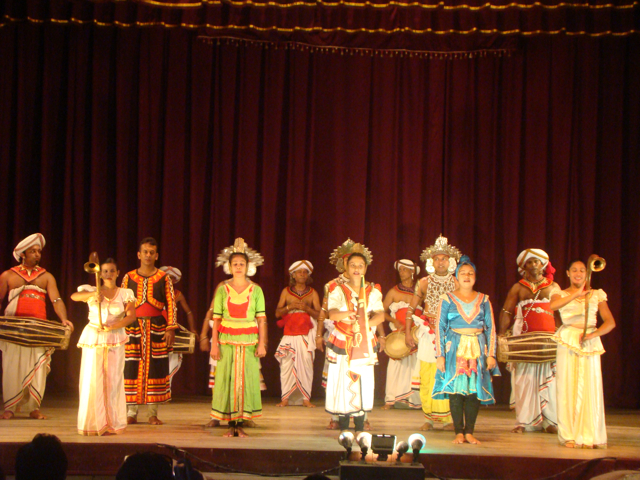 The world is a book, and those who do not travel read only a page.
– St. Augustine
It is 12:30am Friday night. It is the day which every working professional in this city would be looking forward to. To me, this Friday was special. For here I am, sitting on board a flight to Colombo.
A weekend trip to Sri Lanka was on my plan before I came to this city, Chennai. Given the low cost of the flight to Colombo, I wanted to include Sri Lanka in my travel map. So, frankly, it was more of a 'let's visit a new country' urge rather than 'let's visit Sri Lanka!! Accompanying me in this trip are two of my batchmates from TAPMI, Manipal, Rahul Garg aka "Sehwag" named after his resemblance to the Indian cricketer, Virender Sehwag and Ajay Verma aka "Johnny bhai"; ok, am not going to tell you why he is called so.
In the flight, Sehwag, who recently got engaged, was in full romantic mood, making those last minute 'i will miss you' kind of conversations with his fiance before the hostess asked him to switch off his phone. The flight took off on time and landed at Bandaranaike international airport, Colombo at 01:30am. It was truly a beautiful airport and probably one of the best that I have been to. Well decorated and well lit. There was a particular type of lamp shade that was hung all around. We moved on to the immigration and got our visa on arrival stamped immediately. It was that easy. No questions asked. In the arrival hall we found our hotel guy whom we had arranged to pick us up at the airport. We then proceeded to the taxi that would take us to Kandy, a city towards the inner region of Sri Lanka. The weather was pleasant but I could see puddles of water denoting rains. This time of the year, it's monsoon season on the west coast of Sri Lanka. Thankfully, right now, it isn't raining here in Colombo.
We moved on. The roads, vegetation, architecture looked exactly the same as what we see back in India. I could also find the replicas of the lamp shade that I saw at the airport, hung in some places in the streets as well. We were all very hungry and so asked the driver to stop somewhere for food. We stopped at a local eatery. Myself and Sehwag had something like a roti with stuffed egg. Johnny bhai, being a veggie had to manage with just some cold drinks. As the taxi moved on, I could catch a bit of sleep enroute. After a 2hr drive, we reached Kandy. It was a small and beautiful city with a lake in the centre. The reflection of the city lights on the lake made it picturesque. "Should get back here by night for photography", I thought. We reached our hotel at around 04:30am and checked into our room. We were all too tired and so we immediately settled to our bed.
After a 2hr sleep, I woke up. We got ready and had our breakfast. It was a mix of Sri Lankan and English breakfast. Through the hotel guy, I arranged for a tuk-tuk(auto) that would show around kandy and surrounding places till evening. By this time, Johnny bhai and Sehwag too joined in. Soon I could find Sehwag discussing the 'process flow' on a piece of paper with the tuk-tuk driver!! Thank god Sehwag didn't ask for a service level agreement!! 'What all an MBA does to a normal person', I wondered.
We moved on. After stopping at a local handicraft factory, we got to the Kandy view point. From here we could see almost all of Kandy. After clicking a few photos, we moved onto the railway station to book our tickets for tomorrow. We wanted to get observation class tickets but got to know from the counter that all tickets were sold out. So we had to settle for second class tickets. We moved on. Towards the outskirts of the city, we visited a tea factory where they had a tea bar to taste the tea they make in there. About the tea, frankly, I found the Darjeeling tea much better.
We then moved on to the Kandy city area to do some window shopping. Soon, we were very hungry and wanted to have food. Myself and Sehwag got into a restaurant and as we sat in, we found our Johnny bhai missing!! We ran out of the restaurant and could see him walking aimlessly along with the crowd. we trying catching up with him but the crowd was preventing us from doing so. We could see him take a turn and as we reached there, poof, he was gone. Now without any mode of communicating with eachother, we hoped to meet him back at the hotel by night. But as we were considering our options, we suddenly saw him coming back. At this point of time, since we had different food requirements, ie, I wanted to have completely unknown local food while Johnny bhai was looking for pizzas. So I found this small eatery where I had "egg hopper". Sorry, as usual, I can't explain what it is, but it tasted good.
Our meeting place was the Kandyan cultural centre where we were to watch the cultural dance form of Kandy. We got into the hall which was almost full with tourists from different parts of the world. With different dance performances, fire dancing and walking performances, it was a 1hr show that we totally enjoyed. We then moved out and went around the temple of the tooth relic where Buddha's tooth is kept as a relic and is one of the important places in the Buddhist religion. With the city closing out early, there was nothing much to roam around and we soon got back to our hotel to have a good rest.
Total day spend: Rs. 3,784
Total trip spend: Rs. 3,784
berT
11.06.2011
Location: Kandy, Sri Lanka

Are you from India?
I have created an algorithm that can predict the airfare movements in India. It also predicts and alerts you of any approaching airfare offer. Do check it out! http://unfare.in