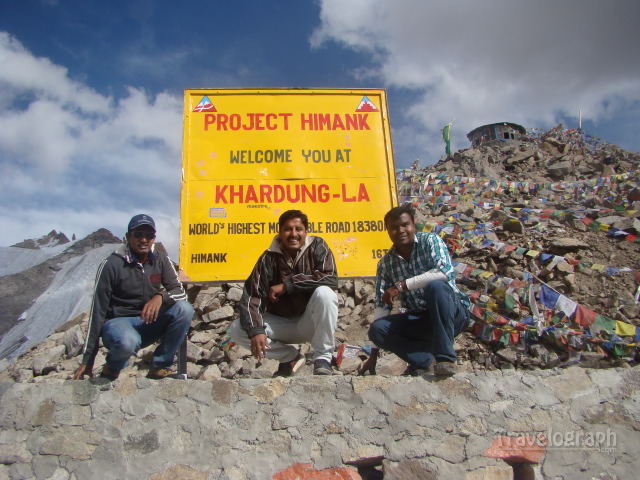 We got up early in the morning. Koshy was feeling a lot better. That was good news for all of us. Guess it is always advisable to meet the doctor in case you aren't feeling rather than wait and allow things to get worse when in Ladakh. After having a good breakfast, me and Simha proceeded to the District Commissioner's office to get the inner-line permits for our visits around Leh.
Leh town looked deserted with all the shops closed to commemorate the death of Ladakhis who were killed in 1989. Fortunately, the DC office was open. Unlike in 2009, the issue of permits seems to get done very fast but the fee has been hiked in the form of wildlife protection fee. Once we got the permits, we got back to our guesthouse to check on Koshy.
Since Koshy seemed to be feeling quite well and the permits in our hand, we decided to go to Khardung La. We got to the Leh taxi stand and took a taxi for Rs.1,550 to get us to the Khardung La top. We moved on. Memories of my bike ride to the top back in 2009 flashed in my mind as the taxi negotiated the sharp turns. But surprisingly, unlike in June 2009, Leh felt very warm to me. En-route, I photographed beautiful top views of Leh town as the taxi moved on.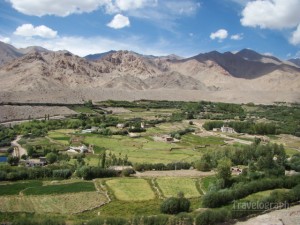 After a 40km ride, we reached the Khardung La top. I got out of the taxi and walked around a bit. Frankly, I was finding it a bit odd. Something was not normal. I knew it was the altitude but was still surprised as I never felt this way when I came to Khardung La top last time around. Slowly, I moved around. As I walked around a bit, things were getting back to normal. We climbed up a little to pose for photographs in front of the "highest road in the world" signboard. Later, we took a step further by climbing up to the prayer flags near the Stupa. After having the customary "black tea" at the army canteen, we got back to our taxi to get to Leh.
The ride was very bumpy as the road was in a very bad condition. Koshy was feeling motion sick and I was getting a bad headache. I just tried to get some sleep. By the time we reached Leh, I was having a very bad headache, Simha and Koshy too were showing symptoms of altitude related illness in terms of tiredness and headache. I quickly had some dinner and got back to the guesthouse. I knew I needed to get some sleep quickly. And unlike the last time I was in Leh, this time, I decided to take the Diamox tablets.
It was indeed a tough day for me. The mistake being – taking a trip to Khardung La top at 18,380ft right on the second day of my arrival in Leh by air. So my sincere advice, take at least 2 nights of complete rest before venturing out of Leh, if arrived by air.
berT
27.08.2011
Location: Leh, India

Are you from India?
I have created an algorithm that can predict the airfare movements in India. It also predicts and alerts you of any approaching airfare offer. Do check it out! http://unfare.in