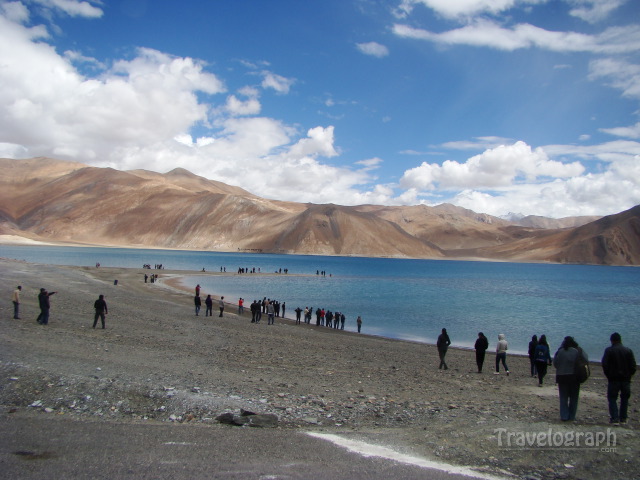 I woke up early in the morning at 6am. Today, we were to go to the Pangong lake, about 140km from here. Since we wanted to get back by evening, we got into our taxi and moved on early at 7am. When we looked out, we could see that it was snowing in Stok Kangri. Probably, we had taken the last available climbing slot this summer! As we moved out of Leh, a slight drizzle started. We stopped by at the Karu for breakfast. There was a small restaurant to the right near the junction. I had one of the tastiest parathas I have ever had in here. After the breakfast, we moved on.
Soon we were climbing the mountain pass enroute, Chang La. As we were climbing, the drizzle turned to snow. It was extremely cold and as I was not wearing any thermals or jacket, I dared not to venture outside the taxi. After taking a few clicks at the top of the pass, we moved on.
By 11:30am, we reached the Pangong lake. It looked spectacular in its blue tinted water in contrast to the mountains around it. However, it was too crowded but felt that Tso Moriri was more beautiful than the Pangong. Still, the lake had its own beauty in the form of it blue tinted water. After taking a lot of photographs, we moved on.By around 4:30pm, we reached back in Leh. After doing some lazy shopping around in the Leh market, we got back to our guesthouse to get some sleep.
berT
03.09.2011
Location: Leh, India

Are you from India?
I have created an algorithm that can predict the airfare movements in India. It also predicts and alerts you of any approaching airfare offer. Do check it out! http://unfare.in