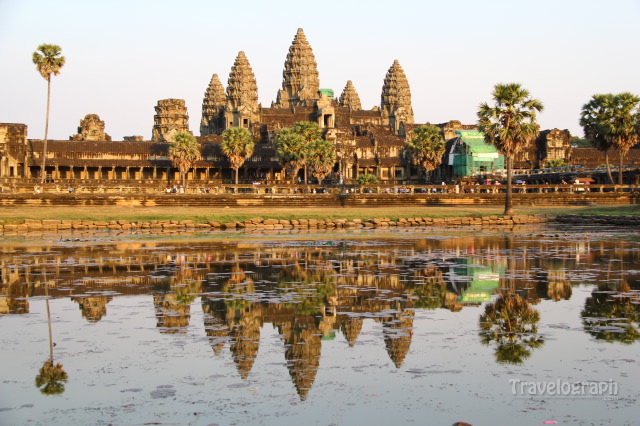 It was past midnight local time that I decided to give up all hopes of catching a wink of sleep for the night. My inability to sleep while traveling continues to haunt me even in this trip. Looking out through the window, I could spot faint lights spread across the ocean below. As the descent continued, they became clearer and I found that they were in fact container ships sailing across the busy Malacca straits where one fourth of all traded goods worldwide pass through everyday. And yes, I was now flying from Chennai to Kuala Lumpur. Accompanying me in this trip is my colleague, Purnendu Singh and couple of his friends who are to join us from Kuala Lumpur. Our plan was to visit the Angkor Wat temple in Cambodia and then do an overland border crossing. Already faced with a lot of visa hassles, we just hoped that the trip would be worth all those trouble.
We landed at Kuala Lumpur by 1am and after clearing the immigration, we moved to the arrival hall where we met Jayanth and Manjunath. Now we were to catch our next flight only by 6:50am but thanks to the free wifi, I managed to pass some time. Staying awake made us all feel hungry and so after having a burger meal, we went in again for the immigration formalities. At 6:30am, we boarded our flight to Siem Reap, Cambodia which was in fact the third country we are being to in the last 16hrs. It was more than 24hrs since I had a wink of sleep. And so I was feeling extremely tired because of which I could finally sleep during the 2hr flight.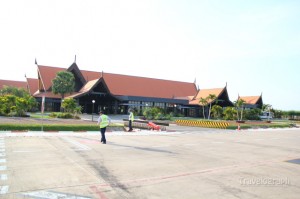 It was 8am local time, when I woke up as the pilot announced the landing. Looking out through the window, I could see large paddy fields with good canal systems with sparsely populated houses. Soon we landed and as we got down from the aircraft, we could see the beautiful airport terminal designed in the typical Khmer architecture. We clicked some pictures and proceeded for immigration. The visa was available on arrival for 20$ and we got it stamped in no time. Outside the airport, our hotel guy was waiting to pick us up from the airport. We had hired a taxi for the whole day for 25$. And yeah, though the official currency in Cambodia is the Riel, US dollar is widely accepted and circulated. And in Cambodia, we drive on the right unlike what we see in most south east Asian countries. We got to the hotel, got fresh and moved on to have our breakfast. After having a good English breakfast, we moved on to our destination of the day, the Angkor Wat temple.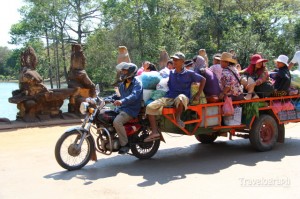 The Ankor Wat temple complex was built in the 12century AD by Suryavarman II. It has a number of temples and other structures spread across a large area. Tickets were available at the counter for 20$ a day which holds valid to visit all the temples in the area. First, we decided to go to the Bayon temple. We kept on clicking photographs as we moved in and around the temple. Adjacent to the temple was Baphuon and the Angkor Thom temples and by noon, we visited them all. Since we all had a heavy breakfast, we decided to postpone our lunch and move on to the Ta Phrom temple. Surprisingly, the restoration work was being done by Indian help and we could see instructions around the temple written in Hindi as well! This temple was a lot different from others in that it looked a lot like ruins and trees had grown over the temple in some places. This is also the place where many Hollywood movies were shot. We could see that restoration work was going on in many places in different temples.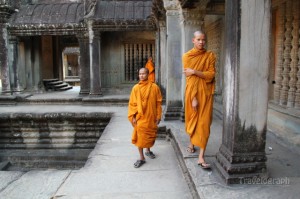 It was time for lunch and we stopped at a small restaurants where most tourists drop in. I had some rice with a dish made out of meat and lemon grass. After enjoying our meals, we decided to go to the Angkor Wat temple. The Angkor Wat is the biggest temple in the complex and is also the largest religious building in the world. We kept on clicking photographs and enjoying the magnificent view of the temple. There was a lot to walk/climb in order to move around. We could also see that there was a lot of restoration work going on in the temple. Along with the foreign tourists, there were a lot of Asians who come here to pray too. Altogether, the Angkor Wat is an awe-inspiring building and I was happy that I could be here.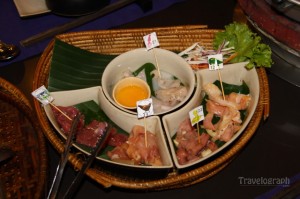 By sunset, we started from Angkor Wat. I had one more important place to visit in Cambodia. Listed in the lonely planet and TripAdvisor websites is one restaurant in the Pub Street where you get exotic meat barbecue. So we asked our taxi guy to take us to the restaurant, Cambodia BBQ. We took a look at the menu. Among the meat listed, the ones I haven't had were that of frog, snake, kangaroo and crocodile. I wanted to try all of these. But unfortunately, kangaroo and frog meat was not available. So we asked for a degustation option of 5 different meat including snake and crocodile for 8.75$. At the centre of our table, an arrangement for preparing barbecue was kept and just around it is a pool of boiling water to cook the veggies and noodles. The 5 sets of meat along with some veggies and rice arrived. Pork fat was spread over the barbecue pan and I started putting the meat over it to prepare the barbecue. Though four of us were sitting together, apart from me, none of them wanted to try the snake and crocodile meat. I was absolutely excited about having the meat having missed out on trying such exotic meat back in Indonesia in march '11. Ok, now to the question as to how it tastes? Crocodile meat was extremely hard meat and its very difficult to fully chew it down. Snake meat on the other hand was extremely soft and it tasted really good!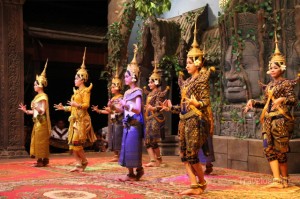 Earlier in the day, through the taxi driver, we had arranged for a buffet dinner with Cambodian cultural show. So next on the list was the dinner. We reached the Kualon restaurant in Siem Reap. It had a huge hall with maybe 1000 guests or so and with a stage in the front. The food was quite different from the ones we are used to and so we hogged the breads and desserts instead. The buffet was worth just for the desserts alone! By 7pm, the cultural show had started. There was a musical performance on local instruments followed by the dance show. It was an amazing experience and for just 10$, this buffet dinner with the cultural show is a must visit for every tourist visiting Siem Reap. Before calling it a day, we wanted to buy some souvenirs and hence went to the night bazaar. Altogether, Siem Reap was an awesome place to visit and has a lot of things to look forward to for a tourist. Having slept for just 2hrs in the last 40hrs, I was too tired to roam around more and hence settled to the comforts of my hotel.
berT
26.01.2012
Location: Siem Reap, Cambodia

Are you from India?
I have created an algorithm that can predict the airfare movements in India. It also predicts and alerts you of any approaching airfare offer. Do check it out! http://unfare.in