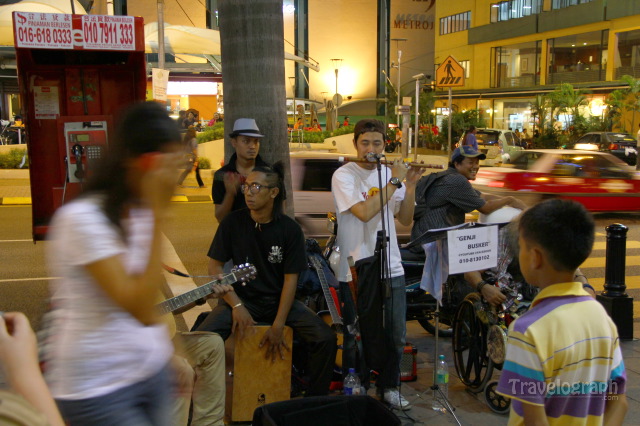 It was 2am local time and I did not have a wink of sleep for the night. By the time we came back after sight seeing in Kuala Lumpur, it was past midnight. Since we had to start off to the airport very early in the morning, I decided to be the night watchman so that we don't over sleep and miss our flight. Joining me in this trip are two of my batch-mates in TAPMI, Sujith Nathan and Sumit Agarwala. It was back in December 2011 when I first asked them if they would be interested to travel with me to Philippines on a vacation and at that time, little was I aware of the hassles that we would have to face to make this travel possible.
We were extremely happy to get cheap air tickets to Philippines on airline offers and booked great places to stay in, but that was the only easy part in the planning of this trip. Getting the visa for Philippines has been a nightmare for us so far. I hold an Indian passport and as far as my knowledge goes, there wasn't any diplomatic issues between these countries, and Philippines being quite supportive of tourism, I thought that availing a simple tourist visa wouldn't be a problem. But I was mistaken. First shock, Philippines gives free visa on arrival for 21 days for nationals of 150 countries with the exception of India and China! "Fair enough", I thought, maybe they have had some bad experience with some Indians who overstayed as the case with Malaysia and so they may have just wanted to regulate the tourist visa. Second shock; reading the visa guidelines, I understood that getting a Philippines tourist visa for an ordinary Indian was a difficult proposition. All three of us were working, have strong roots to India, financially very sound, but still, somehow, on the first attempt, only my visa got approved while the others were asked to submit traveller's cheque worth 1500$! The only rationale I could think of for the rejection of visa can be the fact that they were traveling out of the country for the first time. So after submitting the traveller's cheque, we finally got the visa for all three of us, not before giving us the tense moments of the last minute rush and arrangements! For all those reading this blog and holding Indian passports, I feel that arranging a visa through an agent is a better option than trying to get it by yourself and yeah, even that wouldn't be so easy either!
At 2:20am, we started off from our hotel in Kuala Lumpur in a taxi to KL sentral. From KL sentral, there are buses to KLIA/LCCT every 30min even in the night. So we took a bus to LCCT airport for 8 RM and I had a good hour's sleep until Sujith woke me up when we reached. Since we were hungry, we again had some burgers and then proceeded for check-in. Though we had to wait a long time queuing up for immigration, we boarded our flight to Philippines at 6:30am. Again, being extremely sleep deprived, I had good sleep for most of the flight.
We landed at Clark international airport, Philippines at exactly 10:30am. Weather was just perfect. Warm but cloudy. Nothing exceptional about the airport, in fact, it was just a basic airstrip used by the US airforce in the past. We proceeded to immigration. And yeah, seeing an unusual Indian passport, they wouldn't let us in without asking questions. Since they understood that we were together, they took us off the queue and an officer was arranged to get the clarifications. They asked for our return tickets, proof of accommodation, proof of our employment (company ID), designation, what exactly we do in work and what not. This is the most questions I have been asked at any airport after the grilling by the Indian immigration when I was traveling out for the first time. Anyways, finally, they were convinced and stamped our passports.
We picked up our luggage and moved out of the terminal. Since traveller's cheque wasn't accepted, we exchanged some USD cash I brought along for Peso, which is the local currency. Clark airport is in fact the secondary airport for Manila, where most low cost airlines operate. Today, we had to reach an island called Boracay and to reach there, we had booked a flight on CebuPacific. Sadly for us, the airline operates out of Manila airport and hence we had to get there on time to catch the flight. From the Internet, we had read a lot about the scams at the airport and hence had made a good plan to get to Manila in without falling prey to those scams. A bus(Philtranco) operates out of Clark airport and from the counter, we got to know that the tickets were priced at 400P pax and hence decided to avoid that and move out of the terminal. Just outside the airport, we got into a Jeepney(like Tuk-Tuk in Thailand, but this is twice longer) and for 50P pax, they would take us to the Dau (pronounced Da-hoo) bus terminal. We got to the terminal in some 20min and got into a good aircon bus to Pasay. The ticket charge was just 150P and it even had free wi-fi too!! So I just settled in, checking my mails, blogging and also enjoying the beautiful place around through which we were traveling.
By 1:30pm, we reached Pasay city. We got down near the EDSA area in Pasay city and the bus guy flagged down a taxi for us to get to the airport. We negotiated for 200P to get us to the airport and moved on. But as we got moving a couple of hundred metres, we were stuck in traffic. The taxi was hardly moving now and it is then that the driver asked us what time our flight was. Since we were short of time, he started driving the taxi like a motorbike zigzagging in busy traffic, taking some shortcuts and finally getting us to the airport by 2:15pm.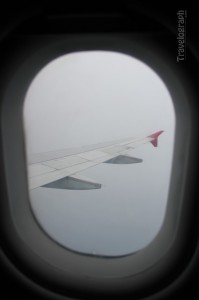 We got into the airport and checked-in on time for our flight to Caticlan(Boracay) which was scheduled at 3:50pm. As we were waiting at the waiting hall, I could find that even the previous flight to Caticlan hasn't taken off. When I enquired, I was told that the flight may be delayed as they were experiencing delays in landing into Manila airport due to congestion. Being hungry, we had some snacks at the terminal and waited for our flight. After waiting for 30min, when I enquired again, I was told that our flight is cancelled as the small airport in Caticlan can't handle any air traffic after sunset! But they told that they would put us in another flight to the nearby Kalibo airport and take us by bus to Caticlan. This was not so disappointing to us as we hadn't planned to do anything in particular for the evening in Boracay but some other passengers who were also on the same flight found this cancellation outrageous! As we heard them shouting at the ground staff, we were joking around about the flight cancellations back home in India, especially with Kingfisher airlines for whom it is not the cancellations, but taking off is the exception. Both me and Sujith jokingly blamed Agarwala, who was working in the UB group (parent company of Kingfisher airlines), for the flight cancellation! All those Kingfisher jokes and amusing exchange of words between the ground staff and irate passengers entertained us as we waited on at the airport.
Some 30min later, we were informed that our flight to Kalibo would be at 5:45pm and we were served meals at the expense of the airlines as a token compensation(lol). Finally, at 7:15pm, we took off from Manila and an hour later, we landed in Kalibo airport. We collected our luggage and moved out of the airport where our bus to Caticlan, arranged by the airline was waiting. I was feeling too tired and since there was nothing beautiful to see outside the window, I dozed off. By 10pm, the bus reached the Caticlan boat jetty from where we had to take out boat to Boracay. We bought our tickets, which cost us around 125P pax, and waited at the jetty till around 11pm when the boat finally arrived. It took us around 15min to get to Boracay island from the Caticlan jetty and from the jetty, we took a trike (I don't know how to describe it; so I will post a photo in the next blog post!) to our resort for 100P.
Thus, finally, we got to our resort and after having an amazing local dinner of beef corn, grilled chicken and rice, we crashed to our beds too tired of all the travel dramas of the day.
berT
02.04.2012
Location: Boracay island, Philippines

Are you from India?
I have created an algorithm that can predict the airfare movements in India. It also predicts and alerts you of any approaching airfare offer. Do check it out! http://unfare.in