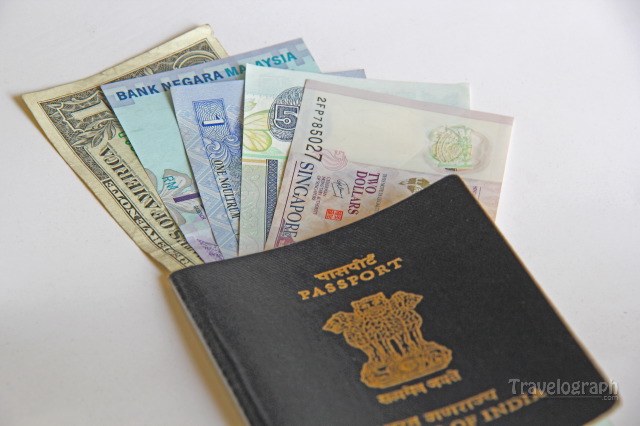 When we are getting ready for our international holiday, we are often stumped with this question on how we should carry "money" to be spent abroad. It isn't surprising that we get confused, given the number of options we have and the different forms that "money" takes these days! After traveling around many countries and using different forms of "money" I thought of sharing my experience with everyone else so that they can plan better.
Travel card (Prepaid Forex card):
It was my first trip to South East Asia, in the summer of 2011, and obviously I was confused on how I should carry "money" for the trip. I went to my bank and asked for foreign currency and being a bank, they offered me one of their "products" – the travel card (also known as the prepaid forex card in India)! The travel card works like this; it is like your regular ATM debit card, but while your debit card has money in your local currency, the travel card has in foreign currency. That is, if it is a USD travel card, it has xxx.xx USD in it.
Pros:
Works like regular ATM card.
Immunity from currency fluctuations.
Can credit the card account from your savings account by sending an email to the bank guys.
Cons:
It is not available in all currencies. So, if your travel involves multiple countries, you may have to take separate cards in the respective currencies!
There is a charge to credit any amount to the card. Problem is, this will offset the advantage you have with respect to the mark-up you pay in case of buying currency notes!
Learning:
Unless you are traveling to the countries where the mentioned currency prevails(USD card for your US trip), do not use this card. Anywhere else, it is the worst option, even when compared to ATM debit card. Also to note, some local banks, charge a fee(~4$) for using a different card in their machine, which your travel card can't help.
---
Debit card:
Midway through my trip, I learnt that the traveler's card wasn't the best solution. So I decided to switch to my regular ATM debit card card. But soon I found out that the only saving I was making over the travel card was the fee for crediting my travel card account!
Pros:
Easy of use just like you use it in your home country.
If you lose the card, just block it!
Cons:
The multiple charges that you need to pay for every transaction.
There are two levels of charges that apply for such a transaction. If you withdraw XX local currency from the ATM abroad, the equivalent is converted to your home currency at the existing Mastercard/Visa rates (which is good), but added with ~ 2$ service charge from your home bank. Now in some countries(Thailand, Indonesia, Philippines) and some ATMs in some countries (Malaysia), there is a charge over the above that is charged by the local bank whose machine you are using to withdraw. This usually comes around 4$.
Learning:
Unless you are given a ticket in your hand at the last minute and asked to fly immediately, do not go for this option! The issue is, once you are on your trip, you better plan exactly how much money you need and withdraw them all at once than having to withdraw multiple times and pay multiple charges! And from my experience so far, it is impossible to plan exactly how much you will be spending!
---
Credit card:
At the end of my trip, I wanted to buy an iPhone from Malaysia. Having used the travel card and debit card in the trip, I decided to use my credit card for this transaction.
Pros:
Ease of use especially while shopping around.
Can be blocked, if lost.
Cons:
Risk of identity theft/misuse.
Extra bank charges.
Learning:
It is good to use your credit card while you are shopping in established shopping areas. But whatever you buy, the bank charges 3.5% of the transaction as its own charges! And a different effective rate on Dynamic currency conversion. Also banks categorize some countries as "high risk" and if you use your card in these countries, you will be issued a new card once you are back!
---
Traveler's Cheque:
While applying for our Visa for Philippines, my friends were asked to submit traveler's cheque as proof of funds. And so, after getting the visas, we decided to use the traveler's cheque in our trip. But our experience with this form of "money" has been the worst so far. Unlike the other forms were we just had to pay some extra charges, the traveler's cheque was not even convertible in many places.
Pros:
Reasonably immune to theft.
Supposed to give the best conversion rates.
Cons:
Extremely difficult to convert to the local currency.
Learning:
Never ever use this form of money while traveling to South East Asia! Most of the foreign currency exchanges that you find in tourist areas refuse to accept the traveler's cheque! Only place you can exchange them are banks and remember that banks have their office timings and holidays! Not to mention the queues! So my advice, stay away from this option at any cost!
---
Cash (US Dollar):
After traveling to many countries, I finally found my favorite. It is the US dollar. Perfect for your travel in South-East Asia, the US dollar is accepted everywhere and some countries(Cambodia, Myanmar) accept it the way it is! No need to even convert it to local currency!
Pros:
Easy to exchange.
Easy to get from your home country as well.
No extra charges for multiple transactions.
Cons:
Risk of losing cash.
Learning:
This is my favorite form of "money" while traveling abroad. After using all the different forms of "money" mentioned above, I have started using the following strategy for my foreign trips. Plan your approximate budget and convert what you need in US dollar from your home country. For value up to 1000$, take cash, the rest can be taken in traveller's cheque or travel card. To prevent the risk of total loss due to theft, split up the currency notes and keep in different bags. Once you are abroad, convert to local currency as and when you need. Should you decide to shop for something that you did not plan in advance, use your credit card (assuming the shopping area is not a flea market).
Happy traveling!
berT

Are you from India?
I have created an algorithm that can predict the airfare movements in India. It also predicts and alerts you of any approaching airfare offer. Do check it out! http://unfare.in