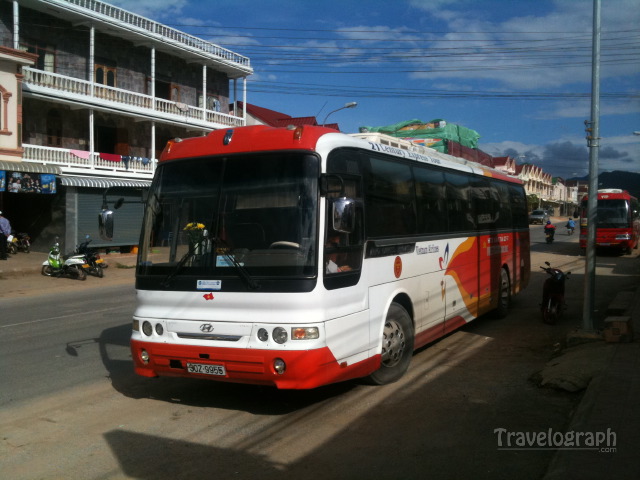 It was around 5:30pm that one of the bus agent came to our hotel and asked us to get into a mini bus to get us to the main Bus terminal. We knew that we would have a long journey by road ahead of us. We had packed our bags and were ready with some snacks to eat on the way. Couple of days back, when we enquired at the hotel reception, we learnt that there was indeed a bus from Hanoi in Vietnam to Luang Prabang in Laos. On the internet, we read several blog/forum posts which referred to this bus journey as the "hell ride". We had a flight booking on Vietnam Airlines for around 200$ one-way, but since we wanted to experience this dreaded bus journey, we cancelled the air ticket and chose to experience this "hell ride". This journey, as we learnt from the lady at the hotel reception, was to take around 24hrs from Hanoi in Vietnam to Luang Prabang in Laos and would cost us 48$. She also told us that on some days of the week, they have a direct bus while on all other days, the bus goes upto a place called Phnonsavan in Laos from where you have to take another bus to Luang Prabang and takes around 30hrs for the whole journey. This being Monday, we could get into the direct bus between Hanoi and Luang Prabang.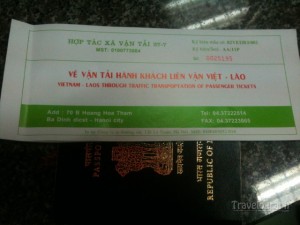 We got into the minibus which took us to the bus terminal where we received our bus tickets. As we walked to our bus, we could see that there were around 8 tourists including the two of us who were to take this long bus ride into Laos along with the other local people and a lot of cargo inside the bus! A look on the seating arrangement of the bus made every one of us take gasps as we found out that the seats are in a permanent state of recline and so was the footrest! You have to always keep the feet stretched out inside the bus! And as you get into the seat (I would rather say, 'crawl'), there is a sudden sense of claustrophobia as you can hardly make much movements and that you are kind of jammed into that position! But in anyways, we knew that this would be our posture for the 24hrs ahead of us!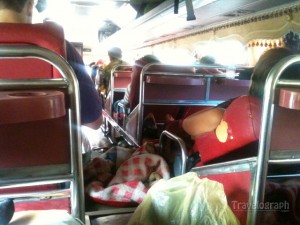 At around 6:30pm, the bus moved on. The roads were pretty good, we settled into our seats and since it was dark outside, I decided to take a nap. I woke up when the bus came to a stop for dinner at around 8:30pm. It stopped at a very dingy restaurant and the only thing you can probably eat there would be some bakery snacks and banana. We had a few of them and got back into the bus. After a 30min break, the bus moved on. I plugged in my iPod and slept off listening to the music.
I woke up again at around 8am in the morning as the bus stopped at the Vietnam-Laos border at Nam Can. We got down with our passports and headed to the immigration department building to get our Vietnam exit stamps in our passport. We waited for around 30min and finally we got back our passports and started walking towards the Laos immigration building on the other side of the border. Thus, I 'walked' out of Vietnam! I have to admit that in spite of this being my fourth overland international border crossing, there was still some special feeling that you get when you cross an international border overland. It is much more interesting than flying over to another country!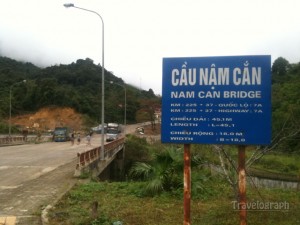 We reached the Lao immigration desk where we had to get our visa on arrival. Laos gives visa on arrival for most of the countries but charges are different for different countries. Visa charges are in US Dollars and so ensure that you have US Dollar cash when you come through this border crossing. I could not see any money changers/ATMs around too! Without much hassles, we all got our visas stamped on our passports and after getting the entry stamp, we walked back into our bus which was now waiting in front of the Laos immigration office. Thus, we were now in Laos, the country which has this unfortunate distinction of being the 'most bombed country' in the world, even more than all of Europe combined during the 2nd world war bombing campaign!
At around 10:30am, the bus started again from the border. The view outside was really beautiful. That is probably the only plus point of taking this journey instead of flying in. As it moved on, I got back to my iPod and I don't know if it was the reclined posture, very soon, I went back to sleep. I woke up at around 2:30pm when the bus reached Phonsavan. We had stopped for lunch and so we got down. Phonsavan looked like a decent town with decent restaurants and shops around. We got the remaining Vietnam Dong exchanged to the Laos Kip which traded at around 8000Kip to the US Dollar. After an hour, we again got back to the bus.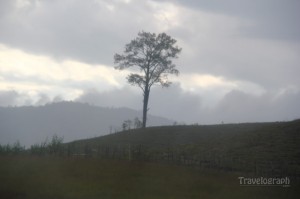 By this time, I was really bored of sitting in the bus. I was tired of sleeping. But the boredom was so worse that the only thing I knew I could do in the bus was to sleep. And so, I got back to sleep. Finally, at around 11:30pm, we finally reached Luang Prabang! It had in fact taken around 30hr to reach here by bus! We were tired as we got down the bus into the deserted bus terminal in Luang Prabang, Laos. We took a tuk-tuk to our hotel for around 30,000Kip. We checked into our room and crashed into the bed immediately.
Is this journey worth doing? Let me make a few points here. If the intention is to save 150$, I don't think it's quite worth it! If the intention is to enjoy the view outside, maybe it's worth it. But if the intention is to undertake a bus journey you will never forget in your lifetime, GO FOR IT!!
berT
13.11.2012
Location: Luang Prabang, Laos

Are you from India?
I have created an algorithm that can predict the airfare movements in India. It also predicts and alerts you of any approaching airfare offer. Do check it out! http://unfare.in