An alarm going off early morning on a weekday is never a pleasant thing. But today, is not any other weekday. Today, we are to travel to a new country. The country of Maldives!
Going to Maldives was always on the back of my mind and I used to constantly monitor the airfares in the last few years. It was back in January that I found that the fares were at a new low and yes, I immediately decided that this was my opportunity to explore this beautiful country.
We got ready and dropped off Muffin (ohh yes, we now have a 2month old Golden Retriever pup added to our family) at our friend's place and got to the airport.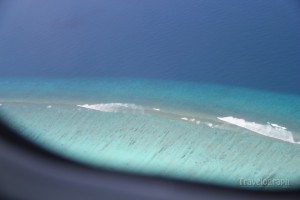 Maldives is known to be an expensive travel destination. This is because the country has predominantly resorts for tourists unlike other countries where there are budget hotels as well. It was only 5yrs back that the country started allowing budget hotels and guest houses for tourists. So our challenge is to spend a nice vacation in this country without burning a big hole in our pockets!
We took off from the Chennai airport and after a quick stopover in Kochi, we were on our way to Male. By around 1:45pm local time, we were on our approach to the Male airport and outside the window, we could see beautiful islands that were very small with shallow water over them. Since the seatbelt signs was still off, people in the aircraft from the other side would come to our side of the place to click photographs or just to say wow! Soon, we landed in the Ibrahim Nasir International airport in Male.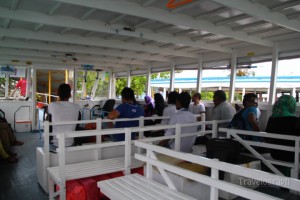 After completing our immigration, we got out of the airport and looked for a phone booth. Our hotel guys had asked us to give a call to them once we land so that they can come to the ferry terminal to pick us up. So we found the airport help desk and they allowed us to call the hotel free of charge (isn't that nice!). Walking out of the airport, to the right side, is the ferry terminal. We got two tickets for 1$ each (yeah, they accept US dollar!) for the ferry to Male. A bit of the geography here, so, even though we landed in Male airport, it is not exactly Male. Male is an island adjacent to the island where the airport is located. It took just 10min for the ferry to reach Male. We got down and looked for our hotel pickup. But it just wasn't there! We walked down the road a bit but finally, he showed up and we got to our hotel.
Male, as we could see, was a crowded city, as it had a really small land area and has almost no beach area around. In just 15min, we could cover almost half the circumference of the island! After we got fresh at the hotel, we immediately went out into the city to explore it. Our hotel guy told us about an island nearby which had beaches. So we walked down to the ferry terminal(not the one we got down while coming from the airport; this is in the opposite end of the island) and took a ferry to Vilingili island for just 3.25 Rufiya (1$=15 Rufiya approx.) per person.
Again, in another 10-15min, we reached this island, but we should admit that we were quite disappointed. Yes, there were beaches here but nothing special, definitely not Maldives special! We roamed around a bit in this island, had some snacks, bought some local made chocolates and got back to the ferry to Male. After having a street-side dinner, we decided to get back to our hotel and call it a day.
berT & Sarah
30.04.2014
Location: Male, Maldives

Are you from India?
I have created an algorithm that can predict the airfare movements in India. It also predicts and alerts you of any approaching airfare offer. Do check it out! http://unfare.in