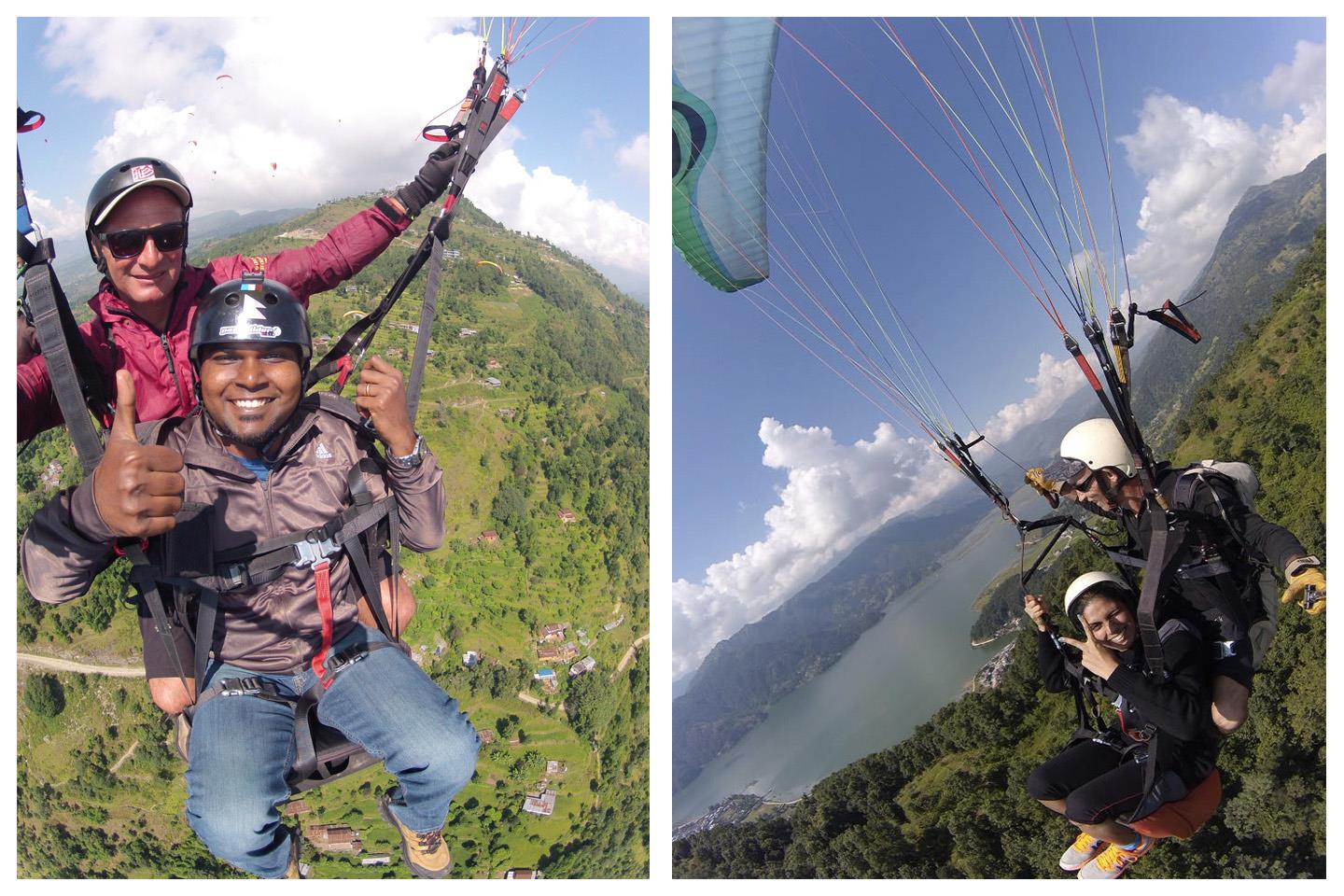 We woke up early to a hazy day in Pokhara, Nepal. It was a big day for us which we were really looking forward to in this trip. Today, we were to do paragliding in Pokhara with the beautiful Annapurna range as the backdrop and the Phewa lake below. However, the haze outside made me a bit concerned as I was wondering if there would be enough visibility for paragliding.
After having our breakfast, we were waiting at our hotel for the paragliding company guys to pick us up. To be honest, I was a bit scared. Anything that involves sudden movement up or down makes me uncomfortable. It is the same reason why I hate these amusement parks. But more than that, I hate people who think they are daredevils because they get into roller coasters! Truth is, in all these stuff at the amusement park, there is hardly any risk to life involved. So I really don't understand the daredevilry associated with it. Coming back to paragliding, the reason I wanted to try it was because I loved the experience of its variant, parasailing, which I did back in 2000. It has a smooth take off and landing and I loved the view from the top. I just hoped that paragliding too would be as enjoyable to me as parasailing.
Looking out through the window, I could see that the weather too had cleared up and so was hopeful that we would get to do it today. Soon, the guys came and they took us to their office. We had booked for paragliding day before yesterday when we arrived in Pokhara. Though our initial plan was to do it yesterday, since the booking was full, we decided to do it today. So I guess it would be a good idea to book it in advance if you are planning to do the same in the peak months of October/ November or February/ March.
By 9:30am, we got into a Jeep with four other tourists from China along with our paragliding pilots. We were now on our way to Sarangkot which is a mountain top from where we would be taking off. After a 30min drive through winding roads, we were at the top of the mountain. We got down and walked towards the take off area. We could see others taking off from here. The general take off sequence is as follows. The wing would first be unpacked and spread out. Then the pilot checks for any tangles on the paracords. Once the pilot and the person put their harness on and strap themselves together, they will be ready for takeoff. Then they walk a bit to the front which makes the wing lift off. Once the wing reaches full height, both of them run towards the edge of the cliff and off they go! Usually, the takeoff accompanies a sound, "aaaaaaaaaaaaahhhhh",  which the tourist screams as they start the flight!
For us, the pilots were French nationals. He introduced himself as Hervin and I told him that its my first paragliding experience. He assured me that there was nothing to worry as he has been doing this for the past 25yrs! I put on my harness and we were strapped together. We were all set and ready for take off. Somehow, I was at peace and wasn't feeling scared anymore. Since the wind had stopped, we had to wait with everything set for take off. After 5min of wait, the wind finally started again. Hervin gave the go ahead to walk. We walked and I could feel the pull of the parachute on my shoulders. As I was about to start running down the cliff, I heard Hervin say, "Stop! Stop!" As I turned back, I could see the parachute had fallen to the side right after it went up. Maybe a sudden side wind pushed it to the side, I wondered.
Hervin rearranged the parachute back to it position and we were once again ready for take off. The wind started blowing and he gave the signal to walk. A few steps forward and once again I could feel the pull of the parachute on my shoulders. But this time, I heard him shout, "Run! Run!". We ran towards the end of the cliff and yes, we took off! It was a very smooth glide off the cliff and I enjoyed it. Hervin asked me to sit comfortably in the seat attached to the parachute and I slid into it. I never felt scared as we smoothly glided over the Pokhara valley with the mighty Annapurna range in the background. I guess its this view that makes this place famous for the paragliding. Hervin did a series of spiral maneuver to take us even higher. I could now see that we were gliding even higher than the cliff from where we took off. He took out the camera to shoot pictures and I was all smiles for it. He even pointed out where Sarah was. We took photographs as I enjoyed the beautiful bird's eye view.
After a 15-20min glide, it was time to land. We were now gliding over the Phewa lake in Pokhara. As we were taking our final landing approach, I was asked to stand up for the landing and soon, we touched down by the side of Phewa lake. It was a very smooth landing and I enjoyed the whole experience a lot. Sarah too followed and we shared our joy of our first paragliding experience.
We got back to our hotel at around noon. Since we planned to be in Kathmandu by night, our only option to get there now by road was to take the micro bus. After collecting our photographs and certificates from the Sunrise paragliding office, we took a taxi to the Micro bus terminal in Prithvi Chowk. We got into the bus and were on our way to Kathmandu.
As a footnote, let me add that only if you are left with absolutely no option, take the micro bus. The drivers are extremely rash and we felt that it was a miracle that we didn't crash enroute!
berT & Sarah
20.11.2014
Location: Kathmandu, Nepal

Are you from India?
I have created an algorithm that can predict the airfare movements in India. It also predicts and alerts you of any approaching airfare offer. Do check it out! http://unfare.in