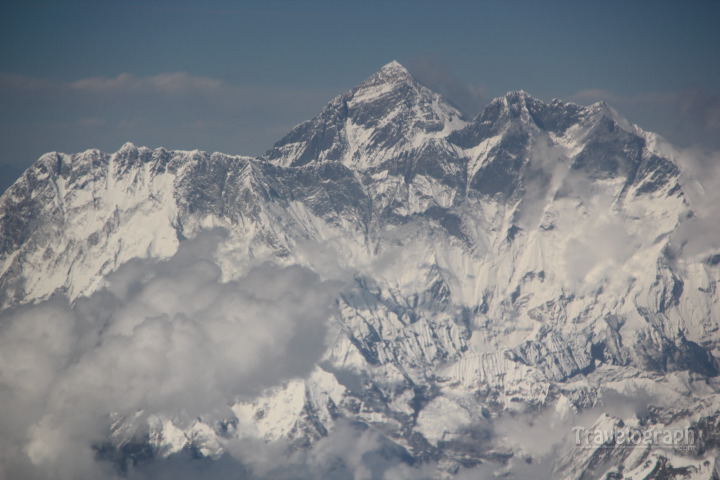 "Sir, Howrah! Madam, Howrah!" I woke up to shout by the train attendant who was busy wrapping up used blankets. I pushed aside the curtain to realise that we were the only ones left on the train! We quickly packed up our stuff and got down at Howrah station.
Couple of months back, we were looking for good flight deals and places to go on a vacation. It was then that I found that Spicejet airline had recently started a flight from Bagdogra to Kathmandu. As always the case, airlines will heavily discount the flight cost of a new route and Spicejet was no exception. And thanks to frequent offers on Spicejet, it wasn't difficult to get cheap fares between Bagdogra and Chennai. We however travelled from Chennai to Kolkata by train.
This vacation was on the verge of being cancelled a few weeks back. I was told that I had to work out of our Pittsburgh, US office at the earliest. But since the Nepal trip was planned, I asked for a delay in the onsite travel so that I don't have to cancel my vacation. This would probably answer people who ask me how I plan my vacation so well in advance. First, I plan my vacation and then plan everything else around it. I guess that's the only way it will work when you are not a full time traveler!
As we had reached Howrah early in the morning and had plenty of time at hand, we decided not to take a taxi to the airport. We decided to wait for the AC shuttle between Howrah and airport. We enquired about it and found that it would come between the 8th and 9th platform at the Howrah station. Right on schedule, the bus arrived just before 8am and soon we were on our way to the airport.
The bus took us through the streets of Kolkata. As I always say about Kolkata, anything and everything here looks 50 yrs old! The buildings, buses, etc. The only exception to this was the brand new bus that we were traveling in. After a 45 minute ride, which cost us just 40rs per person, we reached the airport terminal. They had upgraded since the last time I had seen it.
When I was booking the flight tickets 2 months back, I noticed that the flight fare for a single ticket to Kathmandu from Kolkata was costlier than booking two separate tickets stopping at Bagdogra. I found this surprising as it was the same aircraft that both these flights were involved. There was a 1.5hr stopover Bagdogra which I assumed would be enough for us to change flights. I checked the past month's flight data in flight tracker website and found that the flights were fairly on time and so felt safe to book that way. Just to be on a little safer side, I booked an additional bag-first-out option so that I would get my checked in luggage before anyone else. But, yes, I was taking a risk.
The flight to Bagdogra was on time and it was a short flight too. As soon as we got down, we rushed to collect our luggage and thanks to the bag-first-out option, collected it and re entered the airport for our next flight to Kathmandu. After dropping in our luggage, we proceeded to immigration. Here, they accept only Indian election ID as an alternative to the passport. Even though it is mentioned in the Indian immigration website that one proof of identity would suffice for a family, here they want to stamp the exit on the passport. So, to be on the safe side, do carry your passport even though you may read otherwise while traveling to Nepal.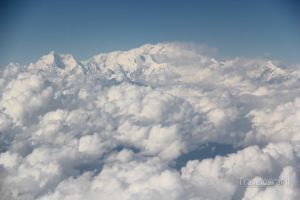 We checked in our luggage back into the flight to Kathmandu just in time. I was now breathing a sigh of relief. My gamble paid off and everything went according to the plan. The flight took off from Bagdogra. As soon as the flight completed the initial ascent, I took out my camera. Back in 2009, when I was here in the area while I was on a 21 day solo backpacking trip around India, I saw this amazing mountain, Kanchenjunga, way up in the sky, while traveling from Darjeeling to Gangtok. I knew we wouldn't be too far from the mountain. And rightly so. As I looked out through the window, there it was, standing tall above the clouds. The pilot announced it over the intercom about it and lo, people started getting to the right side of the aircraft. As soon as he mentioned that Mt. Everest would be visible in 10min, the left side of the aircraft was almost empty! Thankfully, I planned for this and booked the seat on the right side of he plane.
One of the must do's I had in mind while on this trip was to see Mt. Everest. I found that there was something called the mountain flight from Kathmandu that would take tourists in a small aircraft and fly them near Mt. Everest. This tourist flight costs $205 for foreigners and INR 6600 for Indians and locals. I was still ready to pay for this flight if that is what it was going to take to see Mt. Everest! But then, I found in one of the forums that if you are flying to Kathmandu from the east, ie, from Hong Kong / Singapore / Bangkok / Paro / Bagdogra, you will be able to see Mt. Everest to your right about 20min before landing in Kathmandu. Since I saw this information in different forums, I decided to go for this free option than book a mountain flight.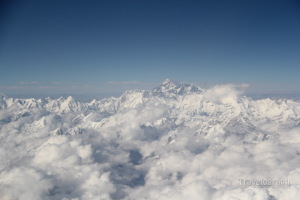 Back in the aircraft, I was eagerly waiting to see Mt. Everest. And I didn't have to wait too long, as there, from the side of the window, I could see Mt. Everest! Even though I had downloaded the pictures of this mountain so that I would be able to identify it, I knew I didn't have to check and verify it. You can't miss Mt. Everest on this flight. Its so obvious due to it's height. Picture this, you are cruising at an altitude of 30,000ft in the airplane. Mt. Everest stands more than 29,000ft tall. There is no way that you would miss seeing this mountain as long as you are on the correct side of the aircraft.
While flying to Kathmandu from East, select a seat on the right side of the aircraft and while flying out of Kathmandu to East, select one on the left. That way, you get two chances of enjoying the sight of the tallest mountain in the world. Also, choose a seat towards the front of the aircraft, but not the first row. Reason being, once everyone gets to know that the flight is passing near Mt.Everest, everyone on the other side of the aircraft may crowd near the front row where there is an extra window for viewing.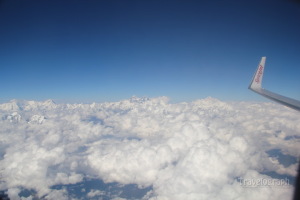 We enjoyed the view of Mt. Everest and took a lot of photographs. Very soon, we were on our descent into Kathmandu airport. The weather was bad and hence the flight was bumpy. We could hear screams and gasps from people sitting behind us as the plane passed thru turbulence. After circling the airport a couple of times, we landed at Tribhuvan International airport in Kathmandu, Nepal.
Nepal was the first "foreign country" I had been to. That was 20 yrs back! And now, here I am, back in Nepal to explore it better. Currency in Nepal is the Nepali rupee however, Indian rupee is widely accepted at a rate of 1.5 NPR for 1 INR. However, denominations of 500 and above have to be exchanged at currency exchangers.
The weather was really pleasant and after completing our immigration formalities and collecting our luggage, we met with our hotel guy who was waiting for us at the airport. As we moved on, we found Kathmandu to be similar to many hilly cities in india. Many parts of Kathmandu looked similar to Leh, Kargil, etc but it is a much larger city in terms of area. The traffic is very chaotic. But, it was nice to be in this new place.
 We checked into our hotel room. Since we were very tired and hungry, we immediately got fresh and went out to have some good food and rest. We had some really awesome chicken momos and bought some snacks for the day ahead of us and decided to call it a day.
berT & Sarah
17.10.2014
Location: Kathmandu, Nepal

Are you from India?
I have created an algorithm that can predict the airfare movements in India. It also predicts and alerts you of any approaching airfare offer. Do check it out! http://unfare.in