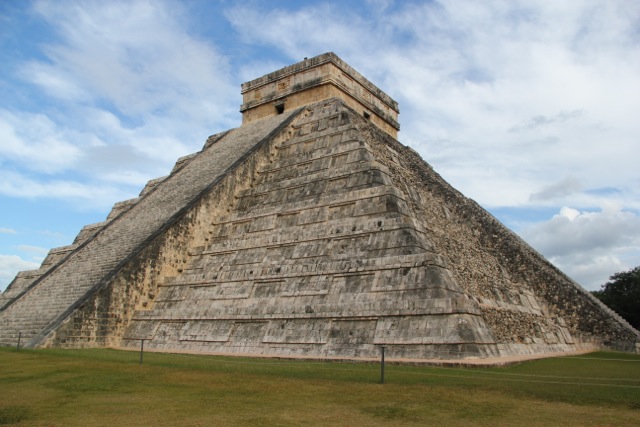 I woke up early in the morning in Cancun, Mexico. Since I was staying at a hostel dormitory, I woke up quite a number of times when people entered the dorm in the middle of the night as my bed was right next to the door. But I guess I did manage to sleep last night. Today, I was to visit the Chichen Itza here in Yucatan, Mexico. I had booked a day tour for the same yesterday night with a local tour operator for 40$ (I later came to know that some others in my tour group had booked the same for just 30$. So, bargain!).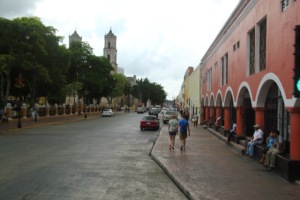 I waited outside my hostel at 7am as asked by the tour agency. By 7:10, I was picked up by the tour agency and dropped off at a nearby mall where I could find many other tourists waiting to go to Chichen Itza and other places. We were divided into two groups, one with a Spanish speaking tour guide and the other, English. Soon, we were on our bus and we moved on. The tour guide introduced himself and gave a very informative talk on Mayan culture, traditions and history. We passed through some old Spanish built cities and by noon, we stopped at a souvenir shop. Based on my experience in the past, I did not buy any thing from the souvenir shop as I knew they would be over-priced as the tour agency takes a cut of the sales. Also included in the day trip was a buffet lunch which we had here.
After the lunch, we got back into the bus and moved on. Soon, we reached the entrance to Chichen Itza. Since it was the holiday season, we could find so many tourists waiting to get in. Since the bus was stuck in traffic, we decided to get down the bus and walk to the entrance. Earlier in the day, I met Candice, from China. I had helped her to take a photograph and since I was traveling alone, she returned me the favor. So we met again here and decided to help each other with photographs.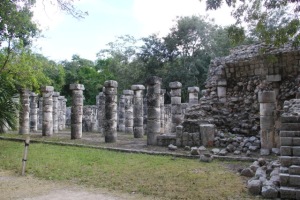 The tour guide gave us the entry tickets to the Chichen Itza and we got in. The Chichen Itza found a place in the new seven wonders of the world list in 2007. This made me all excited about visiting Cancun while I was planning this trip a month back. And now, finally, I got to see this monument for real. Chichen Itza is a pyramid structure built by the Mayans. But honestly, I felt it was much small than what I expected. The ruins around the pyramid too were quite small. If I have to compare to any other place that I have already been, I would have rated Angkor Wat temple in Cambodia higher than this one. But, altogether, the Chichen Itza was quite beautiful and was worth visiting once in your lifetime.
As we were going around the pyramid, we met our tour guide who brought us to one particular location in front of the pyramid and asked us to clap in a rhythm. As we did, we could hear the sound of a bird as an echo from the top of the pyramid. Our tour guide explained that it was in fact the sound of the Quetzal bird which was considered sacred by the Mayans. What a brilliant acoustic effect and remarkable piece of engineering, I wondered!
We walked around the pyramid and bought a few souvenirs from the small shops around and got back to our bus. As we moved on, our tour guide said that the last stop for the day would be a sinkhole nearby. He also warned that it was more than 150 ft deep without a shallow place and hence only swimmers should get in. He also said that we could rent a lifejacket for 3$ for not so experienced swimmers.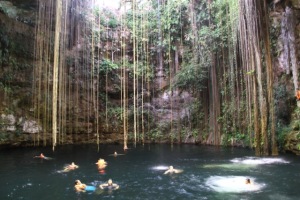 Even though I wasn't planning to get into the water, I was excited to see the sinkhole. As we got in, I was awed by the beauty of it. It was a perfect circular sink hole with roots hanging from the top and clear water inside. There was a small elevation from which people dived into the sinkhole. Even though I did not get into the water, I loved it. I took quite a lot of photographs here. We then got back to our bus and drove back to Cancun. Being tired from the long day I had, I decided to call it a day as soon as I got back to my hostel.
berT
26.12.2014
Location: Cancun, Mexico

Are you from India?
I have created an algorithm that can predict the airfare movements in India. It also predicts and alerts you of any approaching airfare offer. Do check it out! http://unfare.in