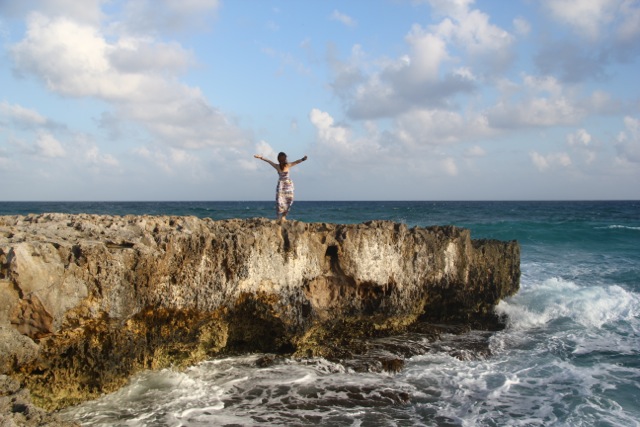 I woke up early in the morning in my hostel in Cancun, Mexico. I am not sure if anyone came in late in the night into the dormitory or if it was just that I was too tired to be disturbed, I had a really good night's sleep. I did not have any specific plans for today as I had visited Chichen Itza yesterday itself. So I mailed Candice, whom I met yesterday to find out what other place they were planning to visit in Cancun.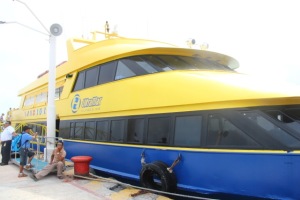 After meeting up at the ADO bus station, our initial plan was to visit Xcaret park (pronounced "ishcaret") as we found that the same was mentioned as a tourist attraction near Cancun. We found a kiosk inside the ADO bus station and enquired about it. It was then that we realized that it was more of a theme park than a natural attraction and was expensive. So we decided to drop the idea and switch over to another destination, Cozumel, which Candice and her two Chinese friends were planning to visit tomorrow.
In order to get to Cozumel from Cancun, we had to first get to Playa del Carmen. So we bought bus tickets (60 Pesos). We got into the bus and in an hour, we reached Playa del Carmen. We got down the bus and asked for the ferry to Cozumel. They said that there is a ferry in another 5min and if you can get to the ferry terminal fast, you may be able to get into the ferry. So we ran towards the ferry terminal and lucky enough, we got the tickets for the 12noon ferry (2-way ticket 326 Peso).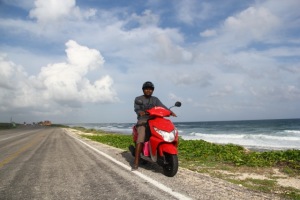 We got into the ferry and settled to our seats. Soon the ferry moved on and we were on our way to the island of Cozumel. After 45min, we docked in Cozumel and got down. Since Cozumel was slightly larger island, exploring it on foot wasn't an option. So we decided to rent a scooter to explore it. We managed to get a scooter for 250 Peso rent and using the island's map that they gave, we started exploring the island. Our plan was to go around the island, drop by beautiful beaches and then return back to the scooter rental by night.
We started off. The initial stretch of road was quite boring as it passed right through the middle of the island to the other side of it. So there were no sea view for us but the roads were really good to ride on. After riding for around 15km, we reached the other end of the island. And yes, we could see the beach. We got down to click some photographs and then moved on. The road that we were currently on was beautiful to ride on. There was the beautiful beach view to the left and a strong sea breeze to make it just perfect. There were many beaches on this route and we stopped at many places to click photographs.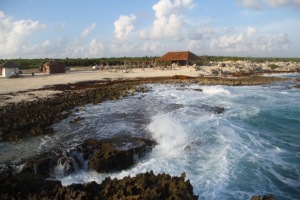 We continued riding through the circumference of the island based on the map we had and soon we reached a set of rocks by the side of the island facing the beach. The rocks were eroded by the sea and hence walking on them was a bit tricky. It was surely a beautiful sight and we clicked lot of photographs here and moved on. After traveling for another 15km from here, we reached Playa Palancar. Though the guy at the parking lot said that it was late in the evening and hence he could not allow us to the beach (it was just 5pm!), we managed to get him to allow us on to the beach.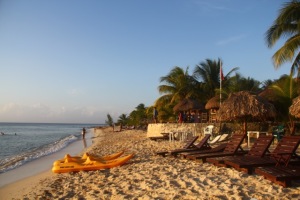 When we got to the beach, we were so happy that he allowed us here as it was such a beautiful beach here in Cozumel. Also the sun was about to set and it provided a wonderful ambience to this place. We clicked photographs and then just sat down on the beach chairs to enjoy the view of the setting sun. After sunset, we got back to our scooter and rode back to the ferry terminal side of the island. We returned the scooter and waited for our ferry back to the mainland.
We got into the 9pm ferry and reached the bus station by 10pm. We found out that the next bus to Cancun was only at 11pm and so had to walk around a bit around Playa del Carmen to kill time. We got back to Cancun by 12 midnight. Though I have heard a lot about security issues in Mexico, Cancun seemed to be quite a safe place even in night. There were people on the road and the streets were well lit. So we did not have any problems in getting back to our respective hotels at night.
berT
27.12.2014
Location: Cancun, Mexico
Cozumel ferry timings: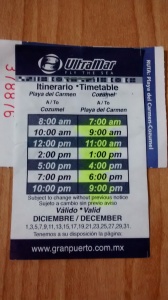 Are you from India?
I have created an algorithm that can predict the airfare movements in India. It also predicts and alerts you of any approaching airfare offer. Do check it out! http://unfare.in