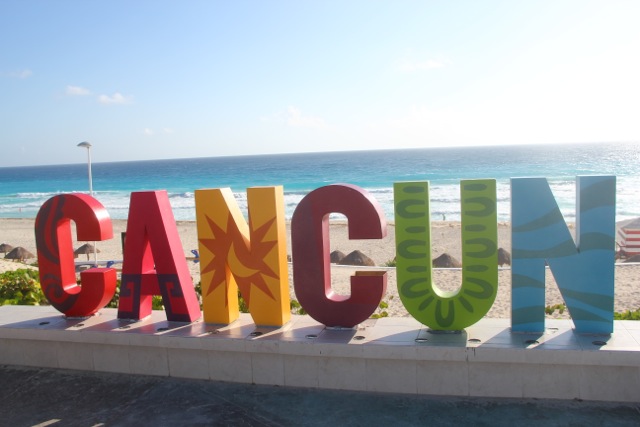 I woke up to a rainy day here in Key Largo, Florida. Today, we were planning to drive back from Florida. Our initial plan was to have a quick stop at the Miami beach but the weather played a spoiler. After having our breakfast, we got into our car and started our journey back to Miami. Though my friends were to drive back to Georgia today, I had a flight to catch from Miami.
It was hardly a month earlier that I decided to travel during the Christmas week. I tried to find people to travel with but was unable to find any. But still, I didn't want to lose this wonderful opportunity to travel in this side of the world. While checking for the flight tickets, I found out that flights to Cancun were relatively cheaper. And since there were no visa issues for traveling to Mexico with US visa, I decided to travel to Mexico.
There were many challenges for this trip. First of all, I was to travel alone which in itself is challenging. Then, I do not understand Spanish. And there were security related issues with Mexico. But based on what I could research on the internet, the trip seemed doable. And that is how I decided to go for it.
We reached the Miami airport. I got down and bid farewell to all my friends. To be honest, I was feeling a bit sad to be alone. I had a wonderful time in the last few days with all my friends around and here I was, sitting alone at the airport waiting to fly to an unknown country all alone. Yesterday, while talking to Nicole, she reminded me of a quote from the movie "Into the wild". It said, "Happiness is only real when it is shared". That quote really touched me and I started to worry if my decision to fly alone to Mexico was correct.
I got into my flight and settled down listening to songs on my phone. In a short time, we reached Cancun, Mexico. After completing the immigration formalities, I came out of the airport. My first task was to find the ADO bus to downtown. After walking around a bit, I found the bus terminal (you have to take a right after exiting the airport). The ticket was 64 Mexican Peso or 5$ to the downtown.
The bus moved on. I could see that the roads were really good. After a 20min drive, we reached downtown bus station. I got down the bus and based on the directions given by my hostel, I got to it quickly. After checking in, I decided to step out in order to book for tomorrow's day trips. I had some roadside burger and got back to my hostel to get some rest.
berT
25.12.2014
Location: Cancun, Mexico

Are you from India?
I have created an algorithm that can predict the airfare movements in India. It also predicts and alerts you of any approaching airfare offer. Do check it out! http://unfare.in