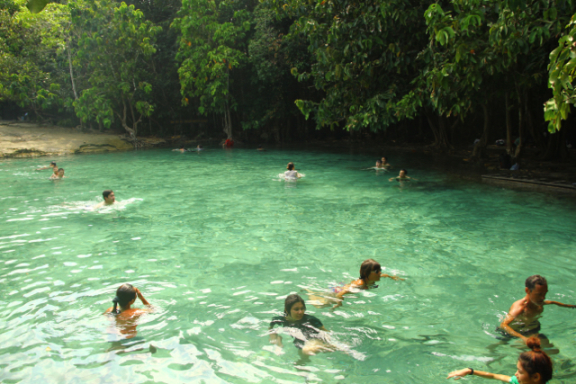 We woke up to our final day in this trip to Krabi, Thailand. Today, we were to fly back to India. But since the flight was only in the late afternoon, I wanted to squeeze in one more outing rather than just laze around in the hotel itself. So I booked this half day tour to the Emerald pool and hot water springs in Krabi.
As usual, the tour guide came to pick us up at our hotel. Since we were to catch our flight back in the afternoon, we checked out of our room, got our 2 small backpacks and got into the bus. We had arranged the tour guy to drop us back directly at the airport instead of coming back to the hotel.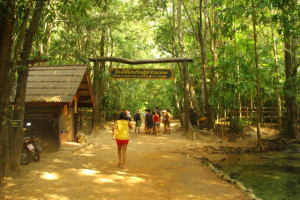 We moved on. Unlike the earlier trips in Krabi which were boat trips, this one was overland. So the mini bus took us through Krabi town where more tourists got in. After about 45min, we reached the Emerald pool area. We got down our bus and started walking into the park. There was a clearly laid pathway which was well marked. We could observe that the area that we were walking would have to be streams during the rainy season. Since it was well past the rainy season, there wasn't much water around. After a short walk, we reached the pool. It was indeed beautiful and the clear emerald colored water was definitely a beauty to look at. We played around a while, took photographs and rested by the side of the pool.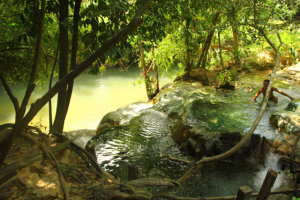 After spending some time at the pool, we got back to our mini bus and moved on to our next destination. After a 15min drive, we got down and walked towards the park area. There was a good 1km walk to get to the hot springs but the view was good. It was as if we were walking into a forest. We saw the hot spring pool which was actually like a small waterfall and in this steps of the falls, there were rock eroded pits which would act like a natural jacuzzi. The water was indeed very warm and we were tempted to take a dip. We took some photographs and got into one of the pits of water and enjoyed its warmth as the water flowed around us.
After spending a good half hour at the springs, we got back to our mini bus which dropped us at the airport. Thus our 4 day trip to Krabi was coming to an end and we are now flying back with wonderful memories of the time spent here in Krabi, Thailand.
berT & Sarah
26.01.2016
Location: Krabi, Thailand

Are you from India?
I have created an algorithm that can predict the airfare movements in India. It also predicts and alerts you of any approaching airfare offer. Do check it out! http://unfare.in