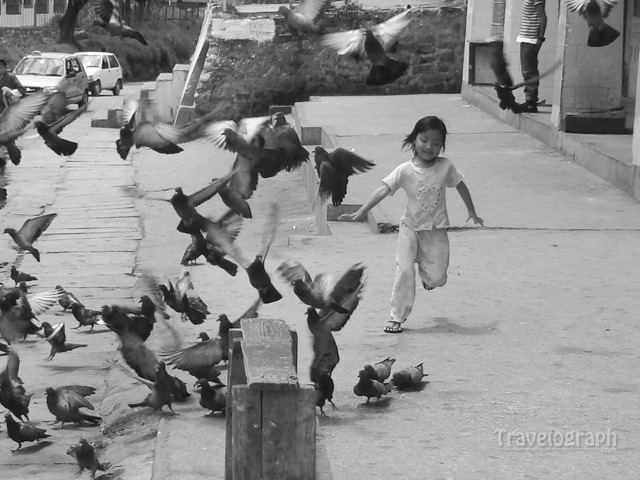 "Once you have traveled, the voyage never ends, but is played out over and over again in the quietest chambers. The mind can never break off from the journey." – Pat Conroy
I got up at 2:30am. Though the train was supposed to reach Howrah by 12:45am, since the train was already late by 2.5hrs when we started, I knew that I could afford to get up at that time. I had a time till 6:15am for my flight to Bangalore. I kept on waiting to get to Howrah but it turned out to be long wait. It was 4:30am and I still did not know how much longer it would take. I started to lose hope of catching my flight to Bangalore. I heard from my batchmates from Kolkata that it would take atleast an hour to reach the airport from Howrah station.
We reached Howrah at 05:05am. I started running with the heavy backpack weighing over 15kg, small daypack and a couple of long umbrellas that I had bought from Bhutan. Seeing both of us running out, a taxi driver saw us and could easily make out that we were in a big hurry. We just said, 'airport! jaldhi'. We jumped into the taxi which was parked just outside and started moving at 05:10am. The driver did a mad rush, jumping signals, blindly approaching busy junctions and speeding all the way. At 05:35am, we reached the airport terminal. We rushed inside in the typical 'amazing race' fashion running over luggage, dodging fellow passengers into the luggage security zone. Luckily, everyone cooperated with us to stand ahead of the line understanding the hurry that was very evident. We did the same in every other queue explaining to those standing in the queue that we need to take the 06:15am flight. The boarding gates were to close by 06:00am and we were still at the security check when the airline officials at the gate were making final calls for the flight. We just waved them that we were to take that flight and managed to board the bus at 06:05am. We knew that we were extremely lucky today and also thankful to all those kind passengers who let us ahead of the line and not to forget the taxi driver, that we finally got the flight.
Soon we took off and I settled to my laptop, browsing through the photographs that I had taken in the trip. Among the many favorites, the photo shown above was the one I liked the most. In a street in Thimpu, I found an old man feeding pigeons. As I was clicking the picture, a small girl comes and scares the pigeons away. It was this moment that I captured in the photo given here. It was indeed a special click to me.
At 08:30am, I landed in Bangalore after an exceptionally beautiful journey for over 7000km in the last 8 days. The journey kept me on my toes throughout. It is my usual practice to research on my travel, over the internet before I do it. But in case of this trip, not much of details was available over the internet as it was not a sought after tourist destination among Indians and as for the foreigners, they have to go with a travel agent as backpacking was not allowed except for Indians by the Royal Bhutanese government in order to preserve the culture and social framework of this land-locked nation. So I had to do this trip myself with very little information on the trip. But it turned out to be a trip worth much more than the effort put into it.
Bhutan, a country, which calculates its economic development by Gross National Happiness than the Gross Domestic Product and a country where only 3% of the population are unhappy about the life in Bhutan, gave me a different approach to look at my own life. Hope you all have enjoyed reading my travelogues. Until the next journey, take care and explore, dream, discover!
berT
Location: Bangalore
Date: 20.06.2010
Photographs of the trip: <Click here>

Are you from India?
I have created an algorithm that can predict the airfare movements in India. It also predicts and alerts you of any approaching airfare offer. Do check it out! http://unfare.in