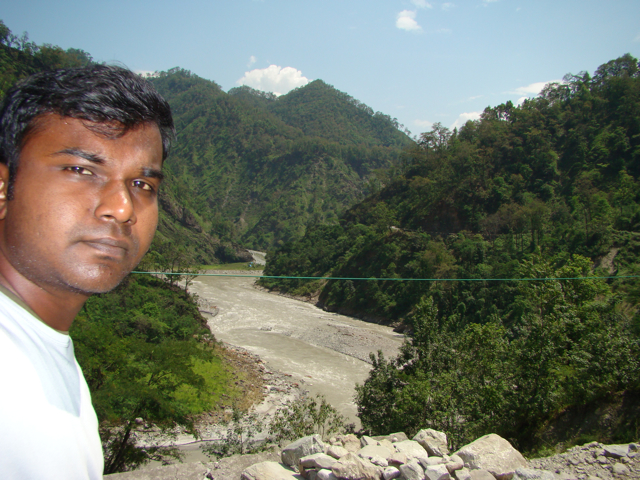 I was woken up early in the morning at 5:30 by the morning alarm and I never wanted to get out of the blanket. It was quite cold outside but manageable. My underestimation of the summer temperatures in Darjeeling turned out to be pardonable. My destination for the day was Gangtok, the capital of Sikkim which was about 4hrs drive from here on a shared taxi. This was my first unplanned destination in my trip. The extra hours I gained by coming here by road yesterday gave me this oppurtunity. The jeep moved on. In the taxi, there was a budhist lady next to me who was silently chanting prayers with the prayer beads. Enroute, I saw the Kanchenjunga peak slowly creeping out of the clouds. If you want to see the peak, don't try to find it next to the hills around. Look to the sky. You'll find it. Its such a huge peak. And on a very clear day, you can also see Mt. Everest far far away. If you don't believe me, just do a google image search on, 'everest from tiger hill, darjeeling'. You'll find the photo. Its a pity that it was a cloudy day yesterday. Anyways, with Darjeeling being more of a family destination, I should come here again. So, here is my travel tip. Come here during clear sunny days and spend around 3-4 days here. Also take the Darjeeling train.
The road to Gangtok was really breathtaking. Its surely a must try. But today, it had a lot of traffic snarls with the mud and rocks still being cleared with bulldozers. In one place, we were held up for almost an hour. Maybe there was a landslide here last night, I wondered. But the delay there, gave me a unique oppurtunity to take photos of the Kanchenjunga peak which was slowly coming out of the clouds. Let me tell you one thing. The first time you see a mountain peak for real is very special. I have seen many photos of this peak before. But only when you stand here, you get to see the relative size of the peak with everything else around you. That, my friend, you can't get in a photo. For people like me from the plains, its truly a breathtaking experience to see a mountain peak.
As we moved on, we passed through beautiful pine and tea plantations. With no breakfast, the chocolates came handy. The first town enroute was Teesta. It was on the banks of the Teesta river. The Teesta was a fast flowing river with white water rafting capabilities. We crossed the river and we were now on the road built by the border roads organisation of India under project swastik as Sikkim is surrounded by Nepal, China and Bhutan. Interesting signs were put up, "its not a rally, enjoy the valley". Five minutes down the road, another landslide, another delay, but more importantly, another photo oppurtunity. Took some photos over the Teesta river and then we moved on. The road was mostly on the immediate parallel to the river, though the river was atleast 100ft down. The next town enroute was Ringpo and thus we were now in Sikkim. By noon, I reached Gangtok and it was just a 130rs ride. Now I was quite hungry and that was my intent of arrival – To have a typical Sikkim lunch. I got into a hotel and though it was the ordinary chicken meals, it had a distinct taste. I enjoyed the food. One particular mannerism I noted in this part of the country was that whenever the people here give or take things like money, food or other materials, they always do that with the left hand crossed over to the right elbow. Suprisingly, you will feel quite uncivilised in taking or giving it with your single hand.
In the stand I could find buses and taxis to places in Nepal and Bhutan. Since I have already been to Nepal, it did not interest me much. But I was very much excited about the idea of a travel to Bhutan from here. That would mean missing out on my further destinations but I could still have come back to my trip by moving to the next strategic location. I would have given a serious thought at the travel to Bhutan if I had my passport in my handbag. That was back in the backpack kept at the cloak room. On enquiry, I learnt that I could still enter bhutan with my driver's license to prove my Indian citizenship but entering another country without my homeland passport was asking for trouble. Maybe this could be my next backpacking destination. Who knows. I had to be thankful that I could atleast visit Sikkim which was not on my trip plan. I set out back to get to Jalpaiguri to get my train to the next destination. This time, it was a direct route without touching Darjeeling. The road passes almost entirely by the side of Teesta river, though 100ft up. The route is so amazing that it is still worth going through, even if you don't do a thing in Gangtok. There was a small drizzle enroute that added special ambience to the journey. It took me 150rs and 4hrs to get back to the station with wonderful memories of the inner Himalayas.
berT
30.05.2009
Location: Gangtok
Photos: http://picasaweb.google.co.in/meberty/Day6DeepIntoTheHimalayasInGangtok?feat=directlink

Are you from India?
I have created an algorithm that can predict the airfare movements in India. It also predicts and alerts you of any approaching airfare offer. Do check it out! http://unfare.in