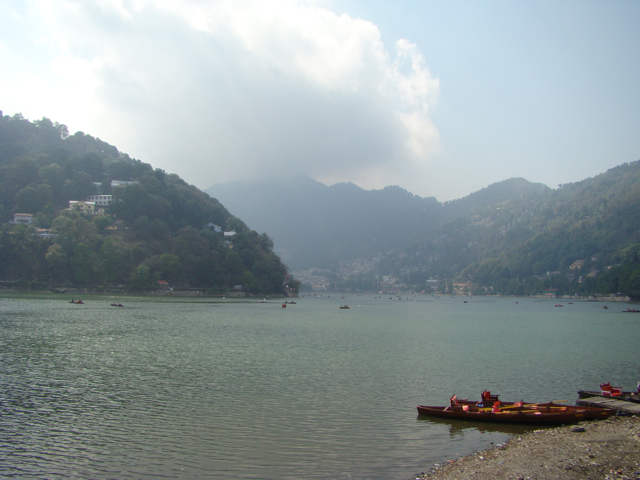 I woke up in the wee hours today as I had to get down at Moradabad station (For your information, Moradabad is the constituency of the former Indian cricket captian, Mohd. Azharuddin) from where I had to take a train to Kathgodam which is the nearest station to Nainital. I had planned for a waiting time of more than 2hrs but since my train was more than 3hrs late, I was sure to miss the other train. I fished out my train timetable from the backpack and tried to find out whether there were any other trains to Kathgodam. I found that the next train was only at 12 noon. I hoped that there would be some passenger train from Moradabad. However, a closer observation of the railway map gave me a wierd idea. If I were to get down at the station before Moradabad, I would stand a chance to get into my train to Kathgodam. But finally, I decided against the idea as getting down at some unknown small station before daybreak was any day not a better option than to miss a train at a big station. So, I got down at Moradabad at 4:30 and as expected, I missed the train. On enquiry, I came to know that there was another passenger train starting from here to Kathgodam at 6:30. So I was relieved and decided to go by that train which would get me there for just 20rs.
I got into the train and found that there were only local people travelling by the train and no tourists like me. But that did not matter me much as I would always be fine with the great Indian passenger train ride. I just wondered, coming here in an AC coach and now on a passenger train with the local people. What an exceptional journey I was having! I was truly enjoying it. The train moved on. I could see beautiful mud houses with a coir bed in its front which resembled the typical north Indian countryside scene through the window. I would have missed all these had I got the other train to Kathgodam. When I opened my mineral water bottle, an old lady sitting next to me asked how much it costs. She was surprised when I told that it costs me 12rs. She advised me on not to waste money and to drink water from the pipe instead. 12rs might have been too much for her to spend on plain water and would probably have been the cost of her entire journey, if she has bought one. This trip is proving to be a wonderful learning experience for me. I put up a small conversation as the train was getting late. My army camouflage cargo pants and half sleeved T-shirt made them think that I was going back to my regiment in Kathgodam. It was the umpteenth time in the trip so far that I was asked whether I was in the army. Lone person, looking into his own business, travelling to far flung places should be from the army in this area.
After a station named Haldwani, I was the lone person in the entire coach. I had planned this route just because I found from the railway book that Nainital was 35km from Kathgodam. That is all I knew. The train moved on mostly through the plains. I even wondered if there was any other place named Kathgodam. But soon I was able to spot the Himalayas. That brought the hope that I should heading in the right direction. I reached the Kathgodam station which was right at the foot of the hills. After I put my backpack at the cloak room, I went in search of a bus to Nainital. There is a stop right in front of the station but the buses were full and had only standing accomodation. So I decided to go to the bus stand. I got a shared auto that would get me there for 8rs. It was then that I found that, though Kathgodam was the nearest station, it was better to get down at Haldwani as the buses start from there. I got into a bus that would take me to Nainital for 35rs. It was pretty hot downhill but as we moved up, it got cooler and cooler.
The road that leads to Nainital was beautiful, but the view was not so breathtaking if I would compare it with the places that I have been. The temperature was just about cool at the top, not hot and not too cool either. It took me 1.5hrs to get to the lake in Nainital. The lake looked beautiful with boating options available. I had a long walk around, taking photos and had a small shopping at the stalls around the lake.
However, my sincere advice is that, do not expect too much at Nainital. It is a good place, but don't expect a Gangtok or Cherrapunji in there as I did. Also to note that the route upto Nainital is very steep and there is a high chance of you feeling sick. Many in my bus had fallen sick and vommitted enroute. So it is definitely not for those who find it difficult to travel by road. For rating, I would place Nainital a couple of notches up of Ootacamund. Thats all you should expect.
After spending 2hrs by the lakeside, I took a bus back to the Kathgodam station. Its 7:45pm, but still there is traces of daylight left here. Strange place. With memories of yet another place in India, here I am on the train to get to my next destination.
berT
03.06.2009
Location: Nainital
Photos: http://picasaweb.google.co.in/meberty/Day10ALakeAboveTheCloudsInNainital?feat=directlink

Are you from India?
I have created an algorithm that can predict the airfare movements in India. It also predicts and alerts you of any approaching airfare offer. Do check it out! http://unfare.in