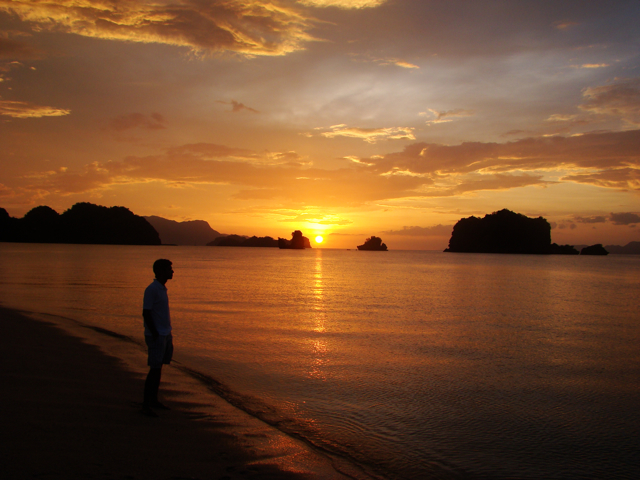 A few minutes past midnight, we landed at Kuala Lumpur in Malaysia. The approach to the airport was beautiful with those million city lights lighting up the dark night. The airport was huge. At any given time there were multiple aircrafts moving around. But as we stepped out of the aircraft into the LCCT terminal, our opinion of the airport just reversed. It was extremely chaotic and crowded. It looked more like a modified version of our Mumbai/Chennai railway station. None of the shops were open except for one Indian snack place where they were selling Pav Bhaji at 4 ringgits. Yeah, thats the currency in Malaysia and 1 ringit is around 15 Rs. Siva had the Pav Bhaji and I had some chocolates and biscuits that we had brought along.
Our destination for the day wasn't Kuala Lumpur. We had a flight to Langkawi at 7.30 in the morning. So we had to kill a good 7 hours before we could catch our flight. Thanks to the wi-fi connectivity at the airport, we managed to do that. But by the time we got to our flight, both of us were dead tired. We had to walk in a line to our aircraft as school children for boarding. It has been 22 full hours that I am awake now. But that helped me to take a sound nap during the hour long flight.
We landed at Langkawi around 8.45am. Langkawi is an island where tourists throng from different parts of the world. It has a small airport and as we were leaving the airport, we were given tourist information pamphlets and map for free. And as arranged earlier, outside the airport was waiting a taxi to take us to our guest house where we had booked our room for 45 RM. We immediately settled to our beds. I woke up 3hrs later and got ready. We enquired regarding the places of interest with the lady at the guest house. She said that we can get a motorbike for rent for 30 RM and ride in here with the Indian Driver's license. I have no idea how that is possible, but I decided to try it out. But before we could go sight seeing, we needed a heavy lunch as I did not have a proper meal in the last 23hrs. We got into a restaurant and the first thing that caught my eye on the menu was the deer meat. We had thai fried rice and deer garlic onion. It was one of the tastiest food I have had in a very long time.
After lunch we moved on to get into the Langkawi cable car. The cable car is one of the favourite tourist destination in here. It has a ropeway taking you from sea level to 700m, a sky bridge and viewing points where you can see almost the entire island. It was definitely by far one of the best cable car rides that I have had as it climbed a high gradient over a cliff. We then decided to go to the "seven wells" waterfall that was nearby. Soon we started climbing the steps on foot. After a brief climb, we reached the waterfall only to find a small stream falling over the rocks. But still we clicked a few pictures and decided to move up further as shown in the map. Infront of us lie a jungle trekking trail. It was 5.45pm and was getting dark. We could not actually find the sun as we were inside a forest and hence we had no idea on how much of daylight was left. We were not at all prepared for a trek and with Siva coming in sandals and no torch for light. So we decided to go back.
After we came out of the forest we could find that there was a lot of daylight left for the day. As advised from our guesthouse, we thought of watching the sunset from Tanjung Rhu beach which was a good 40km away. We started biking and had to stop for asking the directions every now and then. But thankfully, most of the people could understand English and coupled with our sign languages, we managed to communicate. It was one of the best bike rides that I have had so far. A beautiful and scenic road in perfect weather. There was nothing more that we could ask for. As we were riding throught the coast, we occassionally stopped by to take photographs of the beautiful beaches around.
Finally, we reached the Tanjung Rhu beach. Ahh, I was spell-bound. I cannot explain it in words. It was simply an amazing beach. An inward cut beach with mangroves on one side and a few rock islands in the middle an the setting sun to top it all. I was figuring out a possible angle to capture this beach on my camera but couldn't find a perfect one. Many times I have realized that there are some places which are magical because of reasons unknown to you. However hard you try to find out why, you still won't be able to explain them. This was truly one such place. You have to be here to experience it. It simply can't be captured in a camera. Both of us were just looking at the setting sun with awe. We just sat down, took our music players and started listening to some soothing tracks. Boy!!, it was truly a moment worth the hunger, sleeplessness and the money that we spent on this trip.
As the night fell, we started our way back and as we settled for our dinner, another dish caught my eye. This time, it was Ostrich meat. I have no idea if they actually make dishes out of Ostriches but anyways it was a hard meat and tasted very different from the meat I have had before. After dinner, we came back and settled to our beds.
Day 2 expenses: Rs. 5070
Total so far: Rs. 8121
berT
10.03.2011
Location: Langkawi, Malaysia


Are you from India?
I have created an algorithm that can predict the airfare movements in India. It also predicts and alerts you of any approaching airfare offer. Do check it out! http://unfare.in