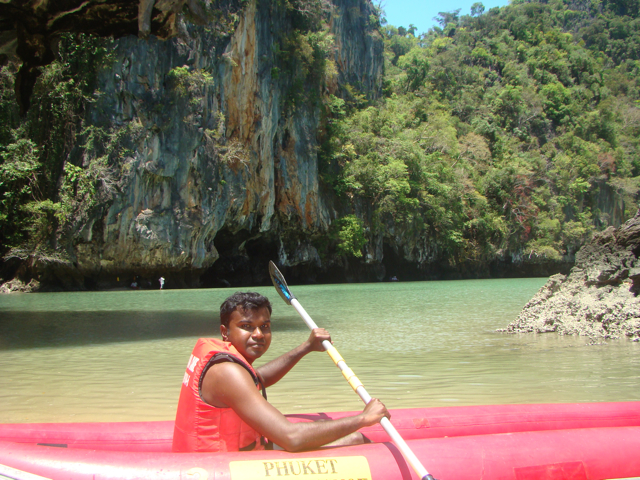 It has been early mornings for quite sometime now and today was no different. We got up around 6am to get ready to go to the Phang Nga bay. The mini cab had come to pick us up at our hostel and we put in all our luggage too as we planned to leave Phuket directly after the tour. In an hour, we reached the boat jetty. We got into the boat and off we were to Phang Nga bay.
Our first stop for the day was in Naka island. We got down into canoes to explore the caves around. At the entrance to the cave one needs to lean back flat so as to avoid the rocks over head. It was completely dark inside and had a stench of bats. We soon emerged from the cave to a beautiful pool of water with rocks all around us standing tall. After a brief time of exploration, we came back to our boat.
We moved on to reach our next destination, which was, Hong island. Again, we got into canoes from our boat to explore the area. It was truly an amazing place. But somehow after what we had seen at Maya bay yesterday, it seemed only 'good' and not extraordinary. I guess one should take this tour first before going to Maya bay to be amazed by the beauty. When we came back to the boat, lunch was served and we had a wonderful Thai meal. After lunch, we got into 'long tail boat' to go to the James Bond island. This island figures in the movie, the man with the golden gun, and hence the name. This too was an amazing location with a single rock island surrounded by a pool of water. After clicking pictures, we got back to our big boat.
We were now given the option of trying canoeing ourselves. I sure wanted to grab this chance. We, two non-swimmers, got into a canoe that neither of us had any idea about and started out from the boat. We were taking spins, circles, anything but going straight. Soon I was able to make some sense of the steering and could move around. I remember the lessons from flight simulator that I used to play; not to make any hard turns and make corrective steers slowly. In this way, I was able to manage to canoe. We clicked photographs and kept on moving around. Now came the tricky part; to canoe back to our boat. This was quite difficult as we had to canoe to a target rather than just moving straight. But somehow I managed it quite well and got back into our boat.
That was the end of the day tour and we were now going back to Phuket. After an hour, we reached the jetty and were dropped to the Phuket bus terminal by the mini van. We arrived just in time to get the 6pm bus to our next destination. And here we are in the bus, leaving Phuket.
Day 6 expense: Rs. 2342
Total: Rs. 15,665
berT
14.03.2011
Location: Phuket, Thailand

Are you from India?
I have created an algorithm that can predict the airfare movements in India. It also predicts and alerts you of any approaching airfare offer. Do check it out! http://unfare.in