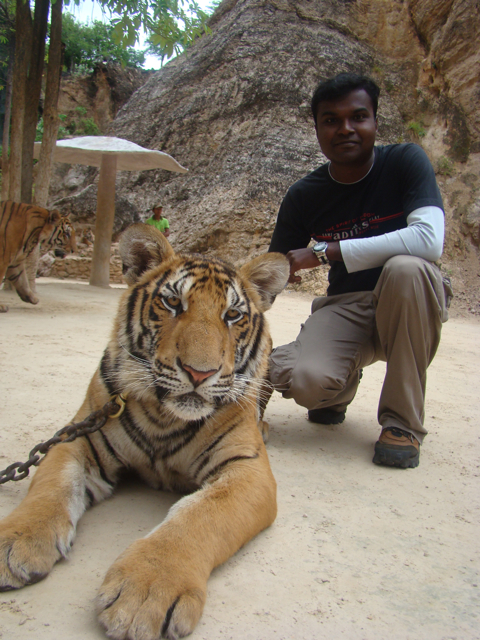 A very early morning wake up time of 5am, I was barely able to get up. But managed to get fresh and got to our pick up point for our trip for the day. We got into our minivan and moved on. We passed through the King's palace and our guide was explaining about the royal symbols and about how they love their king. I have no idea what is this fascination that people have for their king, first in Bhutan and now in Thailand.
Our first destination for the day was the floating market. We got into a long tail boat which took us near the market. We had to further take a paddle boat to go around the shops. This is similar to that we see in Kashmir where fruits and other items are sold in small boats. Being the season for mangoes in Thailand, we had wonderful ripe mangoes with sweetened rice as our late breakfast. We came back to our van and moved on. We then stopped at a wood carving centre. "A typical city tour package", I thought.
Our next destination was the tiger temple which is a 3hr drive out of the city. After having a brief lunch, we arrived at the tiger temple. After signing an indemnity, we entered the area. We could see tigers roaming around freely with the monks. There are also some volunteers who helped them. We can get in and take photos with those huge tigers and touch them too! We knew that its an opportunity that you don't often get in any other places in the world. There were some baby tigers too. It was amazing to find deers too that were roaming around without any fear of the tigers around. However, as one deer went near a baby tiger, it was showing its teeth in anger. A monk who was next to it went in and touched its head with his to pacify it. I guess their instincts are still intact. Anyways, we enjoyed the rare spectacle and moved on. Apart from the tigers, there were peacocks, bear, ostrich, camel, etc. We then got back to our van and moved on.
Our next destination was the Kwai bridge which was built by the PoWs of 2nd world war. The railway line of over 400km that connects Thailand with Myanmar was made by the PoWs for Japan. Thousands of people lost their lives in its construction and is hence called the death railway. We walked across the Kwai bridge and took photos of the Kwai river. We then came back to our van for the drive back to Bangkok.
Day 8 expense: Rs. 2926
Total: Rs. 19,084
berT
16.03.2011
Location: Bangkok, Thailand

Are you from India?
I have created an algorithm that can predict the airfare movements in India. It also predicts and alerts you of any approaching airfare offer. Do check it out! http://unfare.in