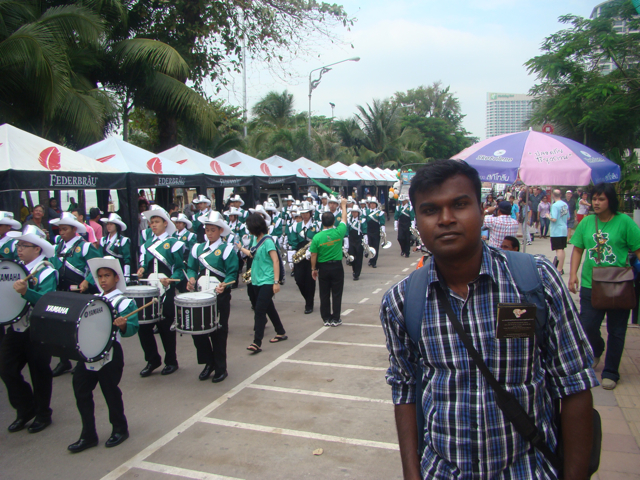 After a very long time, I had a good sleep of 8hrs. I got up at 8am and got ready. Today, we were planning to go to Pattaya, a beach city, 2hrs from Bangkok.We took the skytrain to get to the Eastern bus terminal in Ekkamai. We bought the tickets to Pattaya and got into the bus and moved on. One thing I have observed about the roads in Thailand is that it is very well maintained and comfortable to drive upon. Since I had some spare time, I decided to sort and arrange the photographs that I had taken in the trip so far for upload. "Surely, this trip has been a wonderful opportunity for taking amazing photographs", I thought. As I settled down with my photographs, Siva, in his usual style, settled to his sleep. I wonder how he manages to do it all the time! That is one thing am very poor at; sleeping while traveling.
The bus moved through the expressway. It was a comfortable 2hour journey to Pattaya. We reached Pattaya past afternoon and were greeted by guides from the Pattaya tourist department who showed us the city map and the main beach area. "This country surely does take tourism seriously", I wondered. We took a shared pick up vehicle from the bus terminal to the Pattaya beach. As we were approaching the beach area, there was a huge traffic block. So we decided to get down and walk the distance. As we were walking down the street, we could see a long procession of bands and people in a carnival mood. It was then that we realized that it was St.Patrick's day and this was the celebration in Pattaya. It was an amazing procession and we took photographs. We also moved along with the march to catch a glimpse of the tableaus and bands that we missed. There were some tourists too who joined in the march and were truly enjoying it.
We had lunch from roadside eateries and moved on to explore the area. Pattaya beach is a very lively, crowded place with live music all around. There is always something happening in here. We could see that from tomorrow, there was an international music festival in Pattaya. Unfortunately, we did not know about it before. There was a lot of food items to try out here. So I tried many roadside dishes whose name I have no idea about. Anyways, I am surely enjoying all the new food that I have tried in here.
Day 9 expense: Rs. 677
Total: Rs. 19,659
berT
17.03.2011
Location: Pattaya, Thailand

Are you from India?
I have created an algorithm that can predict the airfare movements in India. It also predicts and alerts you of any approaching airfare offer. Do check it out! http://unfare.in