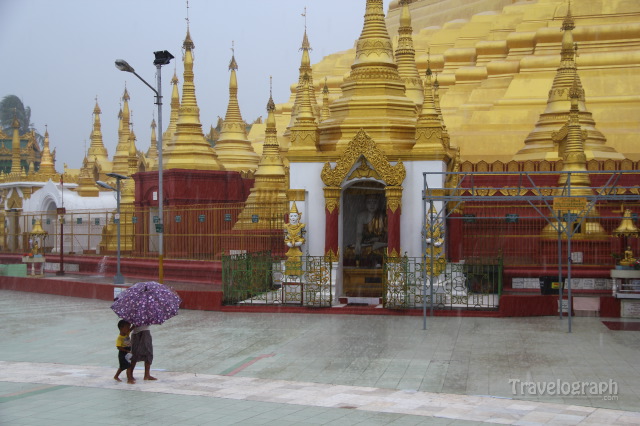 It was another day of early wake up here in Myanmar. Today, we were to go to a place called Twantay, which lies on the other side of the Yangon river. We got this information that there was a ferry at 6:30am between Yangon and Twantay from the tourist information centre. So we decided to try this too in our trip. We took a taxi from our hotel to reach the boat jetty at 6am.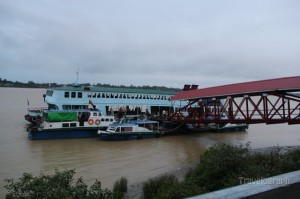 We got the tickets which was for 1$ for foreign tourists and got into the ferry which was already waiting at the jetty. The ferry was quite big and even had a restaurant where we settled in to have some snacks. The ferry moved on and went across the river to stop at Dallah jetty. At this time, the lady at the restaurant said that we are supposed to get down here to go to Twantay and that this ferry just goes across the river between the Yangon and Dallah jetty!
So we got down at the Dallah jetty. There was a slight drizzle that was on and we were hungry too. We got into a local restaurant to have our breakfast. With no system of a menu in place, communicating what you need was tricky. So we went to their kitchen area and after having a look, pointed to them what we want as breakfast. After having our full, we moved on.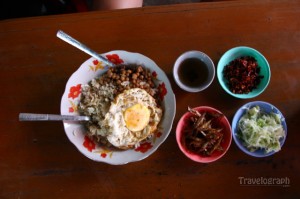 Next, we had to find some means of transportation to Twantay. We enquired at the taxi stand and there was one guy who could speak in a bit of English. He informed us of the various options of taking a taxi/shared taxi/motor cycle taxi/ bus. Since we did not take the bus ride any time in Yangon, we decided to try that too. So we got into a bus to Twantay and waited. Andrew was wearing another marathon finisher's T-shirt (this was his 4th marathon tshirt in 4days we saw him!). So we got curious and asked him how many marathons he had run so far. "103", he replied! "No wonder the guy looked much younger than 50", I thought.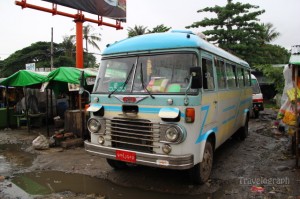 After an hour, the bus got filled and moved on. The ride was quite comfortable and passed through beautiful country side that was lush green thanks to the rainy season and the slight drizzle and overcast conditions added to its beauty. After a 45min ride, we reached the town of Twantay. Twantay is famous for its pottery, but this being the rainy season, was not the right time for it. But still, since we had half a day left in our trip, decided to come here, just for the experience.
We walked around the town. Being the only 3 tourists in that town at that moment, we got a lot of attention from the locals. As we walked near the cycle stand, one guy approached us and told that he would take us to the pagoda and the place where they make pottery for 3000 Kyats (4$) for the 3 of us. So we agreed and took the cycle taxi.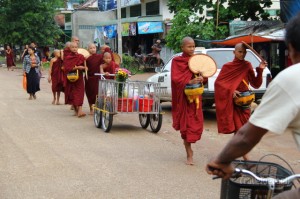 We moved on to the Shwe San Daw pagoda in the cycle taxi and as we got into it, it started to rain very heavily. "Maybe our luck with the rains has run out", I thought. We waited for a long time for the rain to stop so that we could move into the pagoda but that was not happening. After some 45min, there was a small break in the rain and we walked around the pagoda and clicked photographs. Since we had to get back to Yangon soon, we decided to skip the pottery visit and got back to the town centre and took a bus ride back to Dallah. We retraced the same ferry ride across the river to get back to Yangon jetty.
Next on our agenda for the day was the Bogyoke market also known as Scott's market from where we wanted to purchase our souvenirs from Myanmar. So we took a taxi ride to the Scott's market for 1500 Kyats and got into a handicraft store. Amazingly, there were very beautifully crafted souvenirs and the best part was that they were priced so low that you would never want to bargain for anything! I wanted to buy one of each item in the store but since I knew that I would have to carry it back on flight, decided to choose only a few of them. I was so happy to be in Myanmar and buy these handicrafts at such a low price. There were a lot of shops that were selling jewellery and cloth too in the same market. Myanmar is also a place to buy precious stones and gems at a low price! But since we were never interested in them, we moved on.
It was almost time for us to to bid adieu to this beautiful country of Myanmar and to Andrew, who was to leave the next day. So after exchanging our contact details, we moved on back to our hotel to pick up our bags and get back to the airport to take the flight back. And this brought us to the end of this enriching travel experience to the country of Myanmar. And with fond memories that I had in the last few days here, here I am, flying back out of Yangon, Myanmar.
berT
27.06.2012
Location: Flying out of Yangon, Myanmar

Are you from India?
I have created an algorithm that can predict the airfare movements in India. It also predicts and alerts you of any approaching airfare offer. Do check it out! http://unfare.in