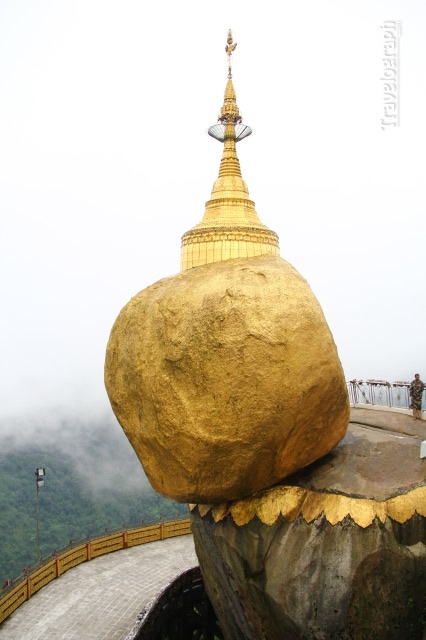 It was an early wake up for me at 4am as I had to travel 220km out of Yangon to visit the gravity defying, Kyaiktiyo pagoda also known as the Golden rock. We got into our taxi at 5am to set off to Kyaiktiyo. We arranged the taxi from the tourist information centre that we visited yesterday for 160$ for the day trip. Though many locals advised us not to go for the trip as this being the rainy season, visibility would be low which can be a bummer once we get to the Golden rock. But even then, we decided to give it a try.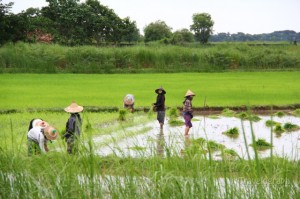 And so we moved on. The road we were on was quite good and so was the view outside the taxi which was very scenic as we were now moving through rural Myanmar. A slight drizzle outside made it even more interesting with the greenery all around us thanks to the monsoon season. We could see numerous paddy fields and farmers working on them. We clicked a lot of photographs and moved on. Also enroute was the town of Bago, where we saw the Shwe Watun pagoda which was on the route to the Golden rock. It seems there are a lot more pagodas in Bago but since we were short of time, we decided to move ahead.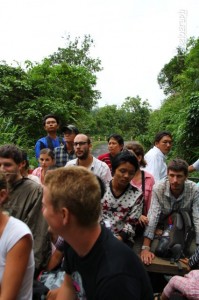 After a good 4hr ride on the taxi, we reached the base of the Mt. Kyaktiyo. Here, we had to get down from the taxi and get on a "mountain bus". Well, to explain what is a "mountain bus", it is nothing but a truck with wooden planks on its back which acts as seats for the people! It seems that this is the only way to get to the top and so we sat alongside the locals on it after paying 1500 Kyats (2$) for the ticket. We moved on. The moment it started off, I knew that this was no ordinary truck as it was accelerating and braking much like an army truck. "This is going to be fun", I thought.
The truck started climbing gradients that you never can imagine and sitting on a plank of wood was a difficult task in itself not to forget the difficulty in keeping yourself on it as the truck climbs and negotiates the turns.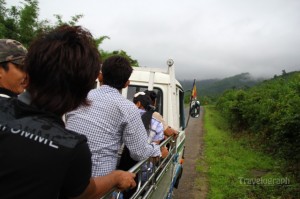 Sometimes the gradients got so scary that it felt as if we were all on some roller coaster without a safety belt to keep us on the seat! The truck was very loud especially while climbing and using a pair of earplugs is surely recommended if you are to undertake this ride! But the scene outside was so beautiful that you would forget the hardship that you are in and start enjoying the whole experience. Thankfully, it wasn't raining and so we surely enjoyed the whole ride. "This trip to Kyaktiyo was worth just for this truck ride", I thought.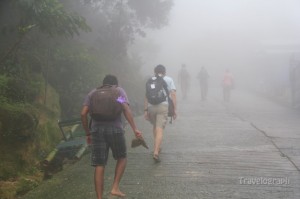 After a 45min ride on the truck, we reached a station near the top were we all had to get down. From here, it is a hike up to the top of the hill. The trail is paved and hence was not difficult to walk on even though there were small streams of water running over it, thanks to the rains. After hiking for another 45min, we reached the top were we paid 6$ per person as the foreigner's entrance fee. It was now almost entirely covered in the mist and we understood why the locals advised us not to come here during this season. But nevertheless, we were quite happy, atleast for the truck ride experience and just hoped that the sky would clear atleast for a few minutes.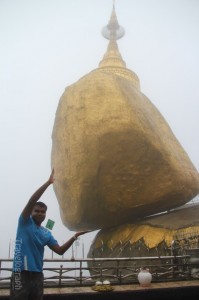 We reached the Golden rock and yes, it was truly gravity defying and we wondered how it remained there so long. According to local legend, it is said to be held by a strand of Buddha's hair! No, we did not see any strands there! We clicked a lot of photographs and as we were about to return back, the weather cleared! So we returned back to the rock and took more photographs and enjoyed the beautiful golden colored rock that stood precariously over the cliff. We felt so lucky that we managed to have a day without rains and a few minutes of clear sunshine to enjoy the beautiful Kyaktiyo pagoda aka Golden rock here in Myanmar.
Having had a glimpse of the Golden rock with the sunshine, we hiked back. We were hungry and hence stopped at a small local food outlet which was also their home! We had snacks and green tea. One thing we found interesting in Myanmar was that green tea was served at every table and was not charged! And once we finished our snacks, we were charged just 300 Kyats (0.35$) for the three of us and hence we decided to over pay them atleast for the extra green tea we had! Myanmar was indeed tourist friendly and much different from other countries in Asia in this regard!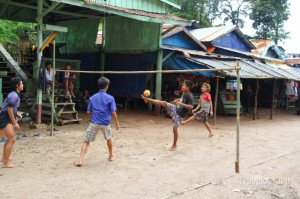 We reached the truck station were we saw some locals playing Seepak Takraw, a local game played like volleyball, except that you are not allowed to use your hands! Legs and head were allowed. We clicked photographs and watched this game. Since it was time for lunch, we got into a local restaurant and as we got in, some locals who were sipping coffee at eh table near its entrance got up and asked us to sit there so that we could enjoy the view outside along with the lunch! This kind of hospitality was getting way beyond our expectations in this country of Myanmar and I was overwhelmed by it.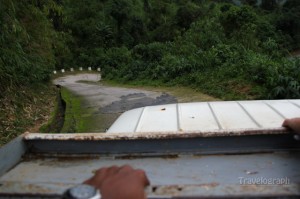 After having our lunch, we had to wait for over 2hrs on the truck, waiting it to get filled up. We passed time by interacting with the other travellers who had come here to visit the Golden rock from different parts of the world. As the truck got filled, it moved on and this time, I took a seat near the front of the truck and so I decided to stand up holding on to the railings in the front of the truck so as to enjoy the view better. As it rolled down steep slopes, A look back at the people on the truck felt the same as the expression on the face of people on a roller coaster! I enjoyed the truck ride back too and we got down at the base station where out taxi driver was waiting for us. So we got back into the Taxi and moved on to Yangon with wonderful memories that we had the entire day.
berT
26.06.2012
Location: Kyaktiyo, Myanmar

Are you from India?
I have created an algorithm that can predict the airfare movements in India. It also predicts and alerts you of any approaching airfare offer. Do check it out! http://unfare.in