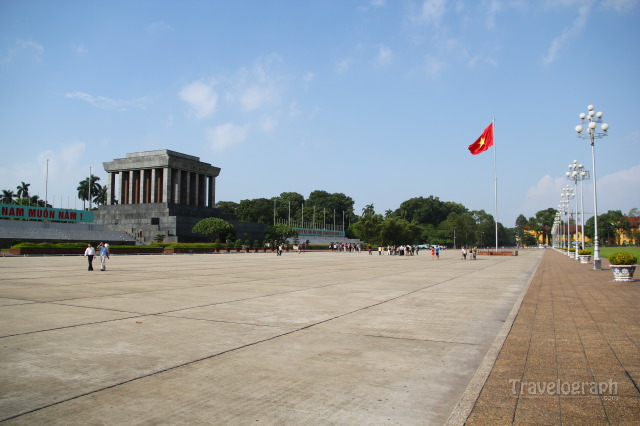 I woke up at 2:45am in the morning when the pilot announced our descent over the intercom. We were now nearing Bangkok. Joining me in this trip too, is Sujith, my batchmate in TAPMI, Manipal. This is the third international trip that he is joining me after Philippines and Myanmar.
At 3:20am, we landed in Don Muang airport in Bangkok. We got the Visa on Arrival and after completing the immigration formalities, proceeded to the international departure area for our flight to Hanoi, the capital city of Vietnam, recently named a top place in Asia to visit. The check-in formalities went on smoothly and we just had to show our "landing permission" for Vietnam at the counter. The "landing permission" is a letter issued by the immigration department of Vietnam in order to avail Visa on Arrival at any of the international airports (Hanoi, Nha Trang, Ho Chi Minh City). There are many agents (websites), which offer this service for anything between 10-25$ per person. Once you get the permission letter over email, you can take a print out and show it as proof of being permitted to land in Vietnam and collect the visa upon arrival at the international airports. Note that this facility can be availed if you fly into Vietnam by air and not through any land routes!
As I waited at the airport, I was feeling a bit feverish and uncomfortable much like what I felt at the Chennai airport. It didn't look like a great start to my trip. And to make it worse, my medical kit was in the bag that I had checked-in. But thankfully, there was a pharmacy at the airport and I bought and took a paracetamol. At 7am we took off from Don Muang airport, Bangkok. Being sleep deprived and feverish, I dozed off until I was woken up by the descent. Outside my window, I could see the topography of Vietnam. It was covered with forest and also had a mountainous terrain. But as we approached the airport, I could see more of paddy fields and plains and at 8:30am local time, we landed in Noi Bai airport, Hanoi.
We proceeded to the Visa on Arrival counter where we had to fill in an application form, paste our photograph and submit it along with the landing permission letter and passport. We got the visa in about 30min and we proceeded for immigration. As we came out of the airport, we could find our hotel guy waiting for us to take us to the hotel that we had booked online earlier. The taxi moved on through a beautiful highway. He was easily doing over 100kmph through the highway and it was a 40min drive to our hotel in the old quarter area of Hanoi where most of the tourists stay during their visit to Hanoi. We checked-in to our room in "Hanoi City Hostel", a beautiful twin bed air-conditioned room room that we got for just 12$ a night! After getting fresh and having our breakfast, we moved out.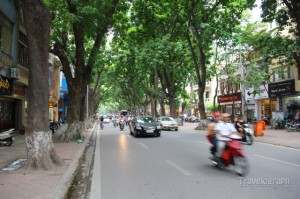 We got a lot of information on the places to see nearby and a map from the hotel. Even though you can rent a motor bike, we decided not to do so looking at the notorious way the motorists here drive through the streets and the added confusion of driving through the right! Much to our delight, the streets were all marked by their names and the Vietnamese script was English! So a little knowledge of map reading can help you to easily explore this city on foot.
First on our list was to get our USD notes exchanged to the local currency. The local currency is the Vietnamese Dong and is approximately 21,000 VND for 1 USD. But much like in other south east Asian countries, here too, hotels and tour operators quote and accept payments in US dollar. After converting to the local currency, we moved on.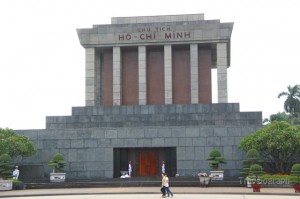 Our first destination of the day was the Ho Chi Minh mausoleum and the surrounding areas. With the map to guide us, we walked along to reach the Ba Dinh square and the presidential palace. The building and the surrounding areas were really beautiful but they were also marked with the "photography prohibited" signboards. So, with the camera in my bag, I enjoyed every bit of it and walked on. Finally we reached the Ho Chi Minh mausoleum with a beautiful ground in front of it and took a few photographs. We then walked to the one-pillar pagoda that was adjacent to it and clicked a few photographs.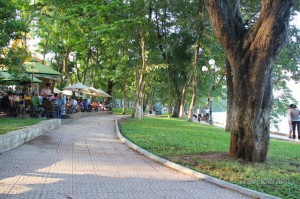 Now, we wanted to get to the Hoan Kiem lake. But at this point, I was already feeling tired because of the fever and hence was in a dilemma to either choose to take a taxi or to walk the distance. Thinking that I would probably never ever come to this part of the world, I decided to walk the route and see more of the city's streets. I stopped by at a small pharmacy to get a paracetamol, took it and moved on. At some points of the road, it had trees on both sides and their branches almost covered the entire road and that was beautiful to look at.
Finally we reached the lake. It wasn't a big one, but had places where you can sit and enjoy the lake view. I could see many locals by the lake side. Some of them come here to sit and chat with their friends, some to exercise, some to run by the lake side and some to simply relax here. After spending some time here, we moved on.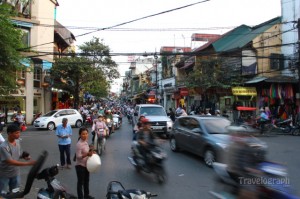 Next on our list was the night market. One end of the night market was very close to the lake and hence we soon got here. But all along, we could see only textile shops which was a bit of disappointment for us as we were interested in buying small souvenirs that we can take back home. We also tried a few local sweets from a street side vendor. But we were still hungry and so, we got into a local restaurant and had some local spring rolls and rice noodles. Both of these dishes were good and we decided to get back to the hotel to catch some sleep that we missed the previous night!
berT
09.11.2012
Location: Hanoi, Vietnam

Are you from India?
I have created an algorithm that can predict the airfare movements in India. It also predicts and alerts you of any approaching airfare offer. Do check it out! http://unfare.in