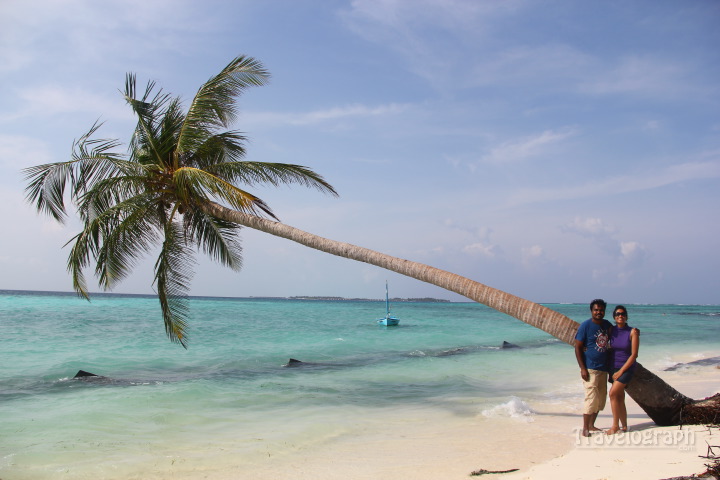 Our final day in Maafushi-today, we are to return to Male to catch the flight back home. There are two ways to get to Male from Maafushi island. One is by spending around 180$ for a speedboat ride to Male. Another is by just spending 2$ on the early morning ferry from Maafushi(Note: This ferry is not available on Fridays). The hotel guy informed us that there were two ferries available today. One was the direct one to Male costing 30 MVR (2$) and another ferry which would stop at an island called Gulhi before proceeding to Male which costs 22 MVR. He also said that the former one is more reliable and we would easily get a ticket if we get to the jetty on time.
After having a quick breakfast, we went across to the jetty. We could see that the ferry was already docked. We loaded our luggage onto the ferry and settled down. By around 7:30am, the ferry was full and we started for Male. Sarah decided to take a nap while I enjoyed the ferry ride listening to music and looking out at the sea we were going through. By 9am, we reached Male. The ferry that would take us to the airport is on the other end of the island. But since we had quite a lot of time, we decided to walk the distance (it was a wrong decision! It was a much longer walk that what I had anticipated. Better to get a cab!). To make things worse, it started raining. But the good thing about the rains in Maldives is that it would stop after 10-15min of shower! So when it rained, we just stopped and waited-10 mins later we were on our way!
Finally, we reached the other end of the island where the airport jetty was. For just 10MVR per person, we got the ferry tickets to the airport. The airport ferry is very frequent and you will find one every 10min. We reached the airport in another 10min and since we still had a lot of time for our flight, we just sat down near the ferry terminal where a strong pleasant sea breeze was going on. It was time for us to bid adieu to this beautiful country of Maldives.
As you can see, it is very possible to have a budget trip to Maldives. Hope you enjoyed this set of travelogues on our trip to Maldives. Watch this space for another blog on how exactly I planned this trip and how much it cost me. Do keep in touch. Till then, Bon Voyage! 🙂
berT & Sarah
04.05.2014
Location: Male, Maldives

Are you from India?
I have created an algorithm that can predict the airfare movements in India. It also predicts and alerts you of any approaching airfare offer. Do check it out! http://unfare.in