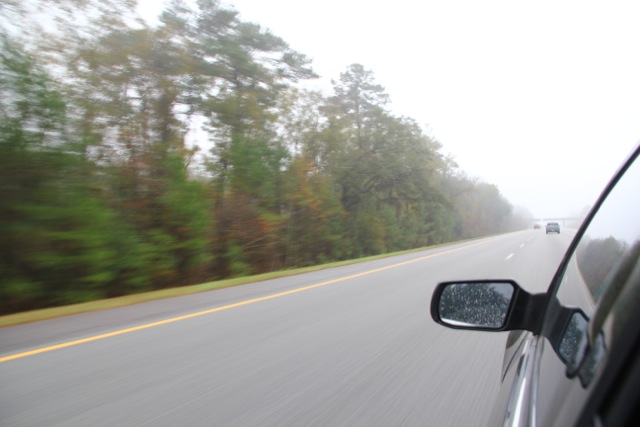 I woke up early in the morning in Augusta, Georgia in my friend's apartment. Today, we were to go on a road trip to the Florida Keys. Archana was my high school friend from India. We are the kind of friends who don't keep in touch all the time, but when we do, we talk as if we were the best of buddies. It was in fact after 8yrs that we met yesterday at the airport. Joining us in this trip were Arnab & Anupama, a "two states" couple from India and JP Teoh and Nicole from Malaysia.
We started our road trip in two cars. After a quick snack break at the local Starbucks, we moved on. The roads in the US were really awesome to drive on. But at the same time, I felt that I would have got bored to drive on this road because it is so monotonous and predictable unlike the chaotic and challenging drives that keeps the driver on the edge of their seat back in India! Because in India, no one approaches an intersection at full speed even when its a green signal. There will always be a joker who jumps the signal. And from what is I have seen in the last 6 weeks in the US; people drive sipping a cup of coffee, having a sandwhich, etc. And in India, I dread to take my eyes off the road even for a second! One of my Indian friend who drives here in the US, made an interesting observation; drivers back in India drive fully expecting an accident and hence even if someone jumps a signal, they can slam the brakes to avoid hitting them. But the American drivers expect things to go as normal as ever and hence, if someone breaks a traffic rule, the chance of an accident is very real. But all things said, driving here won't tire you off and that is always a good thing especially on a long road trip.
Back in the car, I was telling my friends about the drivers I have seen in Hanoi, Vietnam. To this date, that's the worst I have seen. Yes, even worse than Indian drivers! We drove on. The weather outside was cool and hazy. We were getting bored of the long drive. We took turns to listen to each of our favorite songs. Then, we decided to talk our way out of the boredom. Since I was from a different work background, I wanted to understand what my research friends were working on. We had a good conversation on their areas of research. This is something that I always love about traveling. You get to know a lot of things from people around you while you travel with them!
Late in the evening, we reached Miami. The weather outside was really warm. It was quite a contrast to the cold weather in most parts of this country. We rolled our windows down to get the feel of the warm air on our face. Since we were hungry, we got into a Mexican restaurant. After a good meal, we continued our journey to the Keys. We reached Key Largo, where we had our hotels booked. Since all of us were very tired, we immediately crashed into our beds after checking into our rooms.
berT
22.12.2014
Location: Key Largo, USA

Are you from India?
I have created an algorithm that can predict the airfare movements in India. It also predicts and alerts you of any approaching airfare offer. Do check it out! http://unfare.in