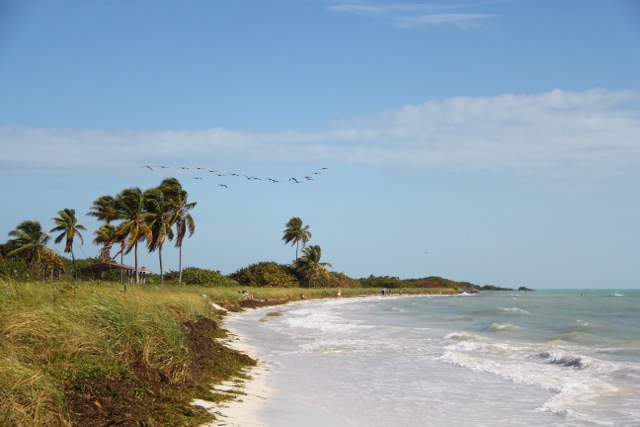 We woke up to yet another beautiful warm day here in Key Largo, Florida. The southern part of Florida has a number of small islands called Keys. The furthest one is Key West, which we visited yesterday. Today, we were to visit another Key nearby named Bahia Honda.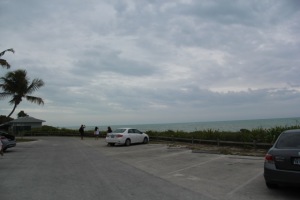 After having our breakfast, we hit the road. We drove through the same road as yesterday. The usual chit chat in our car continued. Stories from our school days, my travel, Arnab – Anupama's love stories continued. After more than an hour's drive, we reach the Bahia Honda State Park. We parked our car and got out. One thing I have noted here in the US is that any tourist attraction is very much organized. For example, here, even though it was just a beach, there were clearly demarcated parking lots, souvenir shops, snack bar, etc.
After having a hotdog, we got into the beach area. The beach was good, but nothing spectacular. Again, having been to the beaches in Thailand, I have a whole different expectation of a beach. So when I say that it isn't spectacular, I just mean that it isn't as beautiful as the beaches in Phuket. We quickly changed to beach wear and got into the water. The water was a bit cool, but as we got in, we adjusted to it quickly. The waves were small and altogether, it was a really nice place to be.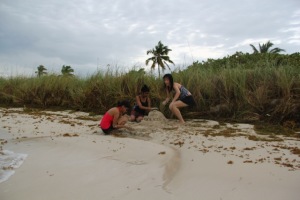 After playing in the water for close to an hour, we came out of it. The girls in our group started building sand castles, which initially was supposed to be a "sand-man" (just like a snow-man). After spending some time at the beach, we got back to our cars to drive back to Key Largo. Back in our hotel, Arnab and I got into the swimming pool to just play around for a while. Since we were very tired, we decided to call it a day.
berT
24.12.2014
Location: Key Largo, USA

Are you from India?
I have created an algorithm that can predict the airfare movements in India. It also predicts and alerts you of any approaching airfare offer. Do check it out! http://unfare.in