Day 2: Exploring Key West, Florida
I woke up to a cold morning here in Florida. No, it wasn't the weather outside. It was just the air conditioner turned on in full blast and our laziness to adjust it in the night. JP and Arnab had to fight over the shared blanket but thankfully, I had one for myself and so I stayed warm.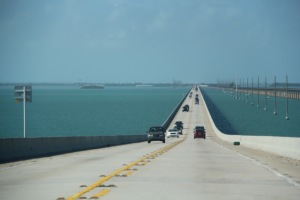 After having our breakfast, we set out to drive to the Key West, Florida. The weather outside was warm. It was a welcome break for me from the Pittsburgh cold. The road to Key West was again good to drive on. What made this stretch special was the sea view on both sides of the road. But honestly, you rarely get to see the sea during the drive. But even then, the occasional sea view was good especially when you drive over the bridges. We stopped at the 7 mile bridge for a short photo session. There was a small stretch of the unused old bridge that you could walk on. We walked over the bridge to click a few photographs and moved on. The drive over the 7 mile bridge was really beautiful.
By afternoon, we reached Key West. It was indeed beautiful with palm trees by the side of the road which gives a feeling of driving in the middle east! After having our lunch, we decided to rent a scooter. We got to a nearby rental place and got one for 60$ for 4hrs. Though a bit expensive, I was all up for it as I always loved to explore an island on a scooter. We rode to the other end of Key West. The speed limit here was 30 mph but the scooter that we rented could hardly accelerate. Maybe they tuned it that way to avoid anyone over-speeding, I thought.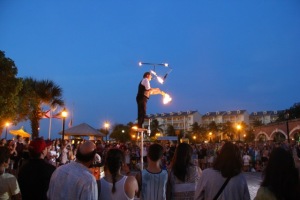 Driving around Key West was easy, but the hard part was to find a parking spot. Frustrated with trying to find parking, we bought car parking tickets and parked in the slots. We then stuck the parking receipts in the handle bar. But it was later that we knew that scooter parking was free in that lot! Some of us wanted to visit Ernest Hemingway's house/ museum in the Key West. Since I never read books, I had no clue about this guy. But still, I wanted to visit this place with everyone. Since there was a guy who was providing a guided tour of the estate and I could get to know more about this author. There is a 13$ entrance ticket and unless you are a fan of this author, I don't feel there is any reason to get in.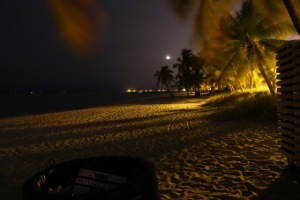 We got out of the Hemingway house and decided to get to the sunset point in Key West. This time, I decided to get into JP's car and let Archana ride the scooter as she badly wanted to ride it. Though we reached the sunset point just in time, the clouds on the horizon robbed us of a great sunset view. But the place had a striking similarity with the Manila Bay in Manila, Philippines. It had the same sunset view and the street artists performing by the side of it. After enjoying the performance by the street artists, we decided to get back to return our scooters. We then got into a beach to dip our feet in the water. After spending some time sitting on the beach sand, we drove back to our hotel in Key Largo.
berT
23.12.2014
Location: Key Largo, USA
Are you from India?
I have created an algorithm that can predict the airfare movements in India. It also predicts and alerts you of any approaching airfare offer. Do check it out! http://unfare.in
---
« « Prev: Day 1: Road trip from Georgia to Florida
Next: Day 3: Taking a dip in the Bahia Honda beach, Florida » »
---
If you have enjoyed reading this post, consider liking our Facebook page!!
---