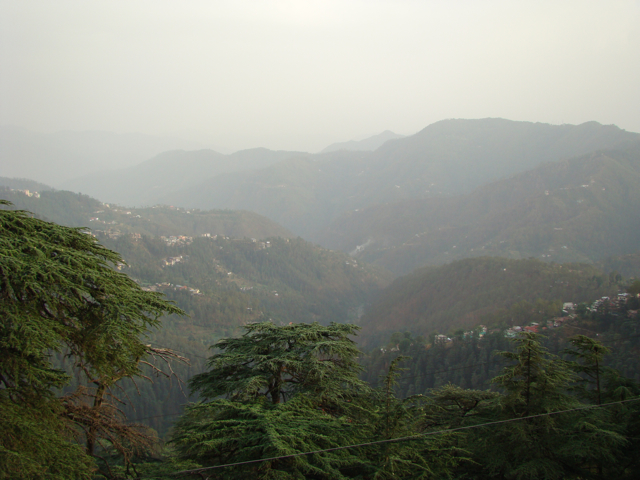 "Life is like a book; and those who don't travel, read just a page of it"
It was yet another night of getting into a connecting train and so, another night of interrupted rest. I got down at Ambala Cant station at 2am to get into my train to Kalka. This time, I got the train. After a quick nap, I got down at Kalka station at 4:30am. I got fresh and had a nice tea served in a matka (earthen cup). Since I had time till noon in Kalka, I decided to get to Chandigarh, just to roam around the city. I have heard quite a lot about this city. So I wanted to check it out myself. Again, there was a passenger train to Chandigarh at 7:15am for just 6rs. Enroute Chandigarh, I was lucky enough to spot a couple of peacocks in the open with their beautiful feathers spread out. Maybe it will rain in the afternoon, I thought. After half an hour, I reached Chandigarh station. Though the station looked quite ordinary, but from the outside, it looked like an airport terminal with carefully laid out parking and bus bays. I just wanted to get to the city centre and I found a bus at the bay that will go to the market in sector 17. It was an air conditioned bus and charged only 10rs to get me to the market. The roads looked as if they were first designed on drawing boards and then replicated on ground. From the route taken by the bus, I could make out that the traffic route was decided in such a way as to minimise the traffic signals. The city intersections looked more like expressway intersections. What a planned city, I wondered. I got into a restaurant and had a couple of aloo parathas. With the limited time that I got to spend here, I had to soon return back to the railway station to get back to Kalka.
On reaching Kalka, I could see my beautiful Himalayan Queen train all ready to take me to the beauty of the himalayas, Simla. After having a quick lunch, I got onto the train and took my seat. One more tip guys, never book an AC chair car ticket on this train. Its just a chair car and there isn't any AC. Book in first class instead. The booking starts exactly one month in advance. Anyways, I was happy with my window seat. I was now on a train that was added to the UNESCO world heritage site list this year. The train moved through sharp corners, tunnels, bridges and provided wonderful view throughout the journey. But still, if Simla alone is your destination, I think, its better to come here after the rains, maybe in the month of Sep/Oct. As we were climbing higher and higher, it was getting cooler and cooler. The train stops at many small stations in between. We can buy some snacks or water here. As we get closer to Simla, the view outside also gets better and better. There was a slight drizzle outside which was strengthening to a rain. That will not only bring discomfort to my travel plans, but also bring down the temperatures dramatically. But surely, the view outside was now fantastic. And as the rain stopped, a beautiful rainbow in the sky made it picture perfect. But suddenly the rain strengthened again and now there was heavy hail storm outside. Everyone was trying to catch the hail stones and I too joined. Wow. What more could I ask for in Simla. What a trip this is turning out to be. After almost 6hrs of travel, I reached Simla. It was surely worth the effort. The weather cleared and was pleasant.
Simla, being known as a hill station did not require a stay for my kind of travel. Also, I was very eager to get to my next destination. With no more trains beyond Simla, I have to travel by bus tonight. With the rain clouds looming in the sky, the night fall, the dropping temperatures and the anticipation of a colder destination, were all reason enough to put in my thermals. But since the waiting room was closed, I will not even have that luxury. The bus stand is just 1km from the station and in this weather, I would be happy to walk the distance. I got the ticket and am now waiting for my bus to my next destination. I have to adjust to the low temperatures and high altitudes fast.
berT
05.06.2009
Location: Simla
Photos: http://picasaweb.google.co.in/meberty/Day12ATrueBeautyInTheHimalayasSimla?feat=directlink

Are you from India?
I have created an algorithm that can predict the airfare movements in India. It also predicts and alerts you of any approaching airfare offer. Do check it out! http://unfare.in