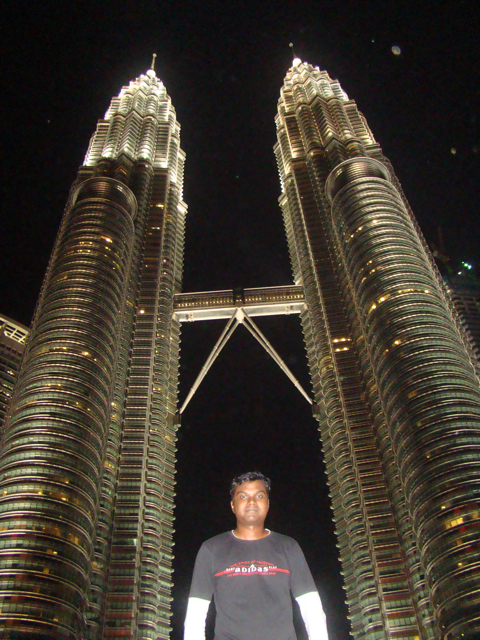 We woke up in the morning early and got ready. Today our plan in Singapore was to do some last minute shopping. So we went to China Town, a small street where you get souvenirs and collectibles here in Singapore. We found quite a few interesting items which we bought and after having a refreshing coconut, we moved on. Today we had to bid farewell to Singapore to move on to our next destination, Kuala Lumpur. So we rushed to the airport. The emigration and other formalities were done very fast and we got into our flight on time.
By around 2.30pm, we once again landed at the Kuala Lumpur LCC Terminal. We quickly got into a shuttle bus that would take us to KL sentral. It was almost an hour's journey from the airport. At the KL sentral, we got into the metro train to reach our hostel. It was quite interesting in the way we used to find our hostels in this trip. All we would have is a set of travel directions which we have to follow to get to our hostel. And I had most fun in following these directions and finding the right place. It felt like those guys at the "Amazing Race" reality show who follow similar clues as they travel unknown places.
By around 5pm, we managed to find our hostel. The locality around the hostel resembled a lot like India and there was even a temple around! We put our luggage at the hostel and did not waste any time to get back into the city to look around. We got a map and other instructions from the hostel guy and moved on. We went to the malls around. Low yat was the closest, and here we could find a lot of IT goods selling at cheap prices. We got into malls after malls and looked around. It was almost night and we wanted to have a look at the Petronas towers too. It was good to find that all these places were just a walk away from the place we were staying.
Soon we could see the Petronas Towers at a distance. Somehow, I did not feel any "wow" when I was looking at the building. I did not find the building to be too tall to believe. Maybe because the buildings around it also was quite tall and the relative height was stealing the wow out of the towers, I don't know. But still, the twin towers looked spectacular with all the lights on. We took a lot of photographs. The the floors near the ground level were shopping malls and we roamed around in here too. After all the walking that we had done today, we were quite tired and so we walked back and settled to our beds.
Day 15 expenses: Rs. 2459
Total: Rs. 39,798
berT
23.02.2011
Location: Kuala Lumpur, Malaysia

Are you from India?
I have created an algorithm that can predict the airfare movements in India. It also predicts and alerts you of any approaching airfare offer. Do check it out! http://unfare.in