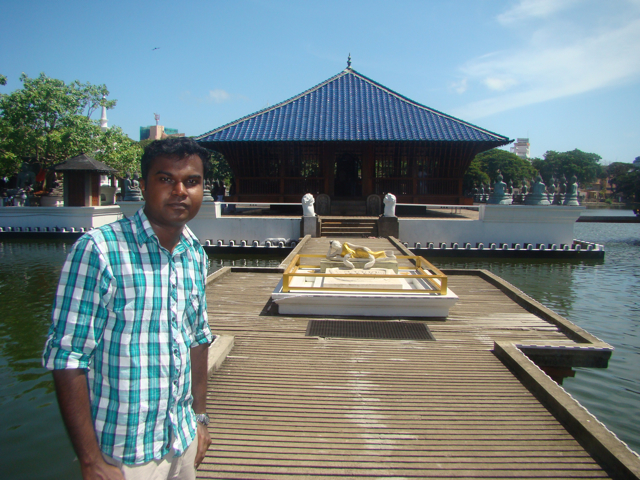 I woke early in the morning at 4am. Today, we had to go to Colombo. since we had our train early in the morning at 6am, we started from our hotel by 5am. As we got out on the road, we got a bus. The public buses out here is very cheap. Tickets start at 3 LKR and that will be just above a rupee in India! We got down near the railway station and after having a hot steaming tea, got into our train. The train, which was an intercity express, looked decent overall with good seats and neat windows.
The train moved on. The ride was quite bumpy and sometimes it felt as if you are sitting at some rear seat in a bus. Whenever it gets too bumpy, I would look at the face of other local passengers just to find out if all this is normal or otherwise. But overall, it was a different experience and I was happy that I tried the train ride.
As we reached the station before Colombo fort, we had to get down as there was some problem with the signaling system. We got out and took a local bus to Mt.Lavinia where we had booked our hotel. We could find the hotel easily and after getting fresh, we set out again back to Colombo for sight seeing.
Colombo is a beautiful city with good tall buildings and landscape. One thing we observed in general about Sri Lanka was that the streets were a lot cleaner when compared to India. We went to Beira lake which had a beautiful Buddhist temple inside the lake. Buddhist statues surround this temple and it was truly one of the most beautiful places in Colombo. We took a lot of photos and moved on. We then to the local Pettah bazaar for some small souvenir hunting. Here you find mainly clothes and footwear and a few locally made bag outlets. We decided to take a look around the city on foot. We found a small shop where they sell local tea packs. It was at a very low price and we stocked plenty to take bag home. We then walked along the coastline in the Galle face to reach a bus stop to get back to Mt.Lavinia beach by sunset. Since we were hungry, we had some juices and I tried the Avacardo fruit juice which was the first time that I have had that fruit.
Mt.Lavinia beach was a beautiful beach but as it was very crowded, I didn't enjoy it so much. However, there were very good food shacks out here which can be very special with live music performance in some places. So we decided to get into one. As we got in, we saw some hotel mates whom we met a little time before. We decided to join in with them for sometime. There were three of them, two from US and one from UK. They were traveling around the world to take a break from their busy routine life. We shared our experiences from India and other places that we have been to and we had a good time talking to each other in some place in Sri Lanka!
It was getting late and we wanted to have food. We got into a restaurant nearby and I had good sea food. Here the quantity of food in one dish is very high and so I had a tough time gobbling it all in. We were all too tired to roam anymore and so we decided to get back to our room and take rest.
Total day spend: Rs. 747
Total trip spend: Rs. 4,530
berT
12.06.2011
Location: Colombo, Sri Lanka

Are you from India?
I have created an algorithm that can predict the airfare movements in India. It also predicts and alerts you of any approaching airfare offer. Do check it out! http://unfare.in