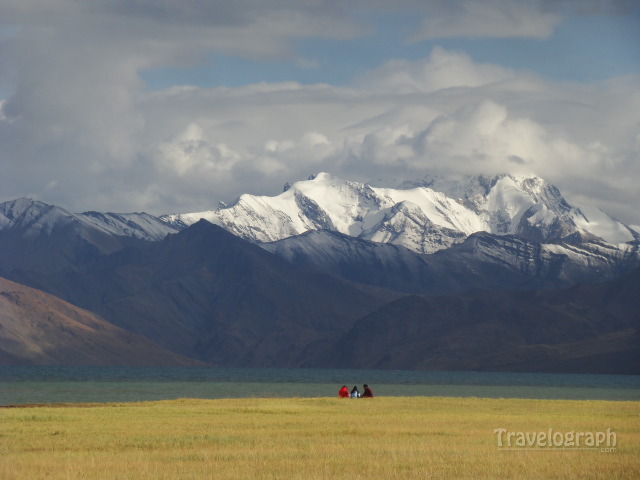 I woke up early in the morning at 6am. The headache that I had the previous night had gone. I felt a lot better. Today, we were to go to the Tso Moriri lake which is a good 230km from Leh. After having a good breakfast, we started our journey by around 8:30am. Unlike yesterday, the roads seemed pretty well maintained. I soon leaned back to my seat looking out at the beautiful landscapes of Ladakh through the window.
When it was afternoon, we reached a place called Chumathang. Here, there were hot springs and so we got out to check them out. It was actually the first time that I am seeing one directly. After spending sometime around the hot springs, we got into a restaurant to have our lunch. Having Maggi noodles in this cold weather was the perfect option for me. Once we were done with our lunch, we moved on.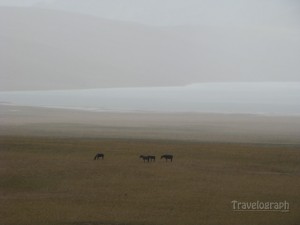 We entered the Korzok village and its from here that the wildlife zone starts. It was really an amazing drive in this place. Good roads, a stream flowing on one side, yellow and purple flowers on the hill, the other side, the cool weather and a slight drizzle. "It can't get any better than this", I thought. But after enjoying this pleasant ride for a few hours, the roads started getting bad. The drizzle strengthened to rain. Landscape looked barren. Altogether, we were just waiting to reach the lake.
By around 4:30pm, we reached Tso Moriri lake. It was truly one of the most beautiful lakes I have ever seen in my life. And to top it all, there were hardly anyone around. It was as if we were having a private tour of this beautiful lake! We roamed around by the lake. Clicked a lot of photographs. Enjoyed every moment of it. This is truly a must visit place when you travel to Ladakh.
With the weather getting cold, we found a small room to sleep. There are a few guesthouses and camps here. After having another round of noodles, we settled to our beds to sleep. This place being at an elevation of around 15,000ft, we knew, sleeping here would make us better prepared for the challenge that lie ahead.
berT
28.08.2011
Location: Tso Moriri lake, Ladakh, India

Are you from India?
I have created an algorithm that can predict the airfare movements in India. It also predicts and alerts you of any approaching airfare offer. Do check it out! http://unfare.in