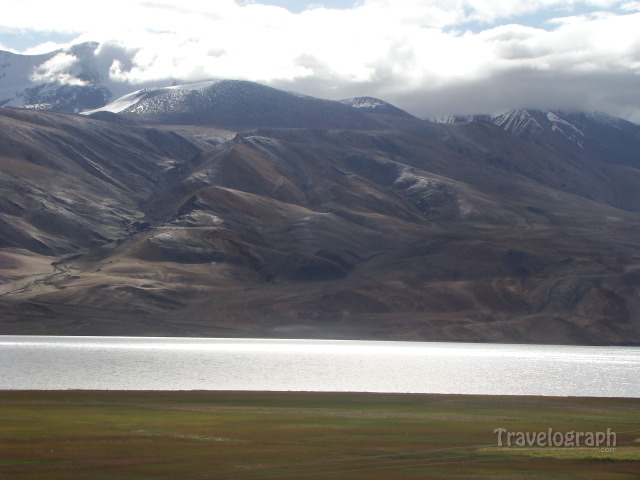 A funny incident happened very early in the morning. It was still dark. Since I was wearing a sweater over two layers of thermal wear, I felt a bit warm. I decided to remove the sweater. As I did, there was so much of static electricity that was developed that I could see sparks coming out of my sweater when it rubbed over my thermals! I have no idea if this is normal, but it was the first time that I saw it and it was amazing.
By 6am, we all got up. We got ready and set out for Leh. It was a remarkable sight to see the sun shining bright over the lake Tso Moriri and it glowing in the sunshine. We moved on. The roads near the lake was quite bumpy but still the view outside was breathtaking.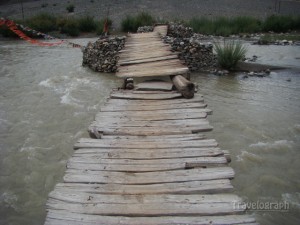 After a couple of hours, we stopped by at Chumathang to have our breakfast. Once we were done, Koshy wanted to try out a Ladakhi word he had learnt the other day; "Samsoan", meaning "how much". So when it was time to pay up for the breakfast, Koshy proudly announced at the counter, "Samsoan??". The guy at the counter replied with a bewildered face, "Sam… what??", "that is not available"!! We all had a hearty laugh at Koshy's failed attempt at Ladakhi. Anyways, it turns out that the guy at the counter was a Nepali and not a Ladakhi!!
By around 3pm, we reached back in Leh. We were all tired, but we wanted to quickly do some shopping for the days ahead. Once we had our shopping, we returned to our guesthouse to get some sleep as we had big days coming ahead!
berT
29.08.2011
Location: Leh, India

Are you from India?
I have created an algorithm that can predict the airfare movements in India. It also predicts and alerts you of any approaching airfare offer. Do check it out! http://unfare.in