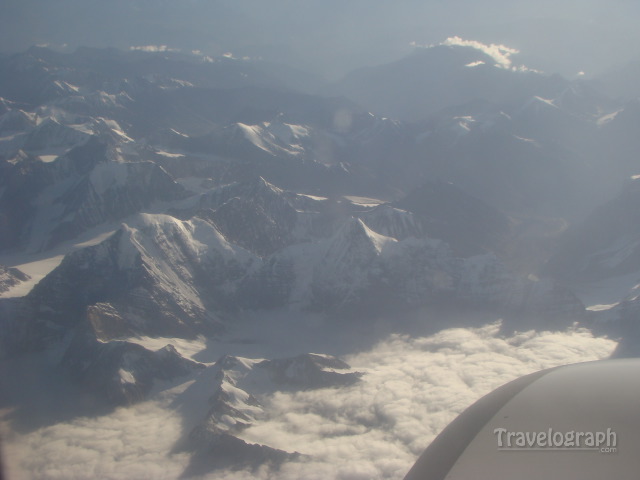 It was a warm Thursday night in Delhi when we landed in the domestic terminal 1D from Chennai. We got into a shuttle bus to get to terminal-3, from where we had our next flight to Leh. I found the terminal-3 in Delhi to be a beautiful airport terminal and with good facilities of international standards. After waiting for a while, we proceeded to check-in. Once all the formalities were done, we settled in those chairs to take a small nap. We woke up in a couple of hours and boarded the flight to Leh.
This trip was there in my mind for quite some time and had months of planning and preparation behind it. It is also the first time I am trying to tick out an item in my "bucketlist" (a list of 10 must-do things). I have been to Leh before; but this time around, I was planning something totally different. I knew I had to be physically fit for the challenge and hence used to run along the Thiruvanmiyur beach back in Chennai. With my latest run of 15km non-stop, I was quite happy with my fitness level and hoped that it would be enough for the challenge I was up to. For this trip, with me, I have two of my batch mates in TAPMI, Rahul Koshy George, whom we call "Koshy" and Ajay Simha, "Simha". All of us were quite thrilled of the challenge that lie ahead.
Half an hour into the flight, we could find ourselves flying over the beautiful mountains of the mighty Himalayas. With Simha and Koshy in deep sleep, I took a few photographs and kept looking out the window. As we neared the Leh airport, we could find ourselves totally surrounded by the mountains with the plane carefully maneuvering between them. The airport in Leh was one of the smallest one that I have ever landed on. It was just an airstrip. We got out of the airport and took a taxi from the prepaid taxi counter just outside the Leh airport to get to our guesthouse.
For just Rs.190, we got to the same guesthouse in Chubi area, where I stayed 2 years back. We settled in and decided to take rest for the whole day to facilitate the acclimatization. Leh being at an altitude of over 3,500m, getting used to the altitude is extremely important for all the plans that you have over here. But surprisingly, we all felt very much normal till now. The temperature in Leh was a good 19 degree C and hence we had no problem whatsoever.
 We got up in the afternoon and decided to take a walk to the main market area and have a good lunch. "Let's have Yak meat", said Koshy. We got to the restaurant, and ordered, obviously, not for the Yak meat,
but some noodle soup and biriyani. By this time, mountain sickness started to creep in. Me and Simha started getting a mild head ache. But for Koshy, it was a little more than that with strong headache, nausea and loss of appetite. Once we had our lunch, Koshy was in no mood to walk back the kilometer back to our guesthouse. I bought a few Diamox tablets for him and we got back by a taxi. With the lack of food and the regular mountain sickness, Koshy looked extremely tired. We all decided to take rest till the evening. We got up after a good 2 hours of sleep only to find Koshy still feeling weak. So we took him to a local clinic where the doctor gave him a few medicines. We were told that he had a stomach infection because of which the mountain sickness is getting aggravated. After a good dinner at a local restaurant, we all settled to our beds.
berT
26.08.2011
Location: Leh, India

Are you from India?
I have created an algorithm that can predict the airfare movements in India. It also predicts and alerts you of any approaching airfare offer. Do check it out! http://unfare.in