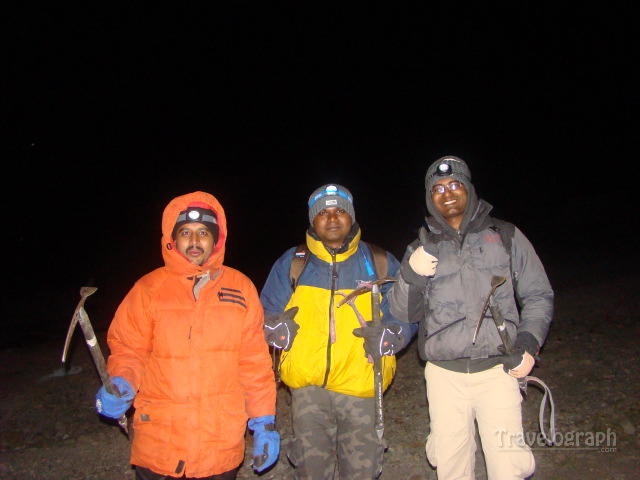 I woke up to a 5 deg C cold morning at 7am. Black tea was served inside the tent itself. We felt pampered on our expedition! After we got ready, we had an excellent breakfast of french toast and cornflakes. Today, we were to do a small trek up to the Stok Kangri base camp.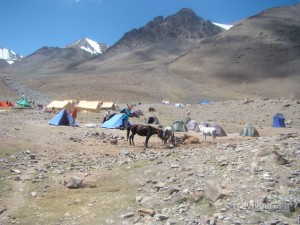 At around 8:45am, we started our trek. The trek was mostly through a river bed, again, quite taxing on our ankles as we had to walk over stones, but nevertheless, this part of the trek was not that difficult and we were lazily but steadily moving on. By around 11:30am, we reached the Stok base camp. Surprisingly, unlike the Mankarmo camping site, Stok Kangri was not visible from here. The base camp was at an altitude of more than 16,000ft and we were feeling the altitude in terms of the low levels of oxygen and the cold temperature.
The lunch was soon served and we had rice, dal, roti, some veggies and fruits. We felt that we were now having food which is a lot tastier than the ones we used to have back in Leh! After the heavy lunch, we all got back into our tent to take a nap.
We got up in the evening after the long nap. Weather was getting colder, but still manageable. Thankfully, it was not overcast and it seemed just perfect for the climb that lie ahead of us. Since we had a long day ahead of us, we had a very early dinner at 6pm and got back into our sleeping bags.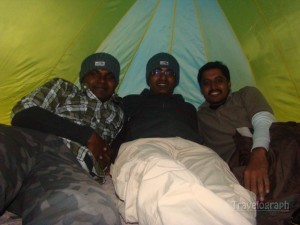 Back in the tent, I was feeling cold. I wanted to put on an additional layer of thermals over the one I was already wearing. Now, this may seem a simple thing to do. But not at 16,000ft where the oxygen levels are very low. As I was wearing the thermals, I did not do the sensible thing to stop regularly to catch my breath. I just continued doing it in one go. By the time I was done doing this change, I was totally gasping for breath. To make it worse, I had a running nose too, thanks to the altitude and this was further hampering my ability to take in deep breaths. I looked around and found the other two guys sleeping. The tent door was zipped close. Suddenly I started feeling claustrophobic looking at the confines of the tent. Questions started coming to my mind. What if I can't breathe further up the mountain? What if the tent was too small for 3 of us, making us suffocate? What if something happens while we are further up the mountain? Thinking about all these, for the first time in the trek, I had real fear inside me. I just opened the tent door and rushed out. Took quick deep breaths outside. Walked around a bit. I looked up. Up in this altitude, the stars looked very clear and beautiful in the dark moonless night sky. It was one of the most beautiful night sky I have ever seen in my life! Finally I felt relaxed. But I was still not sure about going back and sleeping in the tent. I even considered pulling out my sleeping bag out of the tent and sleeping out in the freezing temperature. I didn't mind the cold. I just did not want to feel suffocated. But slowly I understood that it was a bad idea and I slowly returned to my tent and went in. I kept the tent door open. That would make the tent colder but still I would get some fresh air. With the confidence of the tent door being kept open, I slowly closed my eyes to sleep.
berT
31.08.2011
Location: Stok base camp, Leh, India

Are you from India?
I have created an algorithm that can predict the airfare movements in India. It also predicts and alerts you of any approaching airfare offer. Do check it out! http://unfare.in