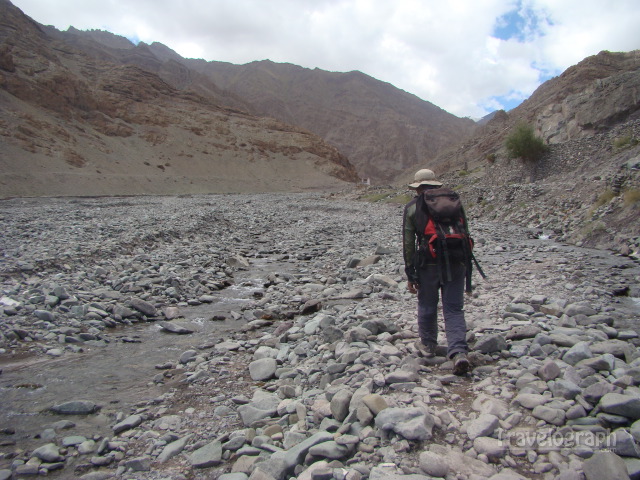 Finally the day of the big climb arrived. It is for this trek that we had actually come to Ladakh this year. For me, it was about checking out one item in my bucketlist (a list of 10 must do things); – "Climb a 20,000ft mountain peak"!! Though we were all a bit apprehensive of going on with this plan because of the difficulty in coping up with the high altitude during our first 2 days in Leh, now, we were all feeling perfect for the big climb that lie ahead.
For this climb, we had contacted Nezer Adventure (Ph: 9906992530) and they had arranged for the logistics for the climb. The jeep came to our guesthouse to pick us up. We got into it and reached their office. There were lot of supplies in the form of food, cooking equipment, climbing gear, camping gear, etc that were being loaded into the jeep. We met our Sherpa guide and a cook who would join us in the expedition. Soon we moved on.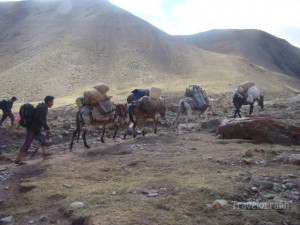 After an hour's drive, we reached the Stok village. Here, we were joined by 5 horses that were to carry our supplies and a guy who looks after them. So we all,that is, the sherpa guide, cook, 5 horses, horse guy and the 3 of us started the trek at around 10:00am. The trek was mostly along the stream and sometimes over the river bed. The rocks over the river bed made the trek a little bit uncomfortable especially to the ankles. All I could hear at this point of time was the sound of the stream flowing and the deep breaths that I was taking as I trekked on. After an hour's trek, we reached a point of sharp climb. Thankfully, it was a short enough climb and as we got up the climb, we stopped by to click lot of pictures.
We continued the trek. It was 12:30pm and we were all hungry. Surprisingly, there was a small shop out here where you get light snacks and refreshments. However, all commodities available here sell at a premium. For example, a bottle of water costs Rs.50 and a 500ml Maaza bottle costs Rs. 60. But even then, it was a good service which would be of great help to climbers out here if they suddenly find themselves out of water or food.
After having our packed lunch at the shop, we moved on. Another climb started immediately after the break. However, we were proceeding quite steadily, but slowly as we had to take occasional breaks to get back the breath. But even then, till now, there were no real issues and we were all doing quite well in the trek. Again we were in the river bed, walking over smooth stones that were killing our ankles.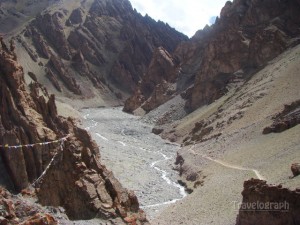 By around 2:30pm, we could see the Mankarmo camping site at a distance. We were around 4900m above sea level. The altitude was taking its toll on our trekking speed. We had to continuously take breaks as we were struggling to catch our breath thanks to the low levels of oxygen in this altitude. By around 3:15pm, we reached our camping site for the day at Mankarmo. Thankfully, the horses and the cook guy had overtaken us much earlier and hence by the time we reached the campsite, we could see the tents already set up, camp chairs laid out in front of it and hot tea and biscuits served for us. It was absolutely relaxing to sip the tea, enjoying the beautiful mountains all around us. After having an early dinner, we all settled to sleep in our tent.
berT
30.08.2011
Location: Mankarmo camping site, Leh, India

Are you from India?
I have created an algorithm that can predict the airfare movements in India. It also predicts and alerts you of any approaching airfare offer. Do check it out! http://unfare.in