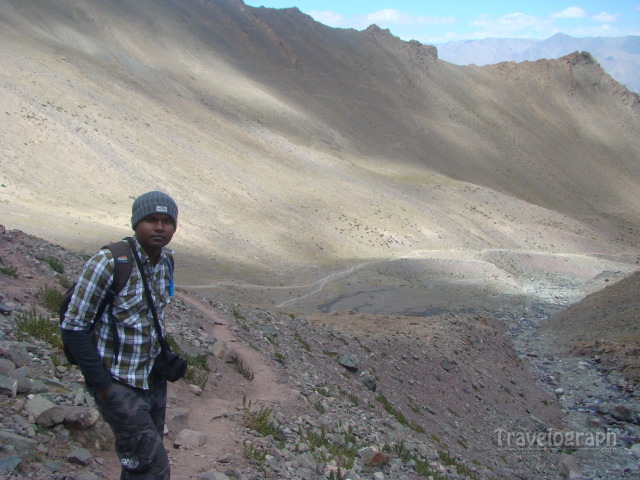 I woke up at 7am in the morning. My legs were all cramped up thanks to the marathon 14hr climb yesterday. After taking a small walk outside the tent, I was almost back to normal. We had our breakfast and by 8:30am, we moved on. Today, we had to return to Stok village which will mark the end of the 4day Stok Kangri expedition. The walk back was relatively easy, again, thanks to the downward gradient, we hardly had to take any breaks during the trek.
The silence of the monotonous trek was broken by the sound of a army helicopter, flying low just over us. "Maybe, someone is in trouble back in the mountain", I thought. Whatever be the reason, it fly back soon and we continued our trek.
By 1:45pm, we reached back at the Stok village. We were all tired to the core. The jeep that was to take us back to Leh had already arrived. After loading all our things into the jeep, we moved on. By 3pm, we reached back at our guesthouse and after getting fresh, we crashed into the bed to get some early sleep.
berT
02.09.2011
Location: Leh, India

Are you from India?
I have created an algorithm that can predict the airfare movements in India. It also predicts and alerts you of any approaching airfare offer. Do check it out! http://unfare.in