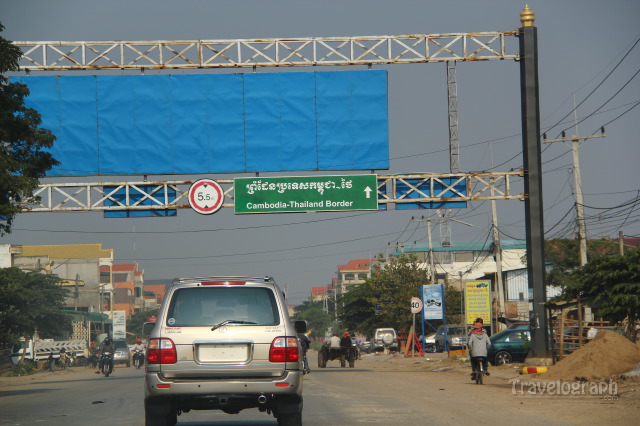 We woke up early at 5:30am. Today, we were to do an overland crossing from Cambodia to Thailand through the Poipet-Aranyaprathet land border. Rated as one of the most scammed border in South East Asia, many tourists get scammed here, be it for getting your immigration stamp, visa or something else. The buses that get to the border drops you off a bit far from the border making it easier for all kinds of scams. Our challenge was to cross the border without being scammed by anyone! Having researched a lot about this border crossing, we were ready for this challenge. Since we wanted to avoid long queues at the border when the buses arrive, we decided to take a taxi. What would cost around 9$ in an aircon bus would now be 30$ for the taxi but we still preferred it as it avoid most hassles we heard about on the internet.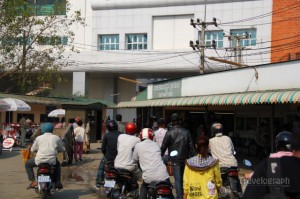 At 7am, the taxi came in and we got in. Annoying, but still what we couldn't help much was the fact that the driver was now fueling gas into the taxi after we started. So effectively, we were delayed by 30min. Making it more difficult for us was the fact that he could not understand english. But we just hoped that we would still reach the border before the buses do and we moved on. The road from Siem Reap to Poipet was a good four lane highway and was in excellent condition. So traveling through this route was comfortable. On both side were flat lands, nothing scenic and sparsely populated areas. So basically, it was a monotonous drive to Poipet.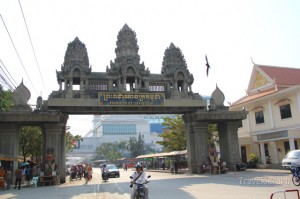 By 9:30am, we reached the Poipet border. We could see the emigration office with "Departure" prominently displayed. So we got down and queued up for our departure stamp. Once we got the departure stamp, we walked towards the border. Here, you would find big casinos on both the sides. As we heard, Thai nationals, walk across the border for gambling in these casinos as gambling is banned in Thailand. As we walked a little further, we could see the the Cambodian border arch and this was my 3rd international land border crossing. Just outside the border is the office for Thai immigration and we queued up again. What surprised us in this office was a counter for visa on arrival as we heard that it was not available at this border because of which we had to go through a lot of hassle in getting a visa prior to our trip from India itself. Probably surprised at seeing an Indian passport at this border, we could hear the officials talk to eachother in Thai and all we could make out from their conversation was them saying 'indian passport' repeatedly. Whatever they told eachother, my passport was verified of all the pages, visa stamps and immigration stamps and finally got the arrival stamp. [UPDATE: Harsha Jadhav, a traveler from India, who recently tried to cross by the same route informed that Visa on Arrival at this border is available only for visa exempted passports and is not the regular Thai visa on arrival that can be obtained at most of the other border crossings into Thailand. So all travelers who require a visa to enter Thailand may apply for one at an embassy before reaching this border.]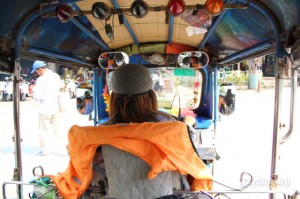 Though there were touts offering bus tickets to Bangkok, etc on both sides of the border, we managed to avoided them easily. Now that we were in Thailand, our first priority was to buy the Thai currency, Baht by selling US dollars. Taking a right turn as we came out of the immigration office, we found a bank nearby where we bought Thai bahts. Just outside the bank, there were a lot of Tuk-Tuks (like motor rickshaws in India), and for 80 Baht (without any bargaining), they offered to take us to Aranyaprathet bus terminal. We passed through a police checkpoint where our passports were checked and then proceeded to the bus terminal. By around 11am, we reached the bus terminal and we bought tickets to the airport. From here, there are regular buses to Bangkok (Morchit & Ekkamai terminals) and the airport. For 182 Baht, we got one to the Airport in a minibus. Thus we successfully completed the challenge of crossing the border without being scammed anywhere.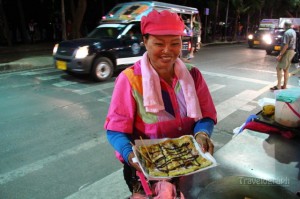 The minibus started at around 11:45am and as I expected, the roads were excellent. Six lane highway and speed limit of 120kmph would mean a fast ride and it was truly so. It took us just 3.5hrs to reach the Suvarnabhumi Airport bus terminal in Bangkok. As I got down, standing at the bus terminal was a bus to Pattaya where I was to meet my friends from TAPMI. I quickly bought a ticket for 124 Baht and got into it to reach Pattaya by 5:30pm. Another Tuk-Tuk from the bus terminal to the beach got me to my hotel room.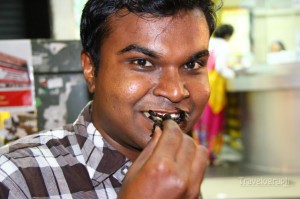 After getting fresh, I met my friends and together we set out to roam around Pattaya. As usual, I wanted to try out some street food and found one on the beach road itself. I had a banana pancake with chocolate and sugar sprinkled over it and it was the yummiest I have had in a very long time. Now that I had my fill, I wanted to try out some whacky ones. A little further, we saw a small vendor selling out unusual food stuff. I could see some grasshoppers, scorpions, wasps, frog and some other insect which looked like cockroach. They were actually salted and sun dried and the vendor would deep fry it and sell it as a delicacy. Needless to say, I wanted to try them. I bought a few of them all for 100 Baht and started trying one by one. This is the second day in a row that I am trying such unusual food items, yesterday in Cambodia and today in Thailand! But unlike in Cambodia, here, i was joined in tasting this strange food item by my friend, Appachoo, who studied with me in TAPMI, Manipal. Again, to the question on how does it taste? Grasshopper was a little bitter, frog was a bit distasteful, scorpion was crunchy but good, wasp and cockroach were just crunchy and tasteless. Since we wanted to get our taste buds back to normal, we quickly went to a fruit vendor and had some fruits, again, some of which we were trying for the first time. But altogether, I was very happy that I could try out different food and to see amazing places in different countries in the last two days.
berT
27.01.2011
Pattaya, Thailand

Are you from India?
I have created an algorithm that can predict the airfare movements in India. It also predicts and alerts you of any approaching airfare offer. Do check it out! http://unfare.in