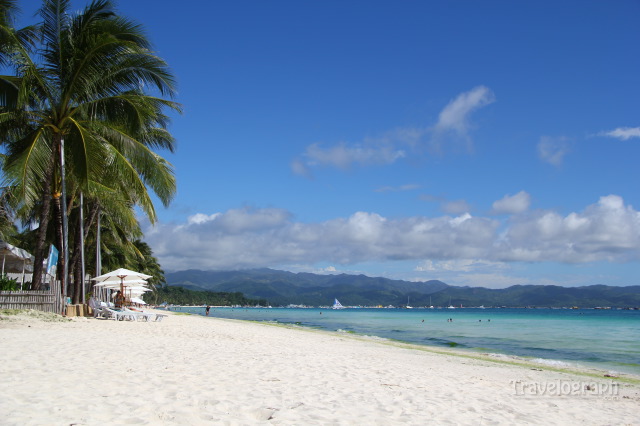 We got up at 10:30am. Thankfully, I had a good night's sleep which I badly needed. We got ready and moved out to get to the beach. Since the beach was just 100m from the resort, we just had to walk over. And as we saw the beach, we were all amazed at the beautiful clear water which had a distinct tint of blue color! Finally, we were now at the White sand beach in Boracay which is also ranked the second best beach in the world!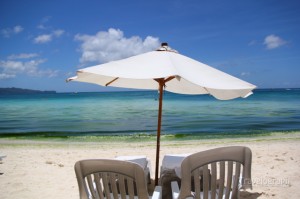 It was an amazing feeling. One thing which I found different from the beautiful beaches in Thailand was that it was much longer. But we decided to walk the entire stretch of the beach.The sun was literally scorching and the white sand of the beach made it even more difficult to move around. So we decided to walk along the numerous eateries and other kiosks that were set up next to the beach. There were a lot of tourists here, this being the holy week in Philippines. They must have got some cheap travel packages. But occasionally we would stop and simply enjoy looking at the beautiful beach which was full of activity with sailboats crisscrossing the horizon.
When we reached almost the end of the beach, there were a few rocks in the sea with even a palm tree on top of one. So we got into it and from here, we could see the entire beachfront.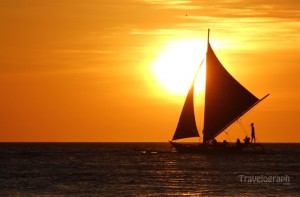 We took a lot of photographs and moved on. Now that we were hungry, we decided to stop by for lunch. Now, as usual, I wanted to try out some local food but Agarwala was least interested in that. So we got into a burger point from where he bought a couple of burgers and we moved on to search for a good restaurant. Soon we found one and settled down to have our food. After having Teriyaki chicken and some desserts, we moved on. It was past 3pm when we returned to our resort to take a shower and get some rest. At around 5pm, we again went to the beach as Sujith and Agarwala wanted to take a dip in the sea while for me, photographing the sunset was more enjoyable. With the beautiful sailboats in the horizon, I knew that I couldn't just miss the opportunity to take some awesome photographs here. So for around 45min, I was out in the beach, in the sun, photographing the setting sun in various stages and at the perfect time when the sailboats cross over along the reflection of the setting sun. After a happy session of photography, we went back to the resort.
After they took a shower and I had reviewed my sunset photographs, it was time to hit the beach again, this time to explore the nightlife at the beach. The beachfront was alive with music all around. Bands were playing live at different places on the beachfront.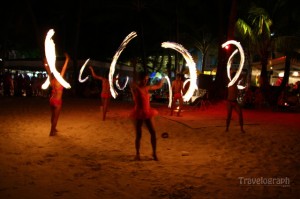 We found a place where they were serving a good buffet dinner for just 275P and we settled in there for dinner. The food was quite good and we enjoyed it and the chit chat that was going on among us about how we spent the last one year after our college, and so on. Since it was quite some time that we started the dinner, I just asked for the time. To this, Agarwala replies, "Who cares of the time?". Yeah, he was right. I did not have to go back to my room on time, I need not wake up early tomorrow for office, there was nothing in particular that I had to do before I go to bed. That feeling was awesome and I decided to spend more time lazing around the beach before going back to the resort. So we chatted on until they started packing up the tables and we went on to again walk along the beach. At a distance, we could see some fire dancing and hence we rushed in to check that out. It was indeed a great performance by the artists and I enjoyed photographing it as well. Now, we could hear some familiar party anthems sung by the band that was playing live near us and hence decided to sit around and listen to it for a while. But once we sat there, since the band was playing so good, we never wanted to leave and so, we sat there again for a very long time till a slight drizzle made us get up and leave for our resort.
Truly, Boracay is an awesome place to spend your vacation. I definitely agree with the white sand beach being ranked# 2 in the world. It's surely a place where you can relax, enjoy the beautiful beach and yeah, most importantly, forget time! And if you wish to stay longer in this amazing island, check out Philippines Vacation Rentals for amazing vacation rental deals!
berT
03.04.2012
Location: Boracay island, Philippines

Are you from India?
I have created an algorithm that can predict the airfare movements in India. It also predicts and alerts you of any approaching airfare offer. Do check it out! http://unfare.in