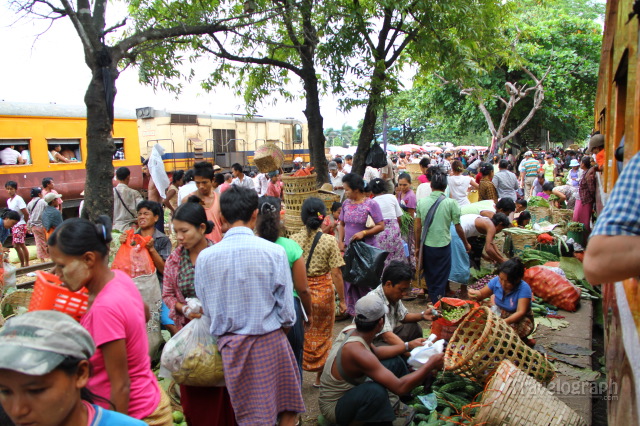 I got up around 7:30am in the morning. Today, we were to explore the city of Yangon. Before we started out, we decided to have our breakfast at the hotel itself. At the breakfast table, we were joined by another tourist, from Germany, who had just come to Yangon, traveling from Mandalay, in northern Myanmar. He described his 18hr train ride, which seemingly was so bumpy that every 5min he was thrown up in the air from his berth! For the next one hour, we talked about everything from lawsuits in the US to religion in India. It was probably one of the most interesting and enriching conversation I have had in a long time!
After having our breakfast, we walked around the city. We had a small map which we got from the hotel and used it to walk towards the Sule pagoda. Near the Sule pagoda, we found the beautiful city hall, the independence monument and the supreme court. We also saw a tourist information centre and decided to walk in and enquire about the places to see around Yangon. The lady at the information centre was extremely helpful and provided all the information with much zeal.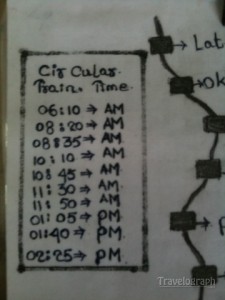 We moved on. It was now time to have our lunch and so we got into a street side restaurant. On the menu was 'Mohinga' which we heard was a famous Burmese dish. It was actually sea food soup mixed with rice noodles. But except for Andrew, we did not enjoy it. Then there was another dish on the menu called 'kheema' which was really good and we all enjoyed having it. It was like roti stuffed with mutton slices. After the lunch, we walked upto the railway station and as we planned to take a circular journey train ride that is quite famous among the tourists in Yangon. As we got down to the station, a railway official asked us whether we were looking for the circular journey train (maybe it was too obvious!). So we followed him and here we had to show our passport and pay 1$ for the 3hr train ride (Note that you have to pay in USD 1 currency note!). The train ride can be done in clockwise as well as anti-clockwise and it passes through 37 stations en route. Soon we got into the train and we moved on.
The train ride actually gave us a country side look of Myanmar but there was nothing scenic about the view outside.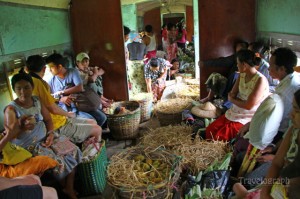 After about 45min, we reached a station which looked more of a market than a railway station! People brought in their produce into the train. There were fruits, vegetables, flowers, eggs, bread and even wood! It was quite a view inside the train now with all the produce stacked up along with the passengers. Also in the train were numerous hawkers who were selling snacks to the passengers. It was surely a wonderful experience and gives you a feel of the country side Myanmar. So if you are in Yangon, this is a journey you should surely take.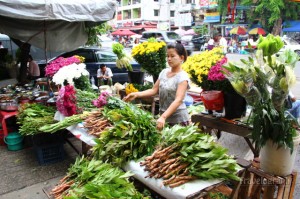 After the 3hr train ride, we got down back in Yangon and moved on. We walked to the night market where there were numerous roadside hawkers selling many sweets and food items. One thing we noted in Myanmar was that food was extremely cheap (the 3 of us would eat for 2$ total!) and the people who sell it never overcharge the foreigners. So we would get the stuff at the same price as the locals get it! This was in quite contrast to other countries where foreign tourists are often over charged compared to the locals.
After having our full, we got back to our hotel and since we had quite a tiring day out, we decided to call it a day.
berT
25.06.2012
Location: Yangon, Myanmar

Are you from India?
I have created an algorithm that can predict the airfare movements in India. It also predicts and alerts you of any approaching airfare offer. Do check it out! http://unfare.in